Spider-Man: No Way Home Trailer Dropped - The Loop
Play Sound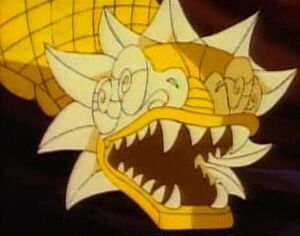 Quetzalcoatl is a flying feathered supernatural monster and an antagonist in The Real Ghostbusters cartoon series.
Biography
Once worshipped by the Mexican, Aztec, Toltec, and Mayan cultures for centuries, this creature said to be a supreme deity sent by another, yet superior divinity, to conquer Earth. Quetzalcoatl often manifests in the form of a giant feathered serpent.
During their expedition, the Ghostbusters, Slimer, and Peter Venkman's father Jim, with the aid of the Ghostbuster device P.K.E. Meter, finally found the gold statue called the Treasure of Sierra Tamale, which said to be worth millions of dollars to whoever finds it before it would be placed in the ownership of Mexico. Upon trying to cut it loose, the statue came to life and was revealed to be Quetzalcoatl whose presence was the source of the readings on the artifact detected by the P.K.E. Meter.
Dr. Egon Spengler realized its only weakness was extreme temperature since serpents were known to be cold-blooded. So there would be a chance Quetzalcoatl is too. He gathered the four Proton Packs and created a feedback loop, like the SCEP-TECH if overloaded, and the controlled psychomagnetheric vacuum which lowers the ambient temperature to freeze. Quetzalcoatl became frozen in place allowing the team to flee the creature's temple. Egon deduced when the ice melted, Quetzalcoatl would simply return to its hibernation.
Gallery
Trivia
Quetzalcoatl is based on the ancient Mesoamerican deity of the same name.
Egon refers to Quetzalcoatl as being a shapeshifter, though he is only seen in his feathered serpent form in the episode. It should be noted that Paco, one of the

Quoatles

is able to assume human form, so it may be assumed that Quetzalcoatl can change his appearance, he just chose not to. It is unknown what connection, if any, Paco has with Quetzalcoatl. One theory is he was his guardian and servitor.
None of the Ghostbusters knew that Paco was a Quoatle, a creature born of the power of Quetzalcoatl.