Doctor Strange in The Multiverse o Madness - The Loop
Play Sound
Jafar says: Read my lips and come to grips with the reality!


This article is a stub and is in need of expansion. You can help Villains Wiki by expanding it.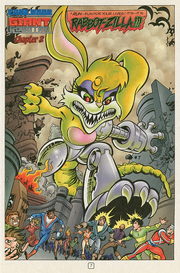 Rabbot-Zilla is an alternate-version of Bunnie Rabbot and a villain that appeared in the Archie comics incarnation of the popular Sonic the Hedgehog franchise.
Biography
Inhabiting an alternate-dimension in which Mobians became gigantic mutated monsters due to exposure to chaos energy by Mayor Kintobor, Rabbot-Zilla would regularly attack the city of Kintopolis.
In order to try and put a stop to the madness, Kintobor created a roboticization virus to immobilise the monsters. Sadly, over time they developed an immunity to the virus and as a result, Rabbot-Zilla become a cyborg of sorts as only half of her body became roboticised, allowing her free movement.
Rabbot-Zilla proceeded to attack the city once more but was defeated when Sonic from the mainstream dimension (known as Sonic Prime) arrived and used his super-speed to melt the tar beneath her feet, causing Rabbot-Zilla to become trapped.