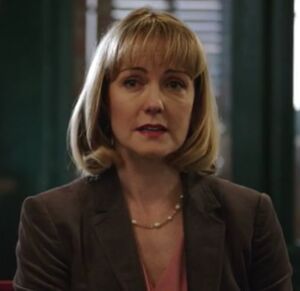 Rachel Grant is the main villainess from "Radio Silence", episode 2.17 of NCIS: New Orleans.
She was portrayed by Lilli Birdsell.
Biography
Rachel Grant is the wife of Navy Captain Jim Grant, who was murdered in the beginning of the episode. She appeared as a grieving widow during her encounters with Meredith Brody and Chris LaSalle, but it was revealed to be a front that hid her true persona of a vengeful and scorned woman. Rachel had found out that Jim was planning on divorcing her and leaving with Petty Officer turned radio DJ Kayla Anderson, who ran the Youth Stripes charity with Jim. In the beginning of the episode, Rachel shot and killed her husband during his call to Kayla's radio show; with Kayla overhearing the gunshots.
The villainess also colluded with Tyson Reed, who was in charge of the charity's funding, to embezzle money from Kayla's charity--while also attempting to kill Kayla. They also became romantically engaged with each other, but after a tryst in a hotel room, the evil Rachel killed Tyson to tie up loose ends and set him up as the sole mastermind. She drugged him and later suffocated him with a plastic bag, planning to make the murder look like a suicide.
Patton Plame brought up Kayla revealing that Jim was going to leave Rachel, and it was there that Brody realized that Rachel had lied when she denied that Jim was having an affair. Rachel's reveal came when Dwayne Pride arrived with LaSalle at a service for Jim, which Rachel and Kayla both attended. Rachel vented about Jim to Kayla at the service, and during the reveal, Pride revealed that a hickey that Rachel gave Tyson gave her away as the killer. Rachel was taken away and arrested by Pride.
Community content is available under
CC-BY-SA
unless otherwise noted.