Click to help Cruella!

This scum Ragdoll is driving Cruella insane!
IT MUST BE REWRITTEN OR ADDED TO!!
So sayeth the great Lord of Darkness Sauron, or he will send Darth Vader to terminate you.

Help improve this article by rewriting, expanding, updating the poorly written text of the article. ✔



Click To Help Darkseid!

Darkseid has declared that this article requires immediate Cleanup in order to meet a higher standard.
Help improve this article by improving formatting, spelling and general layout - least it fall victim to an Omega Effect


✔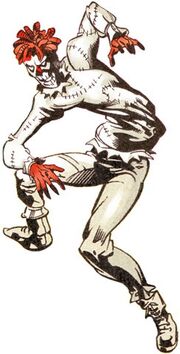 Peter Merkel despaired of having money. While the Rag Doll remained in hiding, Williams and the Flash departed for the museum to provide the next clue. On their arrival, they were waylaid by the Rag Doll's thugs. The Rag Doll himself drugged Joan with chloroform and stole the remaining clue. With these, he contacted  the Ultra-Humanite, a long-standing foe of the Justice Society of America. The Rag Doll became a founding member of the second generation of the Secret Society of Super Villains. The Ultra-Humanite had devised a machine that, for the sacrifice of ten heroes from the Justice Society and Justice League to be held in stasis, (five from each team), all the heroes on Earth would disappear. Each villain then was assigned a target and the Rag Doll took the Flash. After delivering a false tip to the Flash, the Rag Doll ambushed the hero on a freight ship in Keystone Harbor. After luring him into the hold, the Flash learned too late that all he would find there was a bomb, the explosion of which dropped the unconscious hero at the feet of his bizarre adversary.
As the other members of the Secret Society completed their task, the heroes were dispatched to Limbo, clearing Earth of costumed heroes. Unfortunately, the Ultra-Humanite had deceived the Justice League into helping and while the Rag Doll and his colleague waged a massive crime wave, the villains rescued the captured heroes in Limbo.
In the midst of the battle, it seemed that Ragdoll and the Gentleman Ghost betrayed their comrades, running away with the Key. However, Tigress witnessed the return of Johnny Sorrow, a happening which kills Ragdoll, though the ghost was prepared for it as he hands Sorrow his all-important mask. Sorrow then takes the rest of the Injustice Society to safety in the Crooked House, the former abode of Prometheus, and the Society must lick its wounds and curse the loss of the Key. It is revealed that Gentleman Ghost, Wizard and Icicle were expecting Ragdoll to turn on them, so they set him up to die.
Television History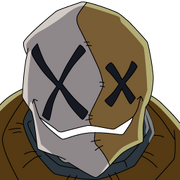 The Batman
Rag Doll appeared as a recurring antagonist in the animated series The Batman. It is unknown whether this Rag Doll was based on the original (Peter Merkel) or his son, the second incarnation (Peter Merkel, Jr.).
Rag Doll began his career as a solo thief. He immediately caught the eye of Catwoman who saw her competition as a threat. Rag Doll and Catwoman instantly had a rivalry, and the Batman's interference was not helpful either.
When trying to steal lost emeralds the Gotham Clock Tower, he got caught in one of the gears and lost the emeralds to Batman. He was then taken to jail for the first time.
Sometime later, Rag Doll escaped from jail and agreed to join a new supervillain gang called Team Penguin.
The gang got along well until they realized they were only stealing penguin-themed items. Rag Doll attempted to quit, but Penguin threatened them with the newly-transformed Killer Moth. Rag Doll, with the rest of Team Penguin, was defeated by Robin. Rag Doll was taken to jail again.
Ragdoll is also seen amongst other villains in the episode "Rumors."
The Flash
Main article: Rag Doll (Arrowverse)
Rag Doll debuted in the fifth season of the Arrowverse series, The Flash, where will be portrayed by American's Got Talent contestant, Troy James. This incarnation is named Peter Merkel. It is unknown if he is Peter Merkel sr. or jr.
Gallery

Villains
Comics
Alfred Stryker | Alice | Amanda Waller | Amygdala | Anarky | Arkham Knight | Arnold John Flass | Azrael | Baby Doll | Bane | Barbatos | The Batman Who Laughs | Black Glove | Black Mask | Blockbuster I | Broker | Blockbuster II | Brain | Brother EYE | Calculator | Calendar Man | Captain Fear | Carmine Falcone | Catman | Catwoman | Circus of Strange | Clayface | Claything | Clock King | Club of Villains | Cluemaster | Commissioner Loeb | Composite Superman | Condiment King | Copperhead | Court of Owls | Crazy Quilt | Crime Doctor | Curtis Base | Dark Archer | David Cain | Dark Knights | Deacon Blackfire | Deadshot | Dealer | Deathstroke | The Dawnbreaker | The Devastator | Doctor Death | Doctor Dedalus | Doctor Double X | Doctor Hurt | Doctor Phosphorus | The Drowned | Electrocutioner | Emperor Penguin | Ernie Chubb | Faceless | Film Freak | Firebug | Firefly | Flamingo | Floronic Man | Gearhead | General Ulysses Armstrong | Gorilla Boss | Gotham City Police Department | Grant Walker | Great White Shark | The Grim Knight | H.A.R.D.A.C. | Harley Quinn | Holiday | Holly Robinson | Humpty Dumpty | Hugo Strange | Hush | Jack the Ripper | James Gordon, Jr. | Jason Todd | Joe Chill | The Joker | Judge of Owls | Joker's Daughter | Key | KGBeast | King of Cats | King Snake | King Tut | Killer Croc | Killer Moth | Kite Man | Lady Shiva | League of Assassins | Leviathan | Lex Luthor | Lock-Up | Lloyd Ventrix | Mad Hatter | Mad Monk | Magpie | Malochia | Man-Bat | Maxie Zeus | The Merciless | Merrymaker | Mister Bloom | Monk | Mr. Freeze | Mrs. Freeze | Mr. Toad | Mutants | Nightslayer | Nocturna | Nyssa Raatko | Onomatopoeia | Orca | Outsider | Owlman | Penguin | Penny Plunderer | Phosphorus Rex | Planet Master | Poison Ivy | Polka Dot Man | Professor Pyg | Prometheus | Ra's al Ghul | Ragdoll | Ratcatcher | Reaper | Red Claw | Red Death | Reverse-Flash | Riddler | Roland Daggett | Roxy Rocket | Royal Flush Gang | Rupert Thorne | Sal Maroni | Scarecrow | Sensei | Sewer King | Signalman | Sinestro | Snowman | Solomon Grundy | Spellbinder | Squid | Steeljacket | Suicide Squad | Talia al Ghul | Tally Man | Ten Eyed Man | Terrible Trio | Thomas Wayne Tiger Shark | Timecode | Tony Zucco | Tweedledum and Tweedledee | Two-Face | Ubu | Vandal Savage | Ventriloquist | Ventriloquist II | Ventriloquist III | Vertigo | Victim Syndicate | Victor Zsasz | Whisper A'Daire | Wrath | Zebra-Man
Movies
Batman (1966): Joker | Catwoman | Penguin | Riddler
Batman (1989): Joker | Bob Hawkins | Alicia Hunt | Carl Grissom | Max Eckhardt | Vinnie Ricorso | Joe Chill
Batman Returns: Penguin | Red Triangle Circus Gang (Organ Grinder, Poodle Lady, Tattooed Strongman, Stungun Clown, Thin Clown, Fat Clown, Sword Swallower & Knifethrower Dame) | Max Shreck | Catwoman | Charles "Chip" Shreck
Batman: Mask of the Phantasm: Phantasm | Joker | Salvatore Valestra | Arthur Reeves | Chuckie Sol | Buzz Bronski
Batman Forever: Riddler | Two-Face | Sugar | Spice | NygmaTech (Frogmen) | Neon Gang (Neon Gang Leader) | Salvatore Maroni
Batman & Robin: Poison Ivy | Mr. Freeze | Bane | Snowy Cones Thugs | Golums | Jason Woodrue
Batman Begins: Ra's al Ghul | League of Shadows (Ra's Decoy) | Scarecrow | Carmine Falcone | Victor Zsasz | Joe Chill
The Dark Knight: Joker | Joker's Thugs (Thomas Schiff, Chuckles, Kilson, Bus Driver, Happy, Dopey, Grumpy & Bus Driver) | Two-Face | Sal Maroni | The Chechen | Gambol | Lau | Bank Manager | Michael Wuertz | Burmese Bandit
The Dark Knight Rises: League of Shadows (Bane, Talia al Ghul & Barsad) | Catwoman | John Daggett
Batman v Superman: Dawn of Justice: Lex Luthor | Doomsday | Anatoli Knyazev | Mercy Graves | Cesar Santos | Amajagh | Joe Chill | Dru-Zod | Steppenwolf
Suicide Squad: Eyes of the Adversary (Enchantress & Incubus) | Suicide Squad (Deadshot, Harley Quinn, Captain Boomerang, El Diablo, Killer Croc, Slipknot & Amanda Waller) | Joker's Gang (Joker, Jonny Frost, Panda Man & Monster T) | Griggs
The Lego Batman Movie: Joker | Harley Quinn | Catwoman | Poison Ivy | Two-Face | Bane | Riddler | Phantom Zone Criminals (Zod, Sauron, Kraken, Lord Voldemort, Jaws & Gremlins)
Joker: Clowns (Joker & Clown) | Penny Fleck | Randall | Wall Street Three | Penny Fleck's Boyfriend
Community content is available under
CC-BY-SA
unless otherwise noted.