We're Getting Mutants in the MCU - The Loop
Play Sound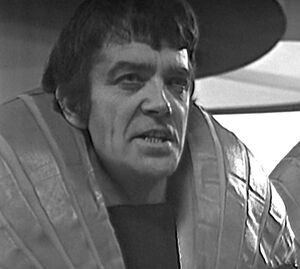 Rago is the main antagonist of the Doctor Who story "The Dominators".
He was portrayed by the late Ronald Allen.
Biography
Navigator Rago was a member of the Dominators, who described themselves as the Masters of Ten Galaxies. He and his subordinate Toba landed on the planet Dulkis with a detachment of Quarks, their robotic servants. They chose an island that had been contaminated with radiation by a weapons test as their landing site, since their spaceship was capable of absorbing the radiation and converting it into fuel. Measured and strategic, Rago objected to Toba constantly using the Quarks and wasting energy in order to satisfy his lust for death and destruction, including killing the first group of Dulcians they encountered. They captured the Doctor and Jamie, who faked stupidity in order to not be seen as a threat by the Dominators. Rago was suspicious of them but accepted their assertion that the planet's technology was the work of a superior class of native and let them go with a warning to stay away from the Dominators.
Rago then captured first the Dulcian survey team on the island, then Zoe and the rebellious Dulcian Cully, putting them to work shifting rocks as a test to see if they were of any use as slave labour. He also recaptured the Doctor. Rago travelled to the Dulcian capital with a Quark and interrupted a Dulcian council meeting to warn them that they would be expected to provide the Dominators with everything they asked for. When Tensa, the chairman of the emergency committee, objected to Rago's behaviour, Rago had the Quark kill him.
Returning to the island, Rago used the captives and Quarks to carry out mining for a plan to fire rockets and then a seed device into the molten core of the planet, destroying it and transforming it into radioactive waste in order to provide them with fuel: The Dominators had determined that the Dulcians had no value. Jamie and Cully disrupted the procedures, freeing the captives and destroying several Quarks. Unknown to the Dominators, the Doctor was able to retrieve the seed device as it was dropped down the shaft and then place it aboard the Dominator ship. As they took off, Rago noticed the device and futilely gave orders to defuse it, moments before it exploded and destroyed the ship.