House of the Dragon Trailer - The Loop
Play Sound
Ramrod is a villain in Marvel Comics.
Patrick Mahony
Possibly a native of Ireland or Scotland, Patrick Mahony was recruited by Mister Sinister to serve as the leader of the Nasty Boys as Ramrod, a group of young mutants whose first and only missions were against the government sponsored X-Factor. However, he and his friend Ruckus were more interested in beer runs and a quick buck than in Mister Sinister's agendas.
In the Nasty Boys' first and only mission against the government version of X-Factor, Ramrod used his powers to great effect against the heroes, but he was ultimately subdued by the multiple fists of Jamie Madrox. Ramrod escaped, and disappeared after Sinister effectively abandoned the Nasty Boys.
It is unknown if Ramrod retained his mutant powers after the M-Day.
Cyborg Ramrod
Ramrod was a boss of a construction crew who was gravely injured in a work related accident. As part of a diabolical plot of Kerwin J. Broderick to rule San Francisco, Broderick and Moondragon transformed this crew boss into a powerful cyborg.
Broderick then blackmailed Ramrod, by telling him that he could quickly end his life with a poison within his cyborg body. Broderick coerced Ramrod to destroy Daredevil and aid him in his quest to seize power in Los Angeles. Ramrod became a part of Broderick's crew but was ultimately defeated by Daredevil and the Black Widow.
Alien Ramrod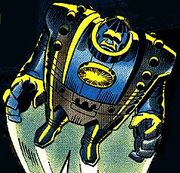 Returned to the Earth dimension by the Priest of the Ahnk, Iron Man, Daredevil, Madame Masque and Nick Fury all continue their battle against Capricorn, Sagittarius, Aquarius, and Spymaster. However, Spymaster manages to elude Iron Man, and the members of Zodiac manage to bargain for their freedom by threatening to kill Madame Masque. Afterwards, Masque confides in Iron Man about how she feels towards Jasper Sitwell and that she feels that she should end things with Tony Stark, totally unaware that Iron Man is Stark himself. Back at Stark Industries, Tony is upset that Madame Masque is going to end things with him. Feeling that he needs a vacation, he leaves the plant in the care of Kevin O'Brian. Tony then organizes a date with Marianne Rodgers, however their date is interupted by the arrival of an android named Ramrod, who was sent out by a group it refers to as the "Changers" to prepare for their arrival. Leaving Marianne, Tony changes into Iron Man and battles the android. However, it proves too powerful and Iron Man overworks himself causing strain on his heart that takes him out of the battle and to the brink of death.

Villains
Villains
Comics
A.I.M. | Ani-Men | Arcade | Batroc | Beetle | Black Widow | Blizzard | Blood Brothers | Boomerang | Brothers Grimm | Collector | Commander Kraken | Count Nefaria | Crimson Dynamo | Crossbones | Crusher | Death's Head | Diablo | Doctor Doom | Doctor Octopus | Dreadknight | Ego | Ezekiel Stane | Fin Fang Foom | Firebrand | Fixer | Gargantus | Ghost | Gladiator | Goliath | Godzilla | Grant Ward | Graviton | Griffin | Growing Man | Hammerhead | Hand | HYDRA | Iron Monger | Justin Hammer | Kang | Killer Shrike | Living Laser | Lucia Von Bardas | Mad Pharaoh | Madame Masque | Madame Viper | Malekith | Mandarin | Masked Marauder | Melter | Mister Hyde | M.O.D.O.K. | Mole Man | Morgan le Fay | Nitro | Norman Osborn | Omega Red | Paladin | The Punisher (Earth-95126) | Radioactive Man | Red Ghost | Rhino | Ronan | Roxxon | Scarecrow | Secret Empire | Shocker | Shockwave | Simon Krieger | Skrulls | Super-Adaptoid | Super-Apes | Supreme Intelligence | Taskmaster | Technovore | Temugin | Thanos | Ten Rings | Thunderball | Thunderbolt Ross | Thundersword | Tinkerer | Titania | Titanium Man | Ultron | Unicorn | Vermin | Vulture | Warlord Krang | Whiplash | Whirlwind | Wrecker | Yellow Claw | Zodiac
Movies
The Invincible Iron Man: Mandarin | The Elementals | Deities of Death (Dormammu, Hela, Mephisto & Pluto)
Iron Man: Iron Monger | Ten Rings (Raza Hamidmi Al-Wazar, Abu Bakaar, Ahmed & Omar) | William Ginter Riva
Iron Man 2: Whiplash | Hammer Industries (Justin Hammer, Jack & Hammer Drones) | Ten Rings (Ten Rings Agent) | Senator Stern | Anton Vanko
Iron Man 3: A.I.M. (Aldrich Killian, Eric Savin, Trevor Slattery, Ellen Brandt, Sweat Shop Agent, Ponytail Express, Maya Hansen & Extremis Soldiers) | Vice President Rodriguez
Heroes United: Iron Man and Hulk: Zzzax
Heroes United: Iron Man and Captain America: HYDRA (Red Skull & Taskmaster)
All Hail the King: Trevor Slattery | Herman | Ten Rings (Jackson Norriss & The Mandarin) | White Power Dave | Justin Hammer

Television
Iron Man (1994): Mandarin | Whirlwind | Dreadknight | Backlash | Grey Gargoyle | Living Laser | M.O.D.O.K. | Fin Fang Foom | Justin Hammer | Beetle | Crimson Dynamo | Titanium Man | Madame Masque | Dark Aegis
Iron Man: Armored Adventures: Mandarin | Obadiah Stane | Madame Masque | Ghost | Zhang | Dreadknight | Crimson Dynamo | Titanium Man | Black Knight | Whiplash | Doctor Doom | Magneto | Unicorn | Count Nefaria | Fixer | M.O.D.O.K.