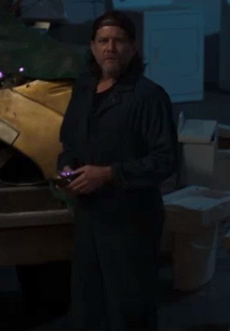 Randy Vale is a minor antagonist in the 2017 Marvel film Spider-Man: Homecoming. He is a member of Adrian Toomes' criminal organization Bestman Salvage who sold alien-human hybrid weaponry on the black market.
He was portrayed by Christopher Berry.
History
Early life
As a start, Randy, along with Toomes and the rest of the crew, were employed to oversee cleaning operations following the Avengers' battle against Loki and the Chitauri. However, Damage Control decided to take control of the operation, leaving the crew unemployed. Toomes then learned that he still has possession of several of the alien technology and decides to keep it for profit. As such, Vale tags along with Toomes's new plot to sell the technology on the black market for profit.
Criminal Life
After eight years, Toomes and his crew are still running their business. However, Vale soon learns that one of the Chitauri Guns is missing and goes out with Herman Schultz to retrieve it. They managed to located the missing gun's energy core at the Midtown School of Science and Technology before leaving for Maryland.
Several days later, Vale headed over to the Staten Island Ferry with Schultz and Toomes, in accordance to their new buyer Mac Gargan. As Vale and Schultz discuss the negotiations for the weapons, Spider-Man suddenly showed up and dispatched Gargan and his associates. Toomes and Schultz are forced to escape while Vale is webbed to the boat's railing. He is presumably arrested along with Mac Gargan by the FBI afterwards.

Cinematic Universe Villains
Movies
Television
Organizations

Community content is available under
CC-BY-SA
unless otherwise noted.