Jurassic World: Dominion Dominates Fandom Wikis - The Loop
Play Sound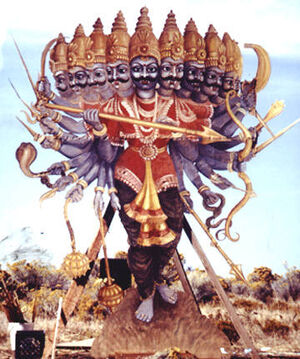 Ravana is an antagonist in Hindu mythology, being as the main antagonist of Ramayana. A powerful king of demons who is often depicted as having 10 or more heads, he is famous for kidnapping the wife of Rama, Sita. Although he is seen primarily as the antagonist of the story, he has had some followers and devotees in the Hindu faith who see him as a more morally flexible being than his more commonly seen evil incarnation.
Ravana is also the main antagonist from Sita Sings the Blues.
Biography
Ravana was once among the greatest devotees of the endless god Shiva, who blessed him after he did penance for desecrating Shiva's holy mountain in a fit of envy. Blessed by his patron god, Ravana was a skilled writer and a musician, but he was consumed by his greed for power, becoming the notorious tyrant that he is known today.
In the story of the Ramayana, he kidnapped Sita, wife of Rama, and shut her away in a tower at his demonic palace so he can take her as his wife. Fortunately, Rama came to Sita's rescue and, in a fierce battle, killed Ravana with a poisoned dart at his weakest spot, his belly.
Ravana is by far one of the most well-known and popular villains in all of Hindu mythology and has gained a great many outings in media outside his native mythology, often keeping as an antagonist.
Ravana is also seen as an incarnation of the demon Kali and as such one of many avatars that the great spirit of evil spreads its influence, this is mirrored in the Ayyavazhi mythology where Ravana is seen as an avatar of Kroni, who is the supreme spirit of evil within that setting.