Spider-Man: No Way Home Trailer Dropped - The Loop
Play Sound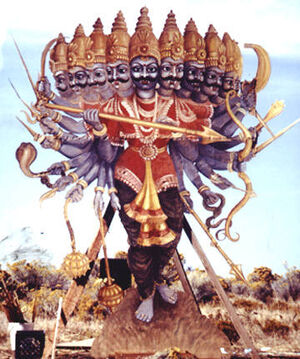 Ravana is a powerful king of demons from Hindu mythology and is often depicted as having 10 or more heads - he is famous for kidnapping the wife of Rama, although he is seen primarily as the antagonist of the story he has had some followers and devotees in the Hindu faith who see him as a more morally flexible being than his more commonly seen evil incarnation. Ravana is also the main antagonist from Sita Sings the Blues.
In the story of the Ramayana, he kidnapped Sita, wife of Rama, and shut her away in a tower at his demonic palace so he can take her as his wife. Fortunately, Rama came to Sita's rescue and, in a fierce battle, killed Ravana with a poisoned dart.
Ravana is by far one of the most well-known and popular villains in all of Hindu mythology and has gained a great many outings in media outside his native mythology, often keeping as an antagonist.
Ravana is also seen as an incarnation of the demon Kali and as such one of many avatars that the great spirit of evil spreads its influence, this is mirrored in the Ayyavazhi mythology where Ravana is seen as an avatar of Kroni, who is the supreme spirit of evil within that setting.

Notable Legends
Chupacabra | Cyclops | Dragons | Wyverns | Dullahan | Fairies | Gremlins | Grim Reaper | Ghosts | Giants | Headless Horseman | Kraken | Loch Ness Monster | Medusa | Minotaur | Monsters | Mothman | Ogres | Siren | Skeletons | Spiders | Vampires | Wendigo | Yeti | Zombies
Demonology Legends
The Devil | Demons | Fallen Angels
Abaddon | Abere | Abyzou | Andromalius | Angra Mainyu | Aka Manto | Asmodeus | Asuras | Antichrist | Baal | Banshee | Baphomet | Beelzebub | Beast | Behemoth | Behemoth the Elephant | Belphegor | Bifrons | Black Cats | Black Monk of Pontefract | Black Shuck | Black Volga | Bogeyman | Buer | Cerberus | Coco | Crom Cruach | Demiurge | Eight Feet Tall | El Charro Negro | Enma Daio | Erlik | Gargoyles | Hellhounds | Iblis | Incubi | Kali | Kansa | Kelpie of Loch Ness | Kitsune | Krampus | Kroni | Lamashtu | Lamia | Legion | Locusts of Abaddon | Mahishasura | Malsumis | Mammon | Mara | Mares | Mephistopheles | Moloch | Mourioche | Nure-Onna | Rakshasa | Ravana | Raven Mocker | Sack Man | Samael | Six Demons | Stolas | Succubi | Termagant | Unholy Trinity | The Watchers | Wa Nyudo | Whore of Babylon | Xaphan | Zabaniyah
Disambiguation Pages
Satan | Demon | Pazuzu | Succubus | Antichrist | Baphomet | Krampus | Behemoth
Gods & Spirits
Gods & Goddesses: Apep | Bila | Camazotz | Damballa | Fomorians (Balor, Bres) | Geb | Gods of Olympus (Ares, Atë, Chaos, Eris, Hades, Hera, Hermes, Limos, Poseidon, Uranus, Zeus) | Jötunn (Ymir, Loki, Hela, Skoll and Hati, Fenrir, Jormungandr, Surtr, Hræsvelgr) | Kali | Loviatar | Nun | Perkūnas | Set | Tiamat | Titans (Atlas, Kronos, Prometheus) | Veles | Xolotl
Spirits: Dybbuk | El Silbón | Fetch | Hinnagami | La Llorona | La Sayona | La Viuda | Mackenzie Poltergeist | Myling | Poltergeists | Sluagh | Stingy Jack | Umibōzu | Unseelie Court
Disambiguation Pages
God | Jesus Christ | Angel
Humans & Humanoids
Abhartach | Ajax the Lesser | Ame-onna | Antaeus | Atreus | Bandits | Baron Samedi | Black Rock Witch | Blair Witch | Bolster | Cain | Cassiopeia | Christie Cleek | Count Dracula | Creon | Davy Jones | Delilah | Draug | Doppelgangers | Dr. Victor Frankenstein| Goblins | Goliath | Gomorrahites | Green Knight | Green Witch | Grendel | Grendel's Mother | Hags | Haman the Agagite | Hanako-San | Herod the Great | Herodias | Horsemen of the Apocalypse | Humanity | Iemon | Ixion | Jezebel | Judas Iscariot | King Ahab | King Arthur | King Oenomaus | King Vortigern | Kuchisake-onna | Laius | La Santa Compaña | La Tunda | Lilith | Lord William de Soulis | Louhi | Lucius Tiberius | Lycaon | Marry-san | Meg of Meldon | Morag | Morgan le Fay | Nanny Rutt | Nessus | Orcs | Otus and Ephialtes | Pandarus | Paris | Phaedra | The Pharisees | Polyphemus | Rich Man | Romans | Saul | Sawney Bean | Sciron | Shechem | Sko-Ella | Sodomites | Stingy Jack | Tamamo no Mae | Tantalus | Tereus | Thyestes | Trauco | Tydeus | Yallery Brown | Ysbaddaden
Monsters, Animals & Anthropomorphic Beings
A-mi'-kuk | Akkorokamui | Averesboro Gallinipper | Aye-aye | Bakeneko | Basilisk | Boneless | Chimera | Cirein-cròin | Cockatrice | Cuegle | Cuélebre/Culebre | Devil Monkeys | Dip | Dragon | El Comelenguas | Erymanthian Boar | Escornau | Fossa | Fouke Monster | Foxes | Frankenstein's Monster | Giants of Voronezh | Golden Cicada | Groundhogs | Harpies | Herensuge | Hydra | Jackalopes | J'ba Fofi | Kappa | La Cegua | Lambton Worm | Leviathan | Manticores | Madman Marz | Michigan Dogman | Mikari Baba | Monster of Mount Bandai | Morag | Mordred | Morgan le Fay | Nekomata | Ojáncanu | Onamazu | Otesánek | Paparrasolla | Pesanta | Redcaps (Robin Redcap) | River Mumma | Scylla | Sphinx | Stymphalian Birds | Tailypo | Tarasque | Trolls | Tsuchinoko | Undead | Whowie | Will O' The Wisp | Wolves
Common Legends
Amanda the Doll | Black Goo | Bunnyman | Bye Bye Man | Candyman | China Doll | Clown Doll | Cropsy | Crying Boy | Hairy-Armed Woman | Hatman | Homey the Clown | Hook Killer | John and Susan Buckley | Joliet the Haunted and Cursed Doll | La Tunda | Licking Maniac | Melon Heads | Men in Black | Mystery Killer | Nain Rouge | Nameless Thing of Berkeley Square | Old Man Try-By-Night | Peeping Tom | Rain Man | Robert the Doll | Paimon | Patasola | Skinned Tom | Teke Teke | The Killer In the Backseat | The Man Upstairs
Cryptids
Beast of Gévaudan | Black Eyed Children | Black Stick Men | Cherufe | Devil Monkeys | Emela-Ntouka | Enfield Horror | Dog-headed Men | Fear Liath | Flatwoods Monster | Ghosts Goatman | Grafton Monster | Greys | Hoop Snake | Indrid Cold | Jackalopes | Jersey Devil | Kelpie of Loch Ness | Kongamato | Malawi Terror Beast | Mamlambo | Manananggal | Maricoxi | Mngwa | Momonjii | Morag | Nobusuma | Pope Lick Monster | Popobawa | Pukwudgies | Reptoids | Roc | Ropen | Salawa | Sea-Serpents | Shadow People | Sheepsquatch | Slide-Rock Bolter | Snallygaster | Spring Heeled Jack | Tanuki | Thunderbird | Two-Toed Tom | Water Horses | White-Eyed Children | Yowie
Modern Legends
Charlie | Bloody Mary | Bloody Mary (Halloween Horror Nights) | Ghost (Johnny, I Want My Liver Back) | Ghost Trains | Kunekune | Momo | Orie Chef | Aliens (AC) | Martinez Dog Demon | The Spirit of Dark and Lonely Water | Crisis
Possessed Objects
Coffin on Wheels | Ghost Trains | Black Volga | Robert the Doll | Joliet the Haunted and Cursed Doll | China Doll | Amanda the Doll | Clown Doll | Gargoyles
See Also
Cthulhu Mythos Villains | Creepypasta Villains | SCP Foundation Villains | Trevor Henderson Villains