Jurassic World: Dominion Dominates Fandom Wikis - The Loop
Play Sound

✓



Click To Help Dr. Wily!

Dr. Wily has declared that this article is still under construction.
Please don't delete or edit this article yet, it may contrast with the original author's edits.
After I finish this article, the world will be mine! MWAHAHAHAHA!
| | | |
| --- | --- | --- |
| " | I lost my mother, my country, my birthright. Niflheim was the only life left to me. But all of that was for this. The ring belongs to me now. Hear me, Lucian kings of old, for I am Ravus Nox Fleuret and none is more worthy of your power than I. | " |
| | ~ Ravus as he wields the Ring of Lucii in Final Fantasy XV: Kingsglaive. | |
Ravus Nox Fleuret is the secondary antagonist of Final Fantasy XV and the deuteragonist of Final Fantasy XV: Episode Ignis. He is the former prince of his homeland, Tenebrae, and the High Commander of Niflheim's Imperial Army. He is also the older brother of Lunafreya Nox Fleuret.
Ravus' Japanese voice actor is Yuichi Nakamura, and his English voice actor Trevor Devall.
Appearance
Ravus is a young man with a light shade of white hair, almost identical to his sister's. He has two sets of different colored eyes, where his left eye is colored being purple and his right eye being blue (in Kingsglaive, this is changed where his eyes are instead grey).
He wears a white, collared frock with black and purple lining around the suit, attached with silver belts at the waist. He also wears a large crest at the bottom of his right side (presumably the crest of his former kingdom). He also wears a prosethic, silver arm, which replaces the arm he lost when he attempted to put on the Ring of Lucii.
Upon transforming into a daemon, most of Ravus' left side has been covered in a black fluid material, manifesting a monstrous appearance, as well as causing him to emit a purple aura around him.
Personality
Ravus was once a kind and joyful boy that lived in peace with his mother, Queen Syvla, along with his sister, Lunafreya. However, when the family lost Fenestala Manor to Niflheim, Ravus became desperate and sought out help from King Regis of Lucis. The king instead left Tenebrae in the hands of the Empire of Niflheim, for the sake of protecting his son, Noctis. This led to Ravus developing a deep hatred for the king and his royal family.
Since then, Ravus has blamed the Lucian royal family for his family's suffering, viewing them as "cowards." When Ravus came across the Ring of the Lucii, he believed he could inherit the ring's power and be the one that would save the world from darkness, due to his Oracle bloodline. However, the ring instead chose Noctis as its chosen one, which caused Ravus to develop bitter feelings towards him.
His views on the Lucian royal family contrasts with his sister's, as she believes them to be good people at heart. Despite this, Ravus deeply cares for his sister and goes out of his way to ensure her safety. His bond with his sister is stronger than his loyalty to the Niflheim empire, as he tries to keep her out of the hands of the imperials. Nonetheless, Ravus acknowledges her position as the Oracle and encourages her to fulfill his duties. Following the events in Altissia, he has abandoned the empire, in favor of his sister's cause, viewing Noctis as the rightful king and the one that will restore light to the world.
When Ravus was transformed into a daemon, much of his original self barely remained but during this, the only thing he asked for was Noctis and his friends to kill him, ending his suffering.
Biography
After Niflheim has successfully taken over Lucis, Ravus returns to Niflheim in order to treat his burnt arm. Ravus is appointed High Commander of the Imperial Army after Glauca's death. When news of prince Noctis' survival reaches Niflheim, Ravus and other high-ranking officials are called before Iedolas. Ravus reveals to him that Lunafreya escaped with the ring and Iedolas tasks him with retrieving it, calling it 'the final piece'. Although Ravus is at first tasked with killing Lunafreya, Verstael mentions that they might do well to take her alive, as Lunafreya can call the Six and wields power. Verstael then tells Ravus that the Imperial Army is at Ravus' disposal and Ravus swears that he and his men will continue the search for the prince and the Oracle.
To find both, Ravus orders his army to raise imperial blockades across the region. At the blockades, travellers are searched before they are allowed passage. Publically, Ravus justifies this by claiming that there is reason to suspect that the insurgents behind the Citadel attack have taken refuge in Duscae and that the blockades are a means to finding the criminals.
Noctis and his friends first encounter Ravus when trying to get back their Regalia from an Imperial base. After all enemies in the base have been defeated, Ravus calmly walks towards the four, sword drawn. Ravus mocks Noctis by mentioning his titles. Noctis in turn calls Ravus an imperial rat who is hunting down his own sister for the Empire. When Ravus threatens Noctis, Gladiolus attempts to intervene but is attacked and easily hurled away by Ravus. Before it can come to battle, Ardyn Izunia arrives and ends the confrontation, although Ravus does not seem to like it. Ardyn withdraws the imperial army from the region and leaves together with Ravus, claiming that the two of them have an 'appointment' with Lunafreya.
Ravus has finished his tour of Lucis with Lestallum being his final destination. He returned to Tenebrae where he also helped Lunafreya return there as well. He begged his sister to stop sacrificing herself for Noctis, believing him to be unable to fulfill the prophecy as the True King. Lunafreya, however, still believed that Noctis is the True King and that Ravus must know this, since he had been judged by the previous kings. Ravus blamed his sister of "throwing her life away" and unable to response when she said that she knew about it, but that it was her choice.
Alternate Ending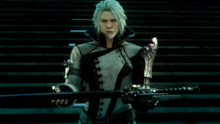 In Final Fantasy XV: Episode Ignis, if the player chooses to play along with Ardyn's plans, Ravus will provide Noctis and his friends aid, in which he takes them to Zegnautus Keep, where Ignis is being held captive. Once the Starscourge has spread upon further throughout the world, Ravus is later seen with Ignis in Tenebrae, who had his wounds healed from Noctis, after battling with Ardyn.
Ten years later, Ravus waits for Noctis and his Crownsguard at the Citadel, where he offers him the Sword of the Father. He then joins his party and heads forth into the throne room to defeat Ardyn together.
Gallery
Trivia
According to the developers of the game, Ravus only served the empire as a result of the circumstances of his situation and never truly devoted loyalty to them.