Doctor Strange in The Multiverse o Madness - The Loop
Play Sound
For the Green Lantern: The Animated Series character, Razer
For the Star Wars: The Old Republic character, Lord Razer.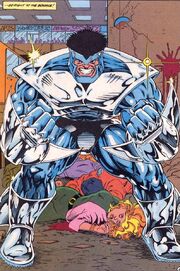 Origin
Razer was a very large man who wore a suit a thousand times more slippery than teflon. The suit could cut through anything. In his gloves were rows of spikes that allowed him to hold onto things, since otherwise anything would slip away.  Art Valentine always felt mistreated by his two older brothers, Charlie and Ben. He hired Razer to destroy several of the Valentines' developments. However, he pointed the blame for Razer elsewhere, on former Valentine co-worker, partner and chief architect Klaus Norwood, whose increasingly surreal and unstable designs caused his dismissal from the group. He had sworn revenge, and Art used Norwood as the perfect scapegoat, killing him, and hiding the body in Norwood's futuristic mansion.
Razer's first target was a disaster which Flash arrived at to divert and Razer got away.  After beating Wally up pretty badly, Razer got away when Wally finally defeated him here, sending Razer flying into the side of a tar truck. Meanwhile, Linda Park had gotten a confession out of Art Valentine.
Razer was later hired by Prometheus to plant an explosive device under the bridge that connected Central City and Keystone City. He was tracked down and defeated by the Flash and Batman.
Paraphernalia
Equipment
Lubrilon-coated suit