Jurassic World: Dominion Dominates Fandom Wikis - The Loop
Play Sound

✓
This villain was proposed but was rejected by the community for not being heinous enough or lacks what is necessary to be a Pure Evil villain. Therefore, this villain shall be added to our "Never Again List", where proposed villains rejected by the community shall be placed to prevent future proposals of the same evil-doer. They can be proposed again (with the permission of an administrator) if new elements appear in their series that can change their status as non-PE villains.
Any act of adding this villain to the Pure Evil category without a proposal or creating a proposal for this villain without the permission of an administrator will result in a ban.
Additional Notice: This template is meant for admin maintenance only. Users who misuse the template will be blocked for a week minimum.
Red is the main antagonist of the 1996 animated film All Dogs Go to Heaven 2. He is a demonic feline from Hell who desires to obtain Gabriel's horn to bring all angel dogs in Heaven to Hell. 
He was voiced by George Hearn, who also played Captain Ahab in 20th Century Fox's The Pagemaster.
Appearance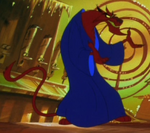 Red is a large demon cat with red fur (hence his name), yellow eyes and long maroon fingernails. He always seens wearing a navy blue robe.
In his dog disguise, he looks like a St. Bernard with glowing light green eyes, and wears a crimson red robe, acomppained by a scarf, a fez and a pair of slippers of the same colors. On his true form, he is gigantic, muscular, and has glowing red eyes.
Personality
Compared to Carface (who is money-hungry), Red is manipulative, power-hungry, sadistic, prideful, merciless and psychopathic. He seems to be motivated by little else than his own desires to be as wicked as possible. Like all demonic entities, he prides himself on being sinister and doesn't approve of any "entry-level wickedness". In addition to being a malevolent and hellish feline, he also has the many characteristics of a cat, he eats rodents, he hates water (proven near the end of the film during the battle between him and Charlie), he thinks very low of dogs in general (especially his sidekick Carface), and he wants full control over them which plays a keen role in his goal to obtain the horn.
He is also very deceptive and persuasive, which is shown by repeatedly disguising himself as an old St. Bernard to manipulate his victims, and he is also very hot-headed, passionate, melodramatic, and sensational, acting unfriendly in a big way whenever his patience is tried such as when Red snapped at Carface over wanting to make money with the horn, but power seems to excite Red as well proven when Red gets Gabriel's horn, he takes no notice of anything going on around him and when Carface says Charlie and his friends are getting away Red only says "Let them".
Biography
Red is a powerful feline demon from hell who recruited Carface Carruthers in his plan to use the magical Horn Of Gabriel to pull all the dogs from Heaven into Hell. To this end, he tricked Carface's old nemesis, Charlie, into aiding him via creating magical collars and forcing him into a deal, under the disguise of an aged dog.
After Carface captured David and taken him to Alcatraz prison, Red intimidates him with his claws and threatens him as well. This climaxed in the demon managing to actually get the horn and he began to imprison the inhabitants of Heaven (including Annabelle) inside the Alcatraz prison while growing into a dangerous monster of seemingly apocalyptic proportions, causing the sea itself to start to rise around the island in a massive whirlpool.
However, Charlie and his friends decide to fight back. Charlie tried to attack him, but Red tosses him to the ground and attempts to kill him. Before Red can do so, David and the others stopped him by demanding him to leave Charlie alone, which Red scares them off. Suddenly, a pipe bursts and water splashes on Red, this giving Charlie an idea to defeat him. Red blocks David with his claws until Itchy intervenes and retrieves the horn. Red cynically hold David and the others hostage with his big claws and mocks Itchy with the choices as starts torturing them. But Itchy foil this by leaping in and tell the others to run for safety. Red corners Itchy, unaware that he had no horn until he notices Charlie with it and he proceed to chase him up to the roof. While Charlie climbs up onto the water tower with Red chasing him. Charlie is about to blow the horn, Red relentlessly tortures him with the magical red collar by shocking repeatedly as he confronts him. Fortunately, Charlie remembers the whirlpool and then letting Red's guards down by teasing him with dropping the horn and jumping off the tower for the latter to chase him. Angry, Red chases and about to recapture the horn again before he realizing his mistake too late as the water tower falls towards the whirlpool, which splashes on the demonic cat and making him fall from the great height. Red been weakened in the battle by being splashed with water as he's holding on the stairs from preventing himself of getting sucked back into hell and then corners both David and Sasha while they walking up to the second floor. The resulting in a battle that ended with Charlie blowing the horn, reversing the evil spell and sending all the dogs back to heaven.
Red (who had already been weakened in the battle by being splashed with water and then falling from a great height) was ultimately sucked back into hell for his failure with his last screams of agony. Before vanishing, however, Red returns and drags Carface down, as this was part of their deal because he unknowingly sold his soul to him for the red collars after Charlie mentions to Carface about what he trades for Red. It's unknown what happened to Red after his defeat, but it's likely that he was burned intro the flames after he arrived.
Trivia
Red's pupils disappear occasionally during the film.
In his disguise, Red is one of only two animal characters in the All Dogs Go to Heaven franchise to wear shoes. All of the other animals are barefoot, with Chief in the TV series' episode "Charlie's Angle" as an exception.
His red demon-like form is loosely based on Jafar's red genie form from Disney's Aladdin.
Red isn't exactly Satan himself, as "his boss" is loosely referenced after his defeat, implying he maybe a pet or otherwise a servant.
He is the only All Dogs Go to Heaven villain to have a stereotypical villain personality. The other villains, Carface and Belladonna act either for revenge or their own personal gain. This makes Red the franchise's most dangerous villain as well.
Red's design appears to be similar to the Hellhound's design from the first All Dogs Go to Heaven film. 
At one point in the film, Red teases Carface with a straight razor, possibly a reference to Sweeney Todd, who George Hearn played on stage and television.
Red bares a strong resemblance to Scar from Disney's The Lion King franchise.

Coincidentally perhaps, Jordi Doncos, Scar's singing voice in the Spanish dub also voiced Red.

Though Red never appeared in All Dogs Go To Heaven: The Series and An All Dogs Christmas Carol, his influence is still shown. Charlie develops hatred towards cats throughout the series due to his battle with Red, and that Carface and Killer still stay at Red's place. Additionally, Alcatraz Island is partly destroyed because of Red.
It is unknown if Belladonna and Red knew each other, but they do have similar traits. They are both demonic beings from hell and they both serve as bosses to Carface.
Villains
Animated Features
Nightmare King | Manta Ray | Flip | Fagin | Prince Froglip | Goblin Queen | Goblin King | Hexxus | Lou the Goanna | Waggs | Izabella Scorpio | Conrad Cuppman | Grundel Toad | Berkeley Beetle | Mr. Mole | Mrs. Toad | Ms. Fieldmouse | Queen Gnorga | King Llort | Julius Caesar | Rothbart | Bridget | Alligators | Claudandus Sect (Claudandus & Joker) | Dr. Preterius | Drake | Leopard Seal | Steele | Red | Carface Carruthers | Dr. Greed | Rasputin | Bartok | Ruber | Griffin | Ruber's Minions | Bladebeak | Zira | Outsiders (Nuka & Vitani) | Scar | Bill Bluff | BluffCo Industries (Guy Graham, Bob & Bluff Agents) | Kent Mansley | Ludmilla | Bradley Uppercrust III | The Gammas | Joe | Shark | Crab | Anti-Recess Legion (Phillium Benedict, Kojak, Fenwick, Anti-Recess Agents, Anti-Recess Ninjas, Anti-Recess Scientists, Agent Henderson, Agent Smithson, Agent Underville, Agent Franklin, Agent Morrisey, Agent Goodman, Dr. Rosenthal, Dr. Lazenby & Dr. Steinheimer) | Thrax | Mayor Phlegmming | Bruiser | Joe Cramp | Thrax's Henchmen | James Hook | Mr. Smee | Neverland Pirates | Shere Khan | Kaa | Bandar Log | Heffalumps and Woozles | Ben Yusuf | Gunnar | Mama Gunda | Uto & Kago | Sabor | Junior Bloomsberry | Cryptograf | Roy Arnie | Heroin | Phyllis | Lady Tremaine | Drizella Tremaine | Anastasia Tremaine | Lucifer | Black Wolf | Black Wolf's Pack (Smiley) | Titeuf | Volcazar | Volcazar's General | Amazons | Gu'ra Zul | Zaal | White Wolf | Eagles | Bang Johansen | Egon Olsen | Rookery | Ms. Diekendaker | Philip Eberfroe | Mr. Wang
Television and Shorts
The Little Man | Ren Höek | Green Pigs (King Pig, Corporal Pig, Foreman Pig, Chef Pig, El Porkador, Ross, Hambo & Professor Pig)
See Also
20th Century Studios Villains | Amblin Entertainment Villains | Asterix Villains | Angry Birds Villains | Cinderella Villains | Don Bluth Villains | Disney Villains | Farrelly Brothers Villains | Lantern Entertainment Villains | Miramax Villains | Metro-Goldwyn-Mayer Villains | New Line Cinema Villains | Osmosis Jones Villains | Pannonia Film Studio Villains | Peter Pan Villains | Pink Panther Villains | Rankin/Bass Villains | Recess Villains | The Lion King Villains | The Jungle Book Villains | Tarzan Villains | The Swan Princess Villains | Universal Studios Villains | Warner Bros. Villains | Winnie the Pooh Villains

Villains
Animated Features
Princess Yakusha | Blue Meanies (Chief Blue Meanie & Max) | Suckophant | Terrible Trivium | Ralph and Al | Lizard Leader | John | Blue | Sauron | Saruman | Gollum | Durin's Bane | Gríma Wormtongue | Witch-king of Angmar | Nazgûl | Orcs | Fellbeasts | Odile | Von Rothbart | Jenner | Dragon | NIMH | Dr. Boycott | Lynn Driver | William Harbottle | Under Secretary | Dr. Goodner | Ackland | Mok Swagger | The Demon | Schlepper Brothers | What's Her Face | Mutants | Claudia Furschtein | Klaus Furschtein | Carface Carruthers | Killer | Mean Street Dogs | Hellhound | Grand Duke of Owls | Hunch | Pinky | Frog Bouncers | Drake | Leopard Seal | Red | Emperor Maltazard | Ernest Davido | Darkos | King Malbert | Dr. Schadenfreude | Jaclyn | Monsters | Dr. Glickenstein | Moriarty | Reggie and Ronnie | Lord Piggot-Dunceby | Willard Stenk | Mr. Collick | Willard Stenk's Accomplices | The Yeti Elder | Yeti Soldiers | Margaux Needler | Cyrus Strange
Live-Action Films
Wicked Witch of the West | Flying Monkeys | Winkie Guards | Wicked Witch of the East | Rhett Butler | India Wilkes | Dr. Julius No | SPECTRE (R.J. Dent, Three Blind Mice, Miss Taro & Annabel Chung) | Mrs. Iselin | Roger Furness | Rosa Klebb | Tov Kronsteen | Red Grant | Morzeny | Rhoda | Benz | SMERSH (Krilencu) | Ernst Stavro Blofeld | Simone Clouseau | Charles Dreyfus | The Phantom/Sir Charles Lytton | Paul's Grandfather | Ramón Rojo | Miguel Rojo | Esteban Rojo | John Baxter | Chico | The Ultimate Depravity (President Curval, The Duke of Blangis, Bishop & The Banker Durcet) | Billy Nolan | Carrie White | Chris Hargensen | Donna and Mary Lila Grace Thibodeau | Helen Shyres | Margaret White | Mortimer Snerds | Ralph White | Tina Blake | Mr. Chong | The French Connection | Pod People | Walter E. Kurtz | Bill Kilgore | Alan Yates | Alan Yates' Crew (Jack Anders, Mark Tomaso & Faye Daniels) | Ya̧nomamö Tribe | Shamatari Tribe | Farmer Vincent | Calibos | Thetis | Giant Scorpion | Acrisius | Medusa | Giant Vulture | Huntsman | Calibos's Henchmen | Stygian Witches | Countess Chandra | Lieutenant Palmyra | Antonio Salieri | Ligget County Sheriff Department (Will Teasle, Art Galt, Ward, Mitch Rogers, Balford & Shingleton) | Orval Kellerman | Clinton Morgan | Earl | Reverend Henry Kane | Poltergeists (Tree & Clown Doll) | Ghoulies | Bob Barnes | Bunny | President Skroob | Dark Helmet | Pizza the Hutt | Grant Stayton III | Queen Bavmorda | General Kael | Killer Klowns (Jumbo, Fatso, Shorty, Rudy, Slim, Spike, Bibbo, Chubby, Baby Killer Klowns, & Klownzilla) | Curtis Mooney | Pumpkinhead | Chucky | Eddie Caputo | Peddler | Damballa | Sergeant Bauer | Pawnee | Corporal Spivey | Corporal Edwards | Elliot Marston | Luther | James | Saladene | Harlan Puckett | Chuck De Nomolos | Evil Bill & Ted | Curley | Ryan Gaerity | Ra | The Cat | Dawg Brown | Ernie McCraken | Hannibal Lecter | Mason Verger | Paul Krendler | Rinaldo Pazzi | Cordell Doemling | Rachel Lang | Creeper | Dr. Brinkman | François Molay | Victor Diaz | Georges Rutaganda | Gregoire | Emperor Maltazard | Ernest Davido | Darkos | Vladis Grutas | Grutas' Group (Petras Kolnas, Zigmas Milko, Enrikas Dortlich, Bronys Grentz & Kazys Porvik) | Paul Momund | Dieter | Water Street Butcher | The Tornado | Azog | Sauron | Saruman | Orcs (Yazneg & Torturer of Dol Guldur) | Goblins (Great Goblin) | Gollum | Bolg | Smaug | Master of Laketown | Nazgûl (Witch-king of Angmar) | Trolls | Messala | Tyler Harne | Deputy Stack | Emilio | Bartholomew Bogue | McCann | Denali | Arthur Savage | Edward Scarka | Chucky (2019) | Shane | Evil Dolls | Holda | Patrizia Reggiani
Direct-To-Video Features
Barnaby Crookedman | Martin Brisby | Dr. Valentine | Muriel and Floyd | Belladonna | Injurin' Joe | Owl
Animated Television
Blue Aardvark
Live-Action TV
Lorne Malvo | V.M. Varga
Shorts
Tom | Jerry | Spike | Butch | The Little Man
See Also
007 Villains | 20th Century Studios Villains | Alvin and the Chipmunks Villains | Cannibal Holocaust Villains | Child's Play Villains | Dollars Trilogy Villains | EuropaCorp Villains | Farrelly Brothers Villains | Hannibal Villains | Killer Klowns from Outer Space Villains | Laika Villains | Luc Besson Villains | Middle-Earth Villains | Nepenthe Villains | Oz Villains | Pink Panther Villains | Ralph Bakshi Villains | Rambo Villains | Ridley Scott Villains | RoboCop Villains | Rocky Villains | Salo Villains | Sherlock Holmes Villains | Syfy Villains | The Addams Family Villains | Tom and Jerry Villains | Village Roadshow Pictures Villains | Warner Bros. Villains