Cobra Kai Season 4 - The Loop
Play Sound
Jafar says: Read my lips and come to grips with the reality!


This article is a stub and is in need of expansion. You can help Villains Wiki by expanding it.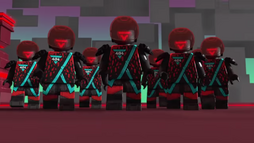 The Red Visors are troopers acting under the command of Unagami, and serve as minor antagonists in LEGO Ninjago: Masters of Spinjitzu, appearing as major antagonists in Season 12: Prime Empire. They look like robots and use guns.
Biography
When Milton Dyer and Vast Industries made Prime Empire, they made the Red Visors for that game that players had to destroy while playing the game. But when Scott tested the game, and disappeared, the company panicked and stopped developing the game. Over the years, Unagami pre-programmed the game himself, and with the help of the Mechanic, began abducting players playing Prime Empire inside the game so he could get to Ninjago and search for Milton Dyer. And for that, he had to build a gate with the help of players who turned into energy cubes, and he used the Red Visors and other subjects of his army in it. When the Ninja got inside the Prime Empire, Unagami sent the Red Visors to attack them and also prevented them from getting the Key-Tanas. When Unagami completed the gate, he launched an attack on Ninjago with the Red Visors and his other minions with the intent of finding Milton Dyer and holding him accountable for trying to shut down Unagami. But during the attack, Dyer manages to reconcile with Unagami, and after that, Unagami releases all the players imprisoned in the Prime Empire, and then the Red Visors and other villains in the game return back to Prime Empire.
Gallery
Villains
Skulkin
Leader: Lord Garmadon
Generals: Samukai | Kruncha | Nuckal | Wyplash
Members: Frakjaw | Chopov | Krazi | Bonezai

Serpentine
Goddess: Great Devourer
Anacondrai Tribe: Pythor P. Chumsworth | Arcturus | Anacondrai Generals
Hypnobrai Tribe: Skales | Slithraa | Mezmo | Rattla
Fangpyre Tribe: Fangtom | Fangdam | Fang-Suei | Snappa
Constrictai Tribe: Skalidor | Bytar | Chokun | Snike
Venomari Tribe: Acidicus | Lizaru | Spitta | Lasha | Zoltar
Vermillion Warriors: Supreme Commander Machia | Commander Raggmunk | Commander Blunck | Slackjaw | Rivett | Tannin | Vermin | Buffmillion
Pyro Vipers: Queen Aspheera | Char | Pyro Destroyers | Pyro Slayers | Pyro Whippers | Fire Fang | Elemental Cobras
Mini-Snakes: Golden Vipers | Hypno Vipers | Red Vipers | Sly Vipers | Toxic Vipers | Translucent Blue Vipers | Translucent Orange Vipers | Translucent Purple Vipers | Electrocobrai
Treehorns
Treehorn Queen
Realm of Madness
Mud Monsters | Craglings
Destiny's Bounty Pirates
Leader: Captain Soto
Members: First Mate | No-Eyed Pete | Guide Parrot
Darkley's Boarding School for Bad Boys
Brad Tudabone | Gene
The Overlord's Forces
Leader: The Overlord/Golden Master
Stone Army: Lord Garmadon | General Kozu | Giant Stone Warrior | Stone Warriors | Stone Swordsmen | Stone Scouts
Nindroid Army: Pythor P. Chumsworth | OverBorg | Techno Wu | General Cryptor | Nindroid Warriors | Nindroid Drones | Min-Droid | Nindroid MechDragon

Anacondrai Cultists
Leader: Master Chen
Members: Clouse | Zugu | Eyezor | Kapau | Chope | Sleven | Krait | Anacondrai Serpent | The Mechanic
Ghost Warriors
Leaders: The Preeminent | Morro
Weapon Masters: Soul Archer | Bansha | Ghoultar | Wrayth
Ghost Ninja: Attila | Hackler | Ming | Spyder | Howla | Yokai | Wooo
Ghost Warriors: Cowler | Cyrus | Ghurka | Pitch | Pyrrhus | Wail
Other: Skreemers | Morro Dragon | Ghost Dragons
Yang's Students
Leader: Sensei Yang
Members: Chris | Martin | Chuck
Sky Pirates
Leader: Nadakhan
Members: Flintlocke | Delara | Dogshank | Doubloon | Monkey Wretch | Clancee | Sqiffy | Bucko | Cyren | Skeleton Figurehead
Shadow Army
Clouse
Departed Souls
Leader: Sensei Yang
Members: Samukai | Pythor P. Chumsworth | General Kozu | General Cryptor | Master Chen | Morro
Others: Frakjaw | Krazi | Stone Swordsmen | Stone Scouts | Nindroid Warriors | Zugu | Eyezor | Yang's Students
Sons of Garmadon
Leaders: Emperor Garmadon | Harumi
Generals: Killow | Mr. E | Ultra Violet
Members: Luke Cunningham | Chopper Maroon | Mohawk | Skip Vicious | Nails | Sawyer | Scooter | Buffer | Colossus
Dragon Hunters
Leader: Iron Baron
Members: Heavy Metal | Jet Jack | Daddy No Legs | Muzzle | Chew Toy | Arkade | Scar the Skullbreaker | Stalwart Dangerbuff | Otto Pilot | Talon | Nitro
The Oni
Leader: The Omega
Members: Oni Warriors | Oni Soldiers | Oni Scouts
Blizzard Samurai
Leader: Ice Emperor
Members: General Vex | Grimfax | Blizzard Warriors | Blizzard Sword Masters | Blizzard Archers | Boreal | Ice Behemoth
Unagami's Army
Leader: Unagami
Red Visors: Red 27 | Red 29 | Aerial Drones
Members: Avatar Harumi | Sushimi | Sushi Hostess | Sushi Chefs | Monster Sushi
Whack Rats: Atta the Ratta | Richie | Ritchie
The Mechanic's Gang
Leader: The Mechanic
Members: Cece
Re-Awakened
Leader: King Vangelis/Skull Sorcerer
Members: Skull Of Hazza D'ur | Grief-Bringer | Undead Mino
Keepers of the Amulet
Leader: Chief Mammatus
Members: PoulErik | Rumble Keepers | Thunder Keepers | Stone Golems
Kryptarium Escapees
Ronin
Kalmaar's Army
Leader: King Kalmaar
Members: Gripe | Glutinous | Maaray Guards | Wojira
Shark Army
Leader: Lord Garmadon
Generals: General Olivia | General Omar
Soldiers: Angler | Angler Goon | Four Eyes | Octopus | Private Puffer | Puffer | Crusty | Jelly | Great White | Hammer Head | Shark Army Gunner | Charlie | Shark Army Thug
GPL Tech: Terri | Asimov | Steve | IT Bat Nerd
Lost Generals
Leader: General Olivia
Members: General Omar
Snake Army
Leader: General Shen
Members: Captain Oraku | Snake Brutes | Snake Goons
Others
Spykors | Fangpyre Robot | Bizarro Ninja | Grundle | Starteeth | The Leviathan | Stone Hawk | Quartet of Villains | Cardinsto | Mask of Malice | Time Ninja | Diaman | Kirchonn the Invincible | Six-Armed Warriors | Gahrann the Dreamer | Barracudox | Astro Parasites | Kryptarium Inmates | Dark Samurai | Ice Serpent | Fangfish | Strangle Weed | Fenwick | Nimbus | Khanjikhan | Repo Man | Sir Chomps-A-Lot | Tiger Widow | Sand Eels | Geotomic Rock Monsters | Meowthra | Mystery Dust | Crabby | Beohernie | Vastodectrus Venemous | Venomasicus Tigrus | Frost Wolves | Ice Bird | Red Dragon | Dire Bats | Moe | Giant Spiders | Lava Monster | Tanabrax
See Also
Lego Villains