Jurassic World: Dominion Dominates Fandom Wikis - The Loop
Play Sound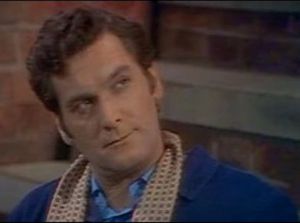 Reegan is the secondary antagonist of the Doctor Who story "The Ambassadors of Death".
He was portrayed by the late William Dysart.
Biography
Reegan was a criminal hired by the corrupt General Carrington to kidnap three alien ambassadors who had come to Earth after replacing astronauts from the Recovery and Mars Probe missions. He raided the government facility where they were being held, having his men kill the scientists there. He then shut two of his men in the back of a van with the aliens, resulting in them dying of radiation poisoning, and dumped their bodies in a gravel pit with papers on them to suggest they were foreign agents. He then took the aliens to a bunker where disgraced scientist Doctor Lennox had been hired to look after them.
Carrington planned to have Reegan use the aliens to carry out killings and robberies in order to turn public opinion against them, while Reegan dreamed of using them to rob banks once Carrington was finished with them. He was ordered to kidnap the Doctor and Liz, but the Doctor failed to respond to a phone call summoning him to a meeting and only Liz was captured. Bruno Taltalian, a scientist working with Carrington, provided Reegan with a device that would allow him to communicate with the aliens using simple codes, including threatening to cut off their radiation if they disobeyed. Having failed to halt the Doctor's investigations by threatening to kill Liz, Reegan convinced Taltalian to plant a bomb to kill him, secretly setting it to go off as soon as it was activated, but the explosion only killed Taltalian. Reegan used the aliens to kill Sir James Quinlan, who was on the verge of telling the Doctor about the alien ambassadors.
When Lennox went to UNIT to try and tell them what he knew, Carrington had him killed in protective custody, while Reegan tried to kill the Doctor by sabotaging the fuel mix when he took Recovery 7 up to search for the original astronauts, killing a technician in the process by throwing him from a gantry. When that failed, Carrington ordered Reegan to kill the Doctor as soon as he returned but Reegan opted to kidnap him instead, convincing Carrington to keep him alive so he could build a machine that would allow proper real time communication with the aliens.
Reegan used the new machine to force the aliens to carry out a raid for radioactive isotopes, but the Doctor was able to send an SOS signal and UNIT stormed the bunker, capturing Reegan. With UNIT needing to regain control of the space centre from Carrington before he made a broadcast denouncing the aliens, Reegan suggested they use the aliens, telling them to remember it was his idea.