| | | |
| --- | --- | --- |
| " | Surrender! A Battesaur would never surrender. | " |
| | ~ Reptillus Maximus | |
Reptillus Maximus is a supporting antagonist in Toy Story That Time Forgot. He is Trixie's love interest in the special.
He was voiced by Kevin McKidd, who also played Thomas Wayne in Justice League: The Flashpoint Paradox.
Biography
After Woody, Buzz Lightyear, Trixie, Rex and Angel Kitty enter the Battlesaur playset, Reptuillus Maximus welcomes Rex and Trixie in their quality of being dinosaurs, while completely ignoring the three other toys. He starts to fall for Trixie, which he finds "quite unlike our females", and makes her visit all the parts of "Battlepolis". However, he does not understand Trixie when she talks about toys and play, stating that he would not accept to "surrender".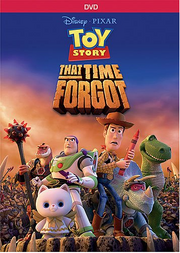 Reptillus shows off his gladiatorial prowess in the Arena of Woe by "slaughtering" the toys captured by the Battlesaurs. He is puzzled, however, when Trixie attempts to stop him. In the process, he discovers that Trixie has the name of Bonnie under her foot, which he and the Battlesaurs consider to be a sign of surrender. Reptillus feels deceived by Trixie and expresses bitter disappointment of her.
He chases Trixie when she flees to bring in Bonnie and Mason and gets out of the Battlesaur playset. In the process, he stumbles upon his own box. He is horrified by this finding, but refuses to face his reality and knocks down the box. He prevents Trixie from turning off the power of Mason's video game console and confronts her. Trixie convinces Reptillus of the greatness of being a toy. Reptillus finally accepts to surrender and lets himself be picked up by Mason and be played with, so he is transformed by the experience. During the credits, he expresses his hope to see Trixie again.

Villains
Animated features
Sid Phillips | One-Eyed Bart | Attack Dog with Built-in-force-field | Hopper | Molt | Grasshoppers (Thumper, Axel and Loco) | Fly Brothers | Stinky Pete | Al McWhiggin | Emperor Zurg | Zurg Empire (Zurg Bots, Warp Darkmatter, Hornets, Brain Pods & Grubs) | Dr. Porkchop | Henry J. Waternoose III | Randall Boggs | Dr. Philip Sherman | Darla Sherman | Syndrome | Omnidroids | Mirage | Gilbert Huph | The Underminer | Bomb Voyage | Chick Hicks | Boost, DJ, Wingo & Snot Rod | Chef Skinner | AUTO | GO-4 | Charles F. Muntz | Alpha | Beta and Gamma | Lots-o'-Huggin' Bear | Lotso's Gang (Ken, Big Baby, Stretch, Chunk, Sparks, Twitch & Monkey) | One-Eyed Betty | Sir Miles Axlerod | Lemons (Professor Zündapp, Grem, Acer, Victor Hugo, J. Curby Gremlin, Tyler Gremlin, Don Crumlin, Ivan, Tony Trihull, Alexander Hugo, Towga Gremlin, Stefan Gremsky, Samuel Gremlin, Jake Gremlin, Dennis Gremlin, Robert Gremlin, Sylvester Gremlin, Kai Gremlin, Tai Gremlin, George Gremlin, Keith Gremlin, Gremlin Family, Vladimir Trunkov, Tubbs Pacer, Petey Pacer, Jerome Ramped & Pacer Family) | Mor'du | Johnny Worthington III | Roar Omega Roar | Jangles the Clown | Thunderclap | Thunderclap's Flock | Velociraptors (Bubbha) | Jackson Storm | Sterling | Miss Fritter | Ernesto de la Cruz | Security Guards | Screenslaver | Gabby Gabby | The Bensons | Curse Dragon | Pixie Dusters (Dewdrop) | Terry
Shorts, television & video games
Kabuto | Big D | Ronald Tompkins | Mr. Jones | The Cleric | Battlesaurs (Goliathon & Reptillus Maximus) | Syndrome
See also
Buzz Lightyear of Star Command Villains | Cars Villains | Incredibles Villains | Toy Story Villains
Community content is available under
CC-BY-SA
unless otherwise noted.