Jurassic World: Dominion Dominates Fandom Wikis - The Loop
Play Sound
| | | |
| --- | --- | --- |
| " | Lead me to the Hulk... now! The Rhino'll make mincemeat out of 'im!! | " |
| | ~ Rhino | |
Aleksei Sytsevich, or better known by his supervillain name Rhino, is a supporting antagonist in Spider-Man comic book series and a minor antagonist in the whole Marvel Universe. He was a Russian immigrant who was succumbed to radioactive testing, granting him powerful superhuman strength and durability. He was also given a suit of tough, rhinoceros-like armor and horns for even more destructive capabilities. He is mostly on Spider-Man's rouges gallery, but sometimes clashes with Hulk too.
Biography
Comic Background
Aleksei Sytsevich was once a poor Russian immigrant with no education or skills. Desperate to gather the money he needed to bring his family to the United States, he quickly became a common thug and enforcer for various criminal organizations. Because of this, he allowed himself to be given intensive sub-hypnotic training, before volunteering as a test subject in a criminal experiment to create an unstoppable henchman.
Selected due to his naturally large size, and the belief that his low intelligence would keep him obedient, Aleksei was injected with various chemical substances and had a super strong polymer bonded to his skin. This provided him with augmented strength and speed, granting him the powers of a Rhinoceros. With his suit shaped accordingly, Aleksei was directed to kidnap Colonel John Jameson, son of the owner of the Daily Bugle, in order to discover military secrets.
Rebelling Against His Superiors And Confronting Spider-Man
However, the Rhino soon rebelled against his employer as he realized that he no longer needed to work for others. Instead, he could use his powers to capture and sell Jameson on his own to the highest bidder.
Facing off against Spider-Man, Rhino easily overpowered the web-slinger with his reliance on brute force. However, the crafty hero quickly identified the Rhino's primary weakness, that he would charge in one direction without the ability to change course.
Escape and Second Defeat
Defeated and sent to a special state correctional hospital, Rhino was kept under heavy sedation until he broke free and sought revenge on Spider-Man.
This time, Spider-Man devised a more permanent solution and created a special acid fluid that would dissolve Rhino's hide, leaving him without any impact resistance. Defeated yet again, Rhino was recaptured, tried and convicted, before serving a commuted sentence.
Returning With His More Powerful Suit
Upon his release, the same scientists that he betrayed sought him out and offered to restore his powers using gamma radiation. Also adding an acid-resistant coating to his suit, Rhino was made twice as strong as he once was and asked to capture Dr. Bruce Banner, an expert on gamma rays. Accepting the proposition, the task proved difficult due to Banner having transformed into The Incredible Hulk.
Failing his mission, and his family having learned what he had become, Rhino returned to New York with the desire to rid himself of the suit. Unable to do so, he joined forces with other criminals, even becoming a member of the Sinister Syndicate. With the help of these other super villains, he repeatedly took on Spider-Man, who continued to stand in his way of stealing enough cash to buy a cure for his augmentations.
Reform And Resurgence
Rhino later reformed from his criminal ways, but his identity was taken up by another unnamed criminal who wore a mechanical suit and became the All-New Rhino. The two Rhinos battled, and the original Rhino killed the newer one.
The original Rhino has since returned to villainy, driven by his wife's death, and is a member of Doctor Octopus's new Sinister Six. Later during the Ends of the Earth storyline, Rhino willingly chose to drown, taking Silver Sable with him.
In Other Media
Spider-Man: The Animated Series
Nothing is known of Rhino's early life. This includes how he got his Rhino suit or his super strength. Rhino's suit is apparently bonded to his body. His strength is his greatest weapon but is not much on brains. When John Jameson's space shuttle crash-landed on the George Washington Bridge, Kingpin sent Rhino to retrieve a new element called Promethium X which was more powerful than plutonium. When Rhino arrived at the shuttle he took the Promethium X but was confronted by Spider-Man.
In this series, Rhino was voiced by Don Stark. In the episode "The Six Fight Again" Richard Moll voiced him for his single line.
The Spectacular Spider-Man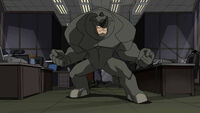 In The Spectacular Spider-Man TV series, the Rhino was a thug named Alex O'Hirn who was hired by the Big Man (along with his partner in crime, Flint Marko, who became Sandman) to become the Rhino and battle Spider-Man. After his first defeat, Rhino joined the Sinister Six twice and continued to work for Doctor Octopus during the gang war.
In this series, Rhino was voiced by Clancy Brown (who also voiced George Stacy).
The Amazing Spider-Man 2
Main article: Rhino (The Amazing Spider-Man)
Paul Giamatti played the Rhino as a recurring antagonist in The Amazing Spider-Man 2. While the Rhino's real name from the mainstream comics will be used, his abilities will be based around the Rhino from the Ultimate Universe where he will pilot a mechanical Rhino suit.  
Ultimate Spider-Man
In the Ultimate Spider-Man, Rhino's character was a little different. For example; Alex O'Hirn was a scrawny nerd that was riding a mechanical version of the Rhino, and probably twice as big. Another difference is that Rhino is referred to as R.H.I.N.O.
While Parker was in school, MJ overheard that R.H.I.N.O was on the loose. While Spider-man was searching for R.H.I.N.O., there was terrible destruction throughout Queens. After, Spidey manages to catch up with R.H.I.N.O. and chased him. Due to his indestructible armor, Spidey couldn't penetrate through R.H.I.N.O. and do some real damage. However, Spidey did manage to hit R.H.I.N.O. with a wrecking ball and slam him into some canisters, creating a hole on R.H.I.N.O.'s back. They fought each other inside a parking lot of a car sale shop. Spidey manages to grab onto R.H.I.N.O.'s back and punch the hole several times, causing R.H.I.N.O. to malfunction, forcing O' Hirn to exit the suit, only to be captured by Spider-Man.
In the animated series, Alex uses an Oscorp transformation serum to turn himself into a literal giant rhino to get even with Flash Thompson who has bullied him. He fights Spiderman and Powerman when they defend Flash, and eventually Rhino becomes a member of the Sinister Six. However Rhino comes to reform realizing how destructive his rage is and joins SHIELD academy, eventually getting along with Flash who had apologized. However he betrays the academy to Octavius for a cure, afterwhich Otto mind controls him. In the series finale Spiderman cures him and he rejoins SHIELD.
Marvel's Spider-Man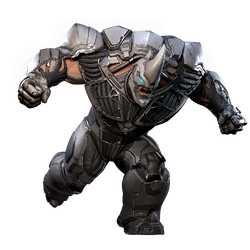 Main article: Rhino (Marvel's Spider-Man)
Rhino was a supporting antagonist in Marvel's Spider-Man. Before the events of the game, Rhino was bested by Spider-Man and was sent to the Raft. It was reported that he tried to break out of the Raft, but was stopped. Not much later, Rhino has freed thanks to Doctor Octopus and he joined the Sinister Six. He was ordered to attack Oscorp supply routes and shipments in exchange for his suit being removed. While fighting a group of Sable agents, Spider-Man intervened. He had trouble killing him, so Scorpion had to join the battle. The two were defeated and trapped in a crate.

Villains
Comics
Abomination | Absorbing Man | Agony | A.I.M. | Alistair Smythe | Annihilus | Answer | Arcade | Ares | Arnim Zola | Attuma | Awesome Android | Baron Mordo | Baron Zemo | Basilisk | Batroc the Leaper | Beetle | Beyonder | Big Man | Black Cat | Black Widow | Blackie Drago | Blastaar | Blizzard | Blob | Bolivar Trask | Bombshell | Boomerang | Brothers Grimm | Burglar | Bulldozer | Bullseye | Bushwacker | Cadaverous | Calypso | Carlton Drake | Carnage | Carrion | Chameleon | Chance | Constrictor | Count Nefaria | Crime-Master | Crossbones | D'Spayre | Daemos | Dark Avengers | Deadpool (Earth-1610) | Demogoblin | Destroyer | Diablo | Doctor Doom | Doctor Faustus | Doctor Octopus | Doppelganger | Dormammu | Dracula | Dreadknight | Electro | Enclave | Enforcers | Equinox | Fancy Dan | Firelord | Fixer | Freak | Frightful Four | Gabriel Stacy | Galactus | Ghost | Gibbon | Gog | Goliath | Grant Ward | Graviton | Green Goblin (Norman Osborn (Earth-1610), Harry Osborn and Bart Hamilton) | Grey Gargoyle | Grizzy | Hammerhead | Hand | Hazmat | High Evolutionary | Hitman | Hobgoblin | Hood | Human Fly | Humbug | Hybrid | HYDRA | Hydro-Man | Ironclad | Impossible Man | Inheritors | Iguana | Jackal | Jack O' Lantern | Jester | Jigsaw | J. Jonah Jameson | Johnny Ohm | Jonas Harrow | Juggernaut | Justin Hammer | Kangaroo | Kang | Kaine | Karn | Killer Shrike | King Cobra | Kingpin | Knull | Kraven the Hunter | Kristoff Vernard | Lady Octopus | Lasher | Lady Deathstrike | Leader | Leap-Frog | Lee Price | Life Foundation | Lightmaster | Living Brain | Living Laser | Lizard | Loki Laufeyson | Lucia Von Bardas | Mad Thinker | Madame Masque | Madame Viper | Maestro | Maggia | Magneto | Mandarin | Man-Spider | Man-Wolf | Mania | Masked Marauder | Master Mold | Masters of Evil | Maximus | Menace | Mephisto | Mesmero | Mister Brownstone | Mister Fear | Mister Hyde | Mister Negative | M.O.D.O.K. | Mojo | Mole Man | Molten Man | Montana | Moonstone | Morbius | Morlun | Moses Magnum | Mysterio (Quentin Beck, Daniel Berkhart and Francis Klum) | Nebula | Nekra | Nightmare | Niles Van Roekel | Nitro | Onslaught | Overdrive | Orka | Owl | Ox | Phage | Phil Urich | Piledriver | Princess Python | The Prowler | Psycho-Man | Puma | Punisher | Punisher (Earth-95126) | Puppet Master | Quasimodo | Quicksilver | Ramrod | Raze | Red Ghost | Red Skull | Rhino | Rhino II | Richard Fisk | Ringer | Ringmaster | Riot | Roland Treece | The Rose | Roxxon Energy Corporation | Sabretooth | Sandman | Sarah Stacy | Sauron | Scarecrow | Scarlet Witch Scorcher | Scorpion | Scorn | Scream | Sebastian Shaw | Secret Empire | Serpent Society | Sentinels | Seth Youngblood | Shocker | Shriek | Sin-Eater | Silvermane | Silver Sable | Sinister Six | Skip | Skrulls | Solus | Songbird | Patton Parnel | Spider-Carnage | Spider-Man Revenge Squad | Spider-Slayers | Spot | Stegron | Street | Super-Apes | Supercharger | Swarm | Symbiotes | Tarantula | Taskmaster | Terminus | Terrax | Thanos | The Thousand | Thunderball | Thunderbolt Ross | Thunderbolts | Tiger Shark | Tinkerer | Titania | Titanium Man | Toad | Tombstone | Trapster | Turner D. Century | Typhoid Mary | Tyrannus | U-Foes | Ultimatum | Ultron | Vapor | Vanessa Fisk | Vector | Venom (Eddie Brock) | Vermin | Vulture | Walrus | Whiplash | White Rabbit | Whirlwind | Will-O'-The-Wisp | Wizard | Worthy | Wrecker | X-Ray | Zodiac | Zombie Spider-Man | Zombie Giant-Man
Movies
Spider-Man: Green Goblin | Dennis Carradine | Bank Robbers | Harry Osborn | J. Jonah Jameson
Spider-Man 2: Doctor Octopus | Harry Osborn | J. Jonah Jameson | Green Goblin
Spider-Man 3: Venom | Sandman | New Goblin | J. Jonah Jameson | Green Goblin | Dennis Carradine
The Amazing Spider-Man: Lizard | Gustav Fiers | Cash Register Thief | Norman Osborn
The Amazing Spider-Man 2: Electro | Green Goblin | Donald Menken | Rhino | Alistair Smythe | Ashley Kafka | Felicia Hardy | Gustav Fiers | Norman Osborn
Spider-Man: Homecoming: Bestman Salvage (Vulture, Tinkerer, Shocker #1, Shocker #2 & Randy Vale) | Mac Gargan | Aaron Davis
Spider-Man: Into the Spider-Verse: Kingpin | Doctor Octopus | Prowler | Tombstone | Scorpion | Green Goblin | Vanessa Fisk | Richard Fisk
Spider-Man: Far From Home: Mysterio's Crew (Mysterio, William Ginter Riva, Victoria Snow, Gutes Guterman, Janice Lincoln, & Doug) | Elementals (Molten Man, Hydro-Man, Sandman, Cyclone and Elemental Fusion) | Skrulls (Talos) | Obadiah Stane | J. Jonah Jameson
Spider-Man: No Way Home: Raimiverse (Green Goblin (Earth-TRN925), Sandman (Earth-TRN927) & Doctor Octopus (Earth-TRN926)) | Webbverse (Electro (Earth-TRN929) & Lizard (Earth-TRN928)) | J. Jonah Jameson | Venom | Mysterio

Television
Spider-Man (1967)
Vulture | Green Goblin | Electro | Rhino | Mysterio | Doctor Octopus | Scorpion | Human Fly | Kingpin | Lizard | Spider-Slayer | Sandman | Dr. Matto Magneto | Enforcers (Cowboy and Ox) | Frederick Foswell | Mole Man | J. Jonah Jameson
Spider-Man (1981)
Doctor Doom | Kingpin | Doctor Octopus | Lizard | Black Cat | Sandman | Silvermane | Magneto | Mysterio | Ringmaster | Green Goblin | Sidewinder | Kraven the Hunter | Red Skull | Chameleon | Vulture | Hammerhead | Wizard | Medusa
Spider-Man and His Amazing Friends (1981)
Green Goblin | Kraven the Hunter | Doctor Doom | Swarm | Chameleon | Electro | Brotherhood of Mutants (Magneto, Blob, Toad, and Mastermind) | Mysterio | Loki Laufeyson | Ymir | Mordred | Kingpin | Doctor Faustus | Red Skull | Juggernaut | Shocker | Sandman | Dracula | Scorpion | Beetle | Doctor Octopus | A.I.M.
Spider-Man: The Animated Series
Kingpin | Green Goblin (Norman Osborn and Harry Osborn) | Doctor Octopus | Hobgoblin | Venom | Vanessa Fisk | Richard Fisk | Silvermane | Insidious Six (Scorpion, (Spider-Man (clone), Rhino, Mysterio, Chameleon, Shocker, and Vulture) | Black Cat | Lizard | Morbius | Spider-Carnage | Spider-Slayers (Alistair Smythe) | Carnage | Baron Mordo | Dormammu | Silver Sable | Hydro-Man | Prowler | Doctor Doom | Red Skull | Electro | Hammerhead | Tombstone | Punisher | Kraven the Hunter | Calypso | Herbert Landon | Jackal | Owl | Spot | Beyonder | J. Jonah Jameson
Spider-Man Unlimited
High Evolutionary | Venom | Carnage | Electro | Kraven the Hunter | Green Goblin | Vulture | Man-Wolf | J. Jonah Jameson
Spider-Man: The New Animated Series
Harry Osborn | Electro | Kraven the Hunter | Turbo Jet | Kingpin | Lizard | Shikata | Silver Sable
The Spectacular Spider-Man
Green Goblin | Tombstone | Doctor Octopus | Hammerhead | Venom (Eddie Brock) | Sinister Six (Rhino, Vulture, Electro, Sandman, Mysterio, and Kraven the Hunter) | Chameleon | Tinkerer | Enforcers (Shocker, Ricochet and Ox) | Molten Man | Silvermane | Silver Sable | Harry Osborn | Lizard | J. Jonah Jameson | Black Cat | Miles Warren | Frederick Foswell | Calypso | Roderick Kingsley | Morris Bench | Cletus Kasady
Ultimate Spider-Man
Doctor Octopus | Green Goblin | Harry Osborn | Taskmaster | HYDRA (Arnim Zola, Crossbones, Morbius, and Baron Mordo) | Sinister Six (Kraven the Hunter, Rhino, Electro, Scorpion, Vulture, and Hydro-Man) | Toad | Batroc the Leaper | Beetle | Lizard | Frightful Four (Wizard, Trapster & Klaw) | Juggernaut | Sandman | Venom | Loki Laufeyson | The Collector | Grandmaster | Carnage | Wolf Spider | Ultimate Green Goblin | Shocker | Shriek | Swarm | Dracula | Spider-Slayers (Kaine) | Absorbing Man | Abomination | Annihilus | Arcade | Attuma | Awesome Android | Blastaar | Blizzard | Boomerang | Chitauri | Deadpool | Destroyer | Doctor Doom | Dormammu | Skurge | Enforcers (Montana, Fancy Dan, Ox) | Frost Giants | Grizzly | Hammerhead | Jack O'Lantern | Korvac | The Leader | Living Laser | Man-Wolf | Maximus | Melter | Mesmero | M.O.D.O.K. | Molten Man | Mister Negative | Mysterio | Nightmare | Norma Osborn | Phalanx | Sabretooth | Skaar | Galactus | Ulik | Whirlwind | Wrecker | Piledriver | Thunderball | Bulldozer | Ymir | Zodiac | Scorpio | Zzzax | J. Jonah Jameson
Spider-Man (2017)
Symbiotes (Venom, Scream, Scorn, and Mania) | Dark Goblin | Hobgoblin | Doctor Octopus | Vulture/Goblin King | Alistair Smythe | Rhino | Jackal | Hammerhead | Electro | A.I.M. (M.O.D.O.K.) | Spider-Slayers | Lizard | Tinkerer | Swarm | Scorpion | Sinister Six | Kraven the Hunter | Man-Wolf | Silver Sable | Beetle | Spot | Prowler | Molten Man | Mister Negative | Chameleon | HYDRA (Crossbones and Arnim Zola) | Black Cat | Ghost | Blizzard | Absorbing Man | Crimson Dynamo | Overdrive | Mysterio | Jack O'Lantern | Silvermane | Lady Octopus | Paladin | Puma | Shocker | Living Brain | Sandman | Technovore | Baron Mordo | Knull | J. Jonah Jameson
Spidey and His Amazing Friends (2021)
Green Goblin | Doctor Octopus | Rhino
Video Games
The Amazing Spider-Man & Captain America in Dr. Doom's Revenge: Doctor Doom | Electro | Hobgoblin | Rhino | Boomerang | Grey Gargoyle | Oddball | Batroc the Leaper | Mysterio
Spider-Man: Return of the Sinister Six: Sinister Six (Doctor Octopus, Electro, Hobgoblin, Mysterio, Sandman and Vulture)
Spider-Man vs. The Kingpin: Kingpin | Doctor Octopus | Lizard | Electro | Sandman | Hobgoblin | Venom | Tinkerer | Mysterio | Vulture | Bullseye | Typhoid Mary
Spider-Man & X-Men: Arcade's Revenge: Arcade | Carnage | Rhino | Apocalypse | Juggernaut | Selene Gallio | Sentinels | Master Mold
Spider-Man and Venom: Maximum Carnage: Carnage | Shriek | Doppelganger | Demogoblin | Carrion
Spider-Man and Venom: Separation Anxiety: The Jury | Sentry | Ramshot | Screech | Bomblast | Firearm | Wysper | Life Foundation | Symbiotes (Carnage | Riot | Phage | Lasher | Agony | Scream)
Spider-Man (2000): Doctor Octopus | Symbiotes | (Carnage, Venom) | Jade Syndicate | Monster Ock | Scorpion | Rhino | Mysterio, J. Jonah Jameson, Lizard
Spider-Man 2: Enter Electro: Electro | Beetle | Hammerhead | Lizard |Sandman | Shocker
Spider-Man (2002): Green Goblin | Shocker | Vulture | Spider-Slayers | Scorpion | Kraven the Hunter | Dennis Carradine | Harry Osborn | J. Jonah Jameson
Spider-Man 2: Doctor Octopus | Harry Osborn | Rhino | Mysterio | Shocker | Puma | Black Cat | Vulture | Calypso | J. Jonah Jameson
Ultimate Spider-Man: Bolivar Trask | Venom | Vulture | Silver Sable | Shocker | R.H.I.N.O. | Electro | Beetle | Green Goblin | Sandman | Carnage
Spider-Man 3: Venom | Sandman | New Goblin | Lizard | Scorpion | Kraven the Hunter | Calypso | Kingpin | Rhino | Morbius | Shriek | H-Bombers (Mad Bomber) | J. Jonah Jameson
Spider-Man: Web of Shadows: Spider-Man | Venom | Kingpin | Black Cat | Vulture | Electro | Tinkerer | Rhino
Spider-Man: Shattered Dimensions: Mysterio | Kraven the Hunter | Hammerhead | Hobgoblin | Electro | Sandman | Vulture | Scorpion | Deadpool | Juggernaut | Silver Sable | Goblin | Serena Patel | Carnage
Spider-Man: Edge of Time: Peter Parker | Atrocity | Walker Sloan
The Amazing Spider-Man: Spider-Slayers (Alistair Smythe) | Lizard | Rhino | Vermin | Scorpion | Felicia Hardy | Iguana | Nattie
The Amazing Spider-Man 2: Carnage | Kingpin | Green Goblin | Shocker | Kraven the Hunter | Black Cat | Electro | Chameleon | Norman Osborn | Cash Register Thief
Marvel's Spider-Man: Sinister Six (Doctor Octopus, Mister Negative, Electro, Vulture, Rhino and Scorpion) | Inner Demons | Norman Osborn | Silver Sable | Kingpin | Shocker | Tombstone | Taskmaster | Black Cat | Screwball | Hammerhead | Walter Hardy | Yuriko Watanabe
Marvel's Spider-Man: Miles Morales: Roxxon Energy Corporation (Simon Krieger) | The Underground (Tinkerer) | Prowler | Rhino | Kingpin | Norman Osborn | Doctor Octopus | Vulture
See Also
Black Cat Villains | Cloak & Dagger Villains | Morbius: The Living Vampire Villains | Prowler Villains | Punisher Villains | Scarlet Spider Villains | Silk Villains | Silver Sable Villains | Solo Villains | Sony's Spider-Man Universe Villains | Spider-Girl Villains | Spider-Gwen Villains | Spider-Man 2099 Villains | Spider-Man Noir Villains | Spider-Woman Villains | Toei's Spider-Man Villains | Venom Villains

Villains
Comics
Absorbing Man | Adolf Hitler | A.I.M. | Aleksander Lukin | Anaconda | Arcade | Arnim Zola | Awesome Android | Baron Blood | Baron Wolfgang von Strucker | Baron Zemo | Batroc the Leaper | Beetle | Bi-Beast | Black Cat | Black Talon | Black Mamba | Black Widow | Blitzkrieg | Blizzard | Blood Brothers | Boomerang | Boomslang | Brothers Grimm | Bulldorzer | Bullseye | Cache | Carnage | Carrion | Chemistro | Constrictor | Cottonmouth | Controller | Count Nefaria | Cowled Commander | Crimson Dynamo | Crossbones | Dark Avengers | Darren Cross | Death Adder | Demogoblin | Doctor Faustus | Doppelganger | Eel | Electro | Famine | Fer-De-Lance | Firebrand | Fixer | Flag-Smasher | Ghost | Gorgon | Grand Director | Grant Ward | Graviton | Grey Gargoyle | Griffin | Grim Reaper | Grizzly | Heinz Kruger | Herr Kleiser | HYDRA | Hydro-Man | Iron Monger | Ironclad | Jack O' Lantern | Kang the Conqueror | Killer Shrike | King Cobra | Kingpin | Klaw | Korath the Pursuer | Korvac | Kraven the Hunter | Lady Deathstrike | Living Laser | Lizard | Loki | Lucia Von Bardas | Machinesmith | Madame Viper | Madcap | Magneto| Man-Ape | Mandarin | Master Man | Masters of Evil | Mentallo | Mesmero | Mister Hyde | M.O.D.A.M. | M.O.D.O.K. | Mole Man | Moonstone | Namor | Nightmare | Nightshade | Nitro | Piledriver | Princess Python | Puff Adder | Punisher | Punisher (Earth-95126) | Quicksand | Rattler | Red Ghost | Red Skull | Rhino | Ringmaster | Rock Python | Ronan | Roxxon | Säurespritze | Scarecrow | Scorpion | Sebastian Shaw | Secret Empire | Selene Gallio | Serpent Society | Shocker | Shockwave | Shriek | Sidewinder | Silver Sable | Sin | Sinister Six | Skeleton Crew | Slither | Slug | Songbird | Super-Adaptoid | Super-Apes | Superia | Super Patriot | Supreme Intelligence | Tarantula | Taskmaster | Terminus | Thanos | Thunderball | Thunderbolt Ross | Thunderbolts | Tiger Shark | Tinkerer | Titania | Titanium Man | Trapster | Typhoid Mary | U-Foes | Unicorn | Ultron | Vapor | Vector | Vermin | Vulture | Whiplash | Whirlwind | Winter Soldier | Wizard | Worthy | Wrecker | X-Ray | Yellow Claw | Zahnmörder | Zodiac
Movies
Captain America (1990): Red Skull | Valentina de Santis
Captain America: The First Avenger: HYDRA (Red Skull, Arnim Zola, Heinz Kruger, HYDRA Lieutenant, & Velt) | Adolf Hitler | Roeder | Hutter | Schneider
Heroes United: Iron Man and Captain America: HYDRA (Red Skull & Taskmaster)
Captain America: The Winter Soldier: HYDRA/STRIKE (Alexander Pierce, Winter Soldier, Crossbones, Jack Rollins, Jasper Sitwell, Russo, Senator Stern, Arnim Zola, Wolfgang von Strucker, List, Scarlet Witch, & Quicksilver) | Georges Batroc | Ferdinand Lopez | Gerald Durand
Captain America: Civil War: Helmut Zemo | Thunderbolt Ross | Winter Soldier | Scarlet Witch | HYDRA (Vasily Karpov, Josef, & Winter Soldiers) | Hero Mercs (Crossbones)
TV Series
The Falcon and The Winter Soldier: Winter Soldier | Flag Smashers (Flag-Smasher, Dovich, Gigi, DeeDee, Lennox, Nico, Matias, & Diego) | Sharon Carter | Baron Zemo | LAF (Georges Batroc & Louie) | Senator Atwood | Valentina Allegra de Fontaine
What If...?: Red Skull | Arnim Zola | Heinz Kruger | HYDRA's Champion

Video Games
The Amazing Spider-Man & Captain America in Doctor Doom's Revenge: Doctor Doom | Electro | Hobgoblin | Rhino | Boomerang | Grey Gargoyle | Oddball | Batroc the Leaper | Mysterio
Captain America and the Avengers: Red Skull | Crossbones | Klaw | Living Laser | Whirlwind | Sentinel | Grim Reaper | Wizard | Mandarin | Juggernaut | Ultron
Captain America Super Soldier: HYDRA (Red Skull, Arnim Zola, Madam Hydra & Baron Strucker) | Baron Zemo
Captain America: The Winter Soldier: Winter Soldier | Sin | Taskmaster | Shockwave | Serpent Society (King Cobra, Puff Adder & Diamondbak)
See Also
Agent Carter Villains
Villains
Comics
Absorbing Man | A.I.M. | Ani-Men | Arcade | Arnim Zola | Baron Mordo | Baron Wolfgang von Strucker | Baron Zemo | Batroc | Beetle | Black Knight | Black Widow | Blackout | Blizzard | Blood Brothers | Boomerang | Brothers Grimm | Bulldozer | Collector | Commander Kraken | Constrictor | Count Nefaria | Crimson Cowl | Crimson Dynamo | Crossbones | Controller | Crusher | Death's Head | Destroyer | Diablo | Doctor Doom | Doctor Octopus | Dreadknight | Ego | Electro | Ezekiel Stane | Fin Fang Foom | Firebrand | Fixer | Galactus | Gargantus | Ghost | Gladiator | Goliath | Godzilla | Grant Ward | Graviton | Green Goblin | Grey Gargoyle | Griffin | Growing Man | Hammerhead | Hand | Harry Osborn | Hela | High Evolutionary | HYDRA | Iron Monger | Iron Patriot | Justin Hammer | Kang the Conqueror | Killer Shrike | Living Laser | Loki Laufeyson | Lucia Von Bardas | Mad Pharaoh | Mad Thinker | Madame Masque | Madame Viper | Magneto | Malekith | Mandarin | Masked Marauder | Masters of Evil | Mephisto | Melter | Mister Hyde | M.O.D.O.K. | Mole Man | Monica Rappaccinni | Morgan le Fay | Moses Magnum | Nitro | Norman Osborn | Omega Red | Paladin | Piledriver | Porcupine | Puppet Master | The Punisher (Earth-95126) | Radioactive Man | Red Ghost | Rhino | Ronan | Roxxon | Sandman | Scarecrow | Secret Empire | Shocker | Shockwave | Simon Krieger | Sinister Six | Skrulls | Spymaster | Super-Adaptoid | Super-Apes | Supreme Intelligence | Taskmaster | Technovore | Temugin | Thanos | Ten Rings | Thunderball | Thunderbolt Ross | Thundersword | Tinkerer | Titania | Titanium Man | Ulik | Ultimo | Ultron | Unicorn | Vermin | Vulture | Warlord Krang | Whiplash | Whirlwind | Wrecker | Yellow Claw | Zodiac
Movies
The Invincible Iron Man: Mandarin | The Elementals | Deities of Death (Dormammu, Hela, Mephisto & Pluto)
Iron Man: Iron Monger | Ten Rings (Raza Hamidmi Al-Wazar, Abu Bakaar, Ahmed & Omar) | William Ginter Riva
Iron Man 2: Whiplash | Hammer Industries (Justin Hammer, Jack & Hammer Drones) | Ten Rings (Ten Rings Agent) | Senator Stern | Anton Vanko
Iron Man: Rise of Technovore: Technovore | Ezekiel Stane | Obadiah Stane | Black Widow | Punisher
Iron Man 3: A.I.M. (Aldrich Killian, Eric Savin, Trevor Slattery, Ellen Brandt, Sweat Shop Agent, Ponytail Express, Maya Hansen & Extremis Soldiers) | Vice President Rodriguez
Heroes United: Iron Man and Hulk: Zzzax
Heroes United: Iron Man and Captain America: HYDRA (Red Skull & Taskmaster)
All Hail the King: Trevor Slattery | Herman | Ten Rings (Jackson Norriss & The Mandarin) | White Power Dave | Justin Hammer

Television
Iron Man (1994): Mandarin | Whirlwind | Blizzard | Dreadknight | Backlash | Grey Gargoyle | Living Laser | M.O.D.O.K. | Fin Fang Foom | Justin Hammer | Beetle | Crimson Dynamo | Titanium Man | Madame Masque | Ghost | Dark Aegis
Iron Man: Armored Adventures: Mandarin | Obadiah Stane | Madame Masque | Ghost | Zhang | Dreadknight | Crimson Dynamo | Titanium Man | Black Knight | Whiplash | Doctor Doom | Magneto | Unicorn | Count Nefaria | Fixer | M.O.D.O.K. | Justin Hammer | Shockwave | Grim Reaper | Grey Gargoyle | Thunderbolt Ross | Killer Shrike | Unicorn | Rhona Irwin | The Controller | Living Laser | Blizzard | Fin Fang Foom | Technovore
Marvel Anime: Iron Man: Zodiac
What If...?: Infinity Ultron | Yellowjacket | Loki Laufeyson | The Destroyer | Brock Rumlow | Jack Rollins | Thunderbolt Ross | Whiplash | Arnim Zola | Prince Killmonger | Strange Supreme | Georges Batroc | Ego | Zombies (Iron Man) | Ulysses Klaue
Video Games
Iron Man and X-O Manowar in Heavy Metal: Crimson Dynamo | Titanium Man | Arnim Zola | Baron Zemo | Mr. Hyde | Melter | Goliath | Titania | Absorbing Man
The Invincible Iron Man: Crimson Dynamo | Blizzard
Iron Man Iron Monger | Ten Rings | Backlash | Whitney Frost | Count Nefaria | A.I.M. (Titanium Man, The Controller & Melter)
Iron Man 2: Whiplash | A.I.M. (Ghost) | Roxxon Energy Corporation (Crimson Dynamo)
Iron Man 3: The Official Game: Crimson Dynamo | A.I.M. (M.O.D.O.K, Ezekiel Stane & Living Laser)
Iron Man VR: Gunsmith | Ghost | Living Laser
See Also
War Machine Villains