Doctor Strange in The Multiverse o Madness - The Loop
Play Sound
Jafar says: Read my lips and come to grips with the reality!


This article is a stub and is in need of expansion. You can help Villains Wiki by expanding it.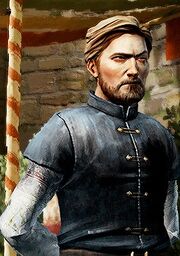 | | | |
| --- | --- | --- |
| " | You have a good head for business, Lady Mira. It'd be terribly disappointing to see it on the end of a pike. | " |
| | ~ Rickard Morgryn | |
Rickard Morgryn is a major antagonist in Telltale Games' Game of Thrones video game. He is a Merchant Lord who was conspiring to obtain House Forrester's Ironwood for House Whitehill. He later aimed higher hoping to force Mira Forrester to marry him in order to get a claim to House Forrester's lands as well as the Ironwood for himself. He serves as the main antagonist of Mira's storyline.
He was voiced by Nick Afka Thomas.

Villains
Video Games
Toy Mafia (Hugh Bliss) | Brady Culture | Soda Poppers | Jurgen | Strong Bad | The King of Town | Sultry Buttons | Uzi Bazooka | Craig | Trogdor | Queen Bee | Bumblebees | Pudgie-Woo and Tinkie-Wee | Monty Muzzle | The Narrator | General Skun-ka'pe | Anton Papierwaite | Sammun-Mak | "Junior" Max | Charlie Ho-Tep | Billy Yoder | Dr. Laura Sorkin | Miles Chadwick | Walkers | Stranger | Save-Lots Bandits | St. John Family (Andrew, Dan & Brenda) | Jake | Linda | Jolene | Vernon | Crawford Oberson | Logan | Larry | Lilly | Kenny | Marcus Crabtree | Nate | Russell | Roman | Bigby Wolf | Crooked Man | Bloody Mary | Jersey Devil | Georgie Porgie | Vivian | Bluebeard | Ichabod Crane | Grendel | Jack Horner | Woodsman | The Tweedles | Geppetto | Carver's Group (William Carver, Troy & Johnny) | Arvo | Buricko | Vitali | Natasha | Winston | Victor | Ralph | Michelle | Kenny | Jane | Mike | Rhys | Fiona | Handsome Jack AI | August | Hugo P. Vasquez | Vallory | Bossanova | Rudiger | Asher Forrester | Andros | Britt Warrick | Damien | Dezhor zo Raza | Gared Tuttle | Gryff Whitehill | Harys | Ludd Whitehill | Rickard Morgryn | Tazal | Hostile Mobs (Wither Storm) | The Ocelots | Ivor | Soren the Architect | Aiden | Maya | Gill | White Pumpkin | PAMA | Hadrian | Mevia | Em | Norma | Randall | Monroe Colonists (Gabby & Jonas) | Children of Arkham (Vicki Vale, Oswald Cobblepot & Blockbuster) | Catwoman | Harvey Dent | Falcone Crime Family | Joe Chill | Victor Zsasz | Mr. & Mrs. Vale | Gotham Criminal Triumvirate (Carmine Falcone, Thomas Wayne & Hamilton Hill) | The New Frontier (Joan, Badger & Max) | Scavenger | Romeo | Stella | Prismarine Foes | Warden | The Pact (Riddler, Harley Quinn, Bane, Mr. Freeze, John Doe & Eli Knable) | The Agency (Amanda Waller & Roger Harrison) | Rumi Mori | Willy Deever | S.A.N.C.T.U.S. | The Delta (Lilly, Minerva, Abel, Dorian, Sullene, Gad, Michael, Gina & Armando) | Marlon | Violet
See Also
Game of Thrones Villains | Homestar Runner Villains | Jurassic Park Villains | Minecraft Villains | Telltale Batman Villains | Telltale's The Walking Dead Villains | Wallace and Gromit Villains