| | | |
| --- | --- | --- |
| " | You were supposed to understand... I'll MAKE you understand. | " |
| | ~ Edward Nygma before seeking his revenge on Bruce Wayne for rejecting his mind manipulation invention. | |
| | | |
| --- | --- | --- |
| " | Riddle me this, riddle me that. Who's afraid of the big, black Bat? | " |
| | ~ Ed Nygma/The Riddler | |
| | | |
| --- | --- | --- |
| " | Questions, Mr. Wayne? My work raises too many questions? Why hasn't anybody put you in your place? | " |
| | ~ Edward holding a grudge against Bruce. | |
| | | |
| --- | --- | --- |
| " | Yes, yes, yes, Bruce, old man. The press were just wondering how it feels to be outsold, outclassed, out-quaffed and generally outdone in every way. | " |
| | ~ Nygma gloating about NygmaTech's success. | |
| | | |
| --- | --- | --- |
| " | For if knowledge is power, then a god... am... I. Was that over the top? I can never tell! | " |
| | ~ The Riddler | |
Edward Nygma, better known as The Riddler, is one of the two main antagonists (alongside Two Face) of the 1995 superhero film Batman Forever. He is a criminal genius who teams up with Two-Face so he can get rich, become Gotham's cleverest carbon based life-form, get his revenge on Bruce Wayne, and figure out the identity of Batman.
He was portrayed by Jim Carrey, who also played the title character in The Mask, the titular character in The Cable Guy, The Grinch in Dr. Seuss' How The Grinch Stole Christmas, Count Olaf in Lemony Snicket's A Series of Unfortunate Events and Dr. Robotnik in the Sonic the Hedgehog movie adaptation.
History
Edward Nygma starts out as an employee researcher at Wayne Enterprises who is obsessed with Bruce Wayne. Nygma wanted to use Wayne to test out his invention which was capable of beaming a TV signal directly into someone's brain.
But Bruce rejects his invention and tells Nygma that it "raises too many questions". Angered by Bruce's rejection, Nygma goes to his supervisor Fred Stickley, and tests it on him. When Stickley discovers Nygma's clandestine overtime, Nygma knocks Stickley unconscious, ties him to a chair, and then uses him to test his device, discovering that he can use it to absorb people's knowledge.
Realizing Wayne was right about it being mind manipulation, Stickley fires Nygma, but Nygma murders Stickley by throwing him out the window to his death, doctors the security tapes to make Stickley's death look like a suicide, and then resigns from Wayne Enterprises. Everyone except Bruce is convinced that it was a genuine suicide. Indeed, a riddle is left at the scene, which starts Bruce on a path to realizing that Stickley's "suicide" was, in fact, anything but. It is the first of four riddles that Bruce would end up discovering to lead him to the truth.
Becoming the Riddler
Nygma was so satisfied with the work of Two-Face on live television at a circus that he took his own take on the criminal underworld as the mastermind known as the Riddler. Using his device, the Riddler finds Two-Face in his lair and proposes a bargain: they will steal production capital to mass-produce the Riddler's invention in order to deduce Batman's true identity and use it to plot his downfall. Two-Face accepts the deal (with his coin marking heads in favor of the deal).
As a start, both villains steal a lot of capital for Nygma to start his own company, NygmaTech. With that in mind, Nygma mass-produces his inventions and sells them out to people, who find them to be very popular. As part of the marketing, Nygma's true intention was to use his invention to steal the people of Gotham's quotient of intelligence into his own brain, thus making him more intelligent. He even allows Two-Face to share some of the intelligence so that Two-Face himself can become intelligent.
Outbidding Wayne Industries
At a business party, Nygma uses his now-successful invention to find out Bruce Wayne's secret identity as the Batman. After a deadly attack by Two-Face, they together watch the things that Wayne "has in his head", finally realizing that Bruce Wayne is Batman. Delighted by this, Two-Face calls the Riddler a genius.
With their knowledge of Batman's true identity finally at hand, Riddler and Two-Face invade Wayne Manor, where Riddler manages to destroy the Batcave. When Two-Face made his move to kill Bruce, the Riddler convinces him otherwise as he placed his final riddle on the doorstep, saying that Bruce won't learn nothing if he's dead. As both Two-Face and the Riddler escape, they kidnap Dr. Chase Meridian to lure Batman and his new sidekick Robin to their lair.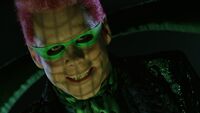 Using a battleship like machine while playing a life and death game with Two-Face, Riddler was able to destroy Batman's Batwing and Two-Face send his goons after him and Robin only to lift up his lair. Two-Face then took the opportunity to capture Robin.
Riddler's Downfall
Finally coming face-to-face with Batman, Riddler claims that using his invention, he will use it to go to countless TV's across the globe that will feed him 'credit card numbers, bank codes, sexual fantasies and little white lies' into his brain. He, Two-Face and their henchmen then attempt to test Batman by giving out his ultimate riddle ("Can Bruce Wayne and Batman ever truly co-exist?"). To ensure this, the Prince of Puzzles plans on dropping either Dr. Meridian or Robin into two separate watery death traps.
The Riddler then tests Batman that he needs to choose either Chase or Robin to save. Playing wise on this, Batman distracts the Riddler by giving him his own riddle ("I see without seeing. To me, darkness is as clear as daylight. What am I?"). The Riddler scoffs at this by giving the answer ("You're as blind as a bat!"), to which Batman confirms as he uses a Batarang to destroy his big replica of his invention thus destroying his lair. This causes the Riddler to lose much of his knowledge while Batman manage to save both Chase and Robin from falling. After Two-Face falls to his death in one of the death traps, Batman went back to the Riddler, who is now enfeebled over the loss of his intelligence. Taking pity on his former employee, Batman answered the Riddler's riddle ("You see, I'm both Bruce Wayne and Batman. Not because I have to be. But because I choose to be.").
It is unknown if the Riddler actually understood the answer well or not, but just when Batman was about to take Riddler into custody, Riddler began to scream wildly, as he began to hallucinate a giant bat flying towards him. He is then, afterwards, taken to the authorities and convicted to a life prison sentence in Arkham Asylum. One of the physicians, Dr. Burton, calls Dr. Meridian and tells her that the Riddler would shout that he'd know the true identity of Batman.
Dr. Meridian asks who Batman is, but Ed says that she must say "please". When she asks with "please" who Batman is, the Riddler appears saying: "I am Batman". as he moves his arms like a flying bat and laughs maniacally, indicating that he has lost his sanity after his defeat. As such, Chase tells Bruce that his secret is safe, citing that Nygma is now a complete lunatic.
Riddler's Riddles
In the movie, The Riddler gave Bruce Wayne a series of riddles for him to decipher;
1. If you look at the numbers on my face, you won't find thirteen any place.
2. Tear one off and scratch my head; what once was red is black instead.
3. The eight of us go forth, not back, to protect our king from a foe's attack.
4. We're five little items of an everyday sort; you'll find us all in 'a tennis court'.
Each of the riddles contain a number that stands for a letter: the first one (13) stands for M, the next two (1 and 8, forming 18) stands for R, and the last one (5) stands for E. The result spells out "Mr. E", which sounds similar to the word 'mystery', which is a synonym for the word 'enigma'. Those clues would decipher to the Riddler's true identity as Edward Nygma ("Mr. E. Nygma")
When he first tested the Box on his boss Fred Stickley, Edward Nygma asked him a riddle: "What is everything to someone and nothing to anyone else?" The answer was "Your mind" as he taunted him while draining his knowledge.
During the final confrontation, The Riddler gave a riddle to test Batman: "Can Bruce Wayne and Batman ever truly co-exist?" After the Riddler's defeat, Batman finally gave him the answer: "You see, I'm both Bruce Wayne and Batman. Not because I have to be. But because I choose to be."
Trivia
It is unknown if The Riddler's real name is Edward Nashton as in the comics.
The Riddler's costume can be seen in the sequel Batman & Robin, in which it is held in the confiscating room at Arkham Asylum along with Two-Face's suit.
According to Jim Carrey, he did not get along with Tommy Lee Jones (who plays Two-Face in the movie), as Jones told him that he hated him and his films; the clashes annoyed director Joel Shumacher to the extent that he stated he would never again work with either of them. However, Schumacher later worked with Carrey on The Number 23.
The Riddler has around 20 minutes of screen-time.
Jim Carrey's original idea - to shave a question mark into his scalp - had to be scratched as he was due in court to finalize his divorce.
Jim Carrey helped design a lot of his costumes.
Before Jim Carrey was cast as The Riddler, the late Robin Williams, Matthew Broderick, Kelsey Grammer, John Malkovich, Mark Hamill, Brad Dourif, Micky Dolenz, Steve Martin, Adam Sandler, Rob Schneider and the late Phil Hartman were all considered.
The late Michael Jackson originally auditioned for the role. In spite of this, he never got a response.
Villains
Animated Features
Meowrice | Meowrice's Henchmen | Mouse King | Mouse Queen | Joker | Phantasm | Salvatore Valestra | Arthur Reeves | Chuckie Sol | Buzz Bronski | Grundel Toad | Berkeley Beetle | Mr. Mole | Mrs. Toad | Ms. Fieldmouse | Queen Gnorga | King Llort | Darla Dimple | Max | Mrs. Prysselius | Thunder Karlsson and Bloom | Ruber | Griffin | Ruber's Minions | Bladebeak | Kent Mansley | Kralahome | Master Little | The Jokerz (Dee Dee Twins, Chucko & Woof) | Count Grisham | Cheswick | Mojo Jojo | Gangreen Gang | Anubis | Seto Kaiba | Dark Yugi | Pegasus J. Crawford | Mokuba Kaiba | Marik Ishtar | Ebenezer Scrooge Puppet | Barkis Bittern | Maudeline Everglot | Stan Beals | Noah the Elder | Leopard Seal | Aguila | Stone Generals (Gato & Mono) | Karai | Foot Clan | Eddy's Brother | Kanker Sisters | Kevin | Surtr | Nyra | Kludd | Pure Ones | Lord Business | Super Secret Police (Bad Cop & Sheriff Not-A-Robot) | Duplo Aliens | Mr. Ross | Future Mordecai | Rigby | Benson Dunwoody | Muscle Man | Hunter | Pigeon Toady | Wolf Pack | Penguins | Joker (Lego) | Harley Quinn (Lego) | Phantom Zone Criminals | Catwoman (Lego) | Poison Ivy (Lego) | Two-Face (Lego) | Lord Garmadon | Slade (Teen Titans Go!) | Balloon Man (Teen Titans Go!) | Lex Luthor (Teen Titans Go!) | Stonekeeper | Rex Dangervest | Velociraptors (Lego) | Foot Clan (Shredder & Baxter Stockman) | League of Assassins (Ra's al Ghul (Batman vs. TMNT), Ubu (Batman vs. TMNT) & Talia al Ghul (Batman vs. TMNT)) | Joker (Batman vs. TMNT) | Harley Quinn (Batman vs. TMNT) | Scarecrow (Batman vs. TMNT) | Mr. Freeze (Batman vs. TMNT) | Poison Ivy (Batman vs. TMNT) | Bane (Batman vs. TMNT) | Two-Face (Batman vs. TMNT) | Penguin (Batman vs. TMNT) | Hexagon (Trigon (TTG) & Trigon (Original)) | Spinel | Pink Diamond | Scorpion | Quan Chi | Shang Tsung | Goro | Shao Kahn | Kano | Baraka | Reptile | Moloch | Motaro | Dick Dastardly (2020) | Muttley (2020) | Rotten Robots | Dusty | Cerberus
Live Action Films
Jack Torrance | Hotel Caretaker | Lorraine Massey | Socs (Bob Sheldon, Randy Adderson, Paul Hoden & David) | Mrs. Cade | Scut Farkus | Grover Dill | Stripe | Ruby Deagle | Gremlins | Mama Fratelli | Audrey II | Orin Scrivello | Mr. Igoe | Max | David | Beetlejuice | Sandworms | Joker | Bob the Goon | Alicia Hunt | Carl Grissom | Max Eckhardt | Vinnie Ricorso | Joe Chill | Witches (Grand High Witch, Susan Irvine, Nicola Cuttle, Pamela, Lois Leffour, Mildred, Elizabeth, Henrietta, Jacqueline & Beatrice) | Brain Gremlin | Daffy | George | Lenny | Bat Gremlin | Electric Gremlin | Cushing Catheter | Penguin | Max Shreck | Catwoman | Red Triangle Circus Gang | Charles "Chip" Shreck | Dr. Charles Nichols | Frederick Sykes | Lawrence Van Dough | Ferguson | Lestat | Clarice Kensington | Miss Minchin | Riddler | Two-Face | Sugar | Spice | NygmaTech (Frogmen) | Neon Gang | Salvatore Maroni | Jonas Miller | Mr. Swackhammer | Monstars | Martians (Martian Leader, Martian Ambassador & Martian Girl) | John Wesley | Poison Ivy | Mr. Freeze | Bane | Grant Frost | Agent Smith | Cypher | Agents (Agent Jones, Agent Brown & Agent Johnson) | Susan McCallister | Jim Whitlock | Mako Sharks | Mr. Tinkles | Thrax | Mayor Phlegmming | Bruiser | Joe Cramp | Thrax's Henchmen | Scrappy-Doo | N' Goo Tuana | Zarkos | Demons | Luna Ghost | Akasha | Spiders (Consuela & Tank) | Mr. Chairman | Bob Smith | Clara Dalrymple | Sir Trenton | Ruffshodd | Trenton's Pride | Ra's al Ghul | Scarecrow | Carmine Falcone | League of Shadows (Decoy of Ra's al Ghul) | Victor Zsasz | Joe Chill | Jonathan Jacobo | Arthur Slugworth | V | Adam Sutler | Lewis Prothero | Norsefire | Peter Creedy | Colonel Coetzee | Captain Poison | Zodiac Killer | Arthur Leigh Allen | Xerxes | Agent 23 | Siegfried | Dalip | Joker | Two-Face | Sal Maroni | Gambol | Joker's Thugs | Principal Deedle | Ezekial Gallows | Prudence Prufrock | Lord Henry Blackwood | Lord Coward | Esther Coleman | Decoy Queen | Kitty Galore | Paws | Mayor Brown | Wanda Grubwort | Lake Monster | Mal Cobb | Blue Jones | Angelique Bouchard | Dr. Julia Hoffman | Bane | Talia al Ghul | Barsad | Catwoman | John Daggett | Tom Buchanan | Jay Gatsby | Myrtle Wilson | George Wilson | Daisy Buchanan | Precursors | Kaiju (Trespasser, Knifehead, Mutavore, Otachi, Leatherback, Raiju, Scunner & Slattern) | Artemisia | M.U.T.O. | Dr. Mann | Victoria Vinciguerra | Léon Rom | Skullcrawlers (Skull Devil) | Preston Packard | IT | Bowers Gang (Henry Bowers, Patrick Hockstetter, Belch Huggins & Vic Criss) | Alvin Marsh | Butch Bowers | Mathias Vogel | Ana Miller | Nolan Sorrento | Innovative Online Industries (I-R0k, F'Nale Zandor & Sixers) | Claire Wyden | Brett Wyden | George, Ralph and Lizzie | The Meg | Jack Morris | Shere Khan | Tabaqui | Howard Clifford | Ditto | Sebastian | Ann Laurent | King Ghidorah | Rodan | Alan Jonah | Asher Jonah | Emma Russell | The Banana Splits (Fleegle, Drooper, Snorky & Bingo) | Poppy | Karl | Leo | Cry Baby | Kelly | The Principal | The Biology Teacher | Arthur Fleck | Penny Fleck | Randall | Clowns (Joker) (Clown & Ambulance Clown) | Wall Street Three | Penny Fleck's Boyfriend | Rose the Hat | The True Knot | Andrei Sator | Priya Singh
Shorts
Daffy Duck | Sylvester | Tasmanian Devil | Wile E. Coyote | Elmer Fudd | Yosemite Sam | Marvin the Martian | Instant Martians | Gossamer | Tom | Jerry | Spike
Television
The Grinch | Cousin Mel | I.M. Slime | Snow Miser | Heat Miser | North Wind
See Also
Batman Villains | Catwoman Villains | Cartoon Network Villains | DC Extended Universe Villains | Eraser Villains | Game of Thrones Villains | Gremlins Villains | Hanna-Barbera Cinematic Universe Villains | Harry Potter Villains | Lethal Weapons Villains | Looney Tunes Villains | Melanie Martinez Villains | Middle-Earth Villains | MonsterVerse Villains | Mortal Kombat Villains | Pokemon Villains | Powerpuff Girls Villains | Regular Show Villains | Rick and Morty Villains | Robot Chicken Villains | Rush Hour Villains | Scooby-Doo Villains | Steven Universe Villains | Superman Villains | The LEGO Movie Villains | The Matrix Villains | Tom and Jerry Villains | TMNT Villains | Wild Wild West Villains | Xiaolin Showdown Villains | Yu-Gi-Oh! Villains
Villains
Villains
Movies
Beetlejuice: Beetlejuice
Batman (1989): Joker | Bob Hawkins | Alicia Hunt | Carl Grissom | Max Eckhardt | Vinnie Ricorso | Joe Chill |
Edward Scissorhands: Jim
Batman Returns: Penguin | Red Triangle Circus Gang (Organ Grinder, Poodle Lady, Tattooed Strongman, Stungun Clown, Thin Clown, Fat Clown, Sword Swallower & Knifethrower Dame) | Max Shreck | Catwoman | Charles "Chip" Shreck
The Nightmare Before Christmas: Oogie Boogie | Lock, Shock and Barrel
Batman Forever: Riddler | Two-Face | Sugar | Spice | NygmaTech (Frogmen) | Neon Gang (Neon Gang Leader) | Salvatore Maroni
James and the Giant Peach: Aunt Sponge | Aunt Spiker | Rhino | Skeleton Pirates | Shark
Batman & Robin: Poison Ivy | Mr. Freeze | Bane | Snowy Cones Thugs | Golums | Jason Woodrue
Mars Attacks!: Martian Leader | Martians (Martian Ambassador & Martian Girl)
Sleepy Hollow (1999): Lady Van Tassel | Headless Horseman | Reverend Steenwyck
Planet of the Apes (2001) General Thade | Attar | Limbo
Charlie and the Chocolate Factory: Arthur Slugworth
Corpse Bride: Barkis Bittern | Maudeline Everglot
Sweeney Todd: The Demon Barber of Fleet Street: Sweeney Todd | Mrs. Lovett | Judge Turpin | Beadle Bamford | Jonas Fogg | Adolfo Pirelli
9: Fabrication Machine | 1 | 8 | Machines (Cat Beast, Winged Beast, Seamstress, Steel Behemoths, Seeker Drones & Spiderbots) | Chancellor Fredinand | The Chancellor's Party
Alice in Wonderland (2010): Red Queen | Knave of Hearts | Card Soldiers | The Jabberwock | Jubjub Bird | Hamish Ascot
Dark Shadows: Angelique Bouchard | Julia Hoffman
Abraham Lincoln: Vampire Hunter: Adam
Frankenweenie: Mr. Whiskers | Shelley | Were-Rat | Sea Monkeys | Mr. Burgermeister
Big Eyes: Walter Keane
Miss Peregrine's Homes for Peculiar Children: Mr. Barron
Dumbo (2019): V.A. Vandevere | Neils Skellig | Pink Elephants | Rufus Sorghum
Community content is available under
CC-BY-SA
unless otherwise noted.