Jurassic World: Dominion Dominates Fandom Wikis - The Loop
Play Sound



Click To Help Darkseid!

Darkseid has declared that this article requires immediate Cleanup in order to meet a higher standard.
Help improve this article by improving formatting, spelling and general layout - least it fall victim to an Omega Effect


✓



Click to help Cruella!

This scum Ringmaster & Otto the Odd is driving Cruella insane!
IT MUST BE REWRITTEN OR ADDED TO!!
So sayeth the great Lord of Darkness Sauron, or he will send Darth Vader to terminate you.

Help improve this article by rewriting, expanding, updating the poorly written text of the article. ✓
Ringmaster and Otto the Odd are the two main antagonists in Loonatics Unleashed.
The Ringmaster was voiced by Tim Curry, and Otto the Odd was voiced by Dee Bradley Baker.
Ringmaster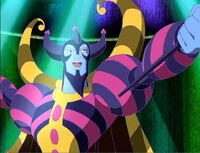 Alongside Otto the Odd, The Ringmaster runs a galactic circus with mutated animals, called Galactic Oddities. The "oddities" were made from the genetic code of animals on the zoological spectrum, children and, seemingly, anyone else they could get their hands on, so to speak. The plan was to lure the Loonatics so they would be turned into monstrous hybrids with their unique genetic code. However, Tech's new Gluco-Gel 9000 destroyed the DNA Scrambler, halting the process in between. Otto transformed Ringmaster into a fearsome Baelrog-faced, big fist, crab clawed and tentacled monster, as a final offense in desperation. The Loonatics were able to turn Ringmaster back to normal by creating a sonic boom, then caught him and Otto and sent them to prison.
Otto the Odd
Otto the Odd along with the Ringmaster are partners in crime, pretending to be a mere assistant and circus clown. He was later revealed to be the brains of the operation, at least in terms of the technology. He also claimed that the Ringmaster worked for him, though Otto did this whilst betraying his partner, so it is a dubious assertion at best. When everyone was turned back to normal, Otto turned Ringmaster into a fearsome Baelrog face, big fist, crab clawed and tentacled monster, as a final offense in desperation. Alongside Ringmaster, he was sent to prison.
Trivia
Otto the Odd later returned where he had a lair disguised as a space prison with a robot version of the warden. He was collecting people and items for his collection as the best anything in history. He hired Electro J. Fudd into hunting Ace (who Otto considered the Best Action Hero in History) and Otto lured the Loonatics out with a Massive robot. He changed his target to Danger Duck (who admitted to Danger Duck that he's the Best Screw-Up Action Hero in History) and when Electro caught him, Otto decided to use his laser to freeze them in place. Both Electro and Duck were on the run until Ace appeared. After robot double against robot double, Otto was hit by his own laser.