We're Getting Mutants in the MCU - The Loop
Play Sound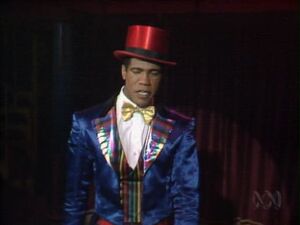 The Ringmaster is a major antagonist in the Doctor Who story "The Greatest Show in the Galaxy".
He was portrayed by Ricco Ross.
Biography
The Ringmaster was a member of the Psychic Circus. The circus settled on the planet Segonax and came under the control of the Gods of Ragnarok. While some members tried to resist Ragnarok, and were killed or driven insane, the Ringmaster and a handful of others kept the circus going in order to provide entertainment for the Gods, with acts killed when they failed to amuse. The Ringmaster was the frontman of the circus, selecting and introducing acts, and performing rhyming rap routines.
The Ringmaster and the other loyal circus members supervised the torture of Bellboy as punishment for running away. When Captain Cook and Mags interrupted, the Ringmaster was able to silence Mags' screams with a gesture. He selected the Doctor from the crowd as a contestant and had him imprisoned with Cook and Mags. He then introduced Nord in the circus ring: While his strongman act went down well, Nord was killed when he failed to respond to the Ringmaster's request to tell a joke.
Morgana attempted to prick the Ringmaster's conscience by showing a list of the number of people who had died in the circus but the Ringmaster remained committed to appeasing the Gods. He berated the Chief Clown for letting the Doctor and Ace escape and selected Whizzkid as a new contestant, who proved short-lived.
When the Doctor surrendered to the Circus, the Ringmaster was happy to let him, Cook and Mags enter the ring together, then, at Cook's request, provided the moon lighting effect that triggered Mags' werewolf transformation. After Cook had been killed and the Doctor and Mags had fled, the Gods of Ragnarok demanded more. The Ringmaster and Morgana tried to protest but the Chief Clown had them swept into baskets and performed a trick which caused them to disappear forever.