We're Getting Mutants in the MCU - The Loop
Play Sound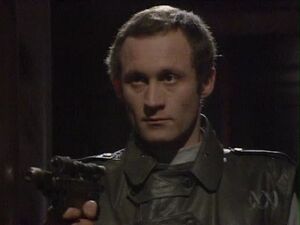 Ringway is the secondary antagonist of the Doctor Who story "Earthshock".
He was portrayed by Alec Sabin.
Biography
Ringway was the chief of security aboard an Earth cargo freighter. He had a difficult relationship with his captain, Briggs, who tended to dismiss and disrespect him. Perhaps as a result of this, he was employed by the Cybermen to smuggle thousands of their number to Earth disguised as the ship's cargo: The freighter had been given priority clearance and thus would not be subjected to safety checks despite Earth being on high alert.
En route to Earth, the Cybermen began draining power in order to revive their number, arousing suspicions. With the TARDIS having arrived on board the ship, Ringway was directed to use the Doctor and Adric as scapegoats and it was arranged for him to find them standing over two dead crewmembers who had been killed by the Cybermen. He took them prisoner and escorted them to the bridge.
When the Cybermen revealed themselves, Ringway set up most of the crew in a doomed stand on the stairs from the hold, then went to the bridge and held the Doctor, Adric, Briggs and Navigator Berger at gunpoint, revealing his true allegiance. He confiscated Adric's gold badge but was quickly overpowered and the bridge sealed off.
Meanwhile, Lieutenant Scott and his troopers, who had arrived on the TARDIS, attacked and destroyed the Cybermen's rear guard. Since all the crewmembers Ringway had told them about were accounted for, the Cyberleader assumed he had lied to them about the size of the complement. When the Cybermen finally stormed the bridge, Ringway retrieved his gun and moved to assist them, only for one of them to shoot him dead without a word as punishment for his supposed betrayal.