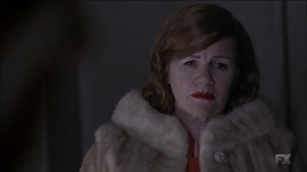 Rita Gayheart was a minor villain in American Horror Story: Freak Show.
Rita was the sister to the microphiliac, Pepper. Her and her husband could barely handle Pepper when she moved in with them, and eventually, they had a baby with the same condition as Pepper's.
Growing tired of hearing his baby's cries and having to take care of her, as well as Pepper, Larry and Rita plotted to drown their baby.
When his wife had left, Larry locked Pepper out of the bedroom during their baby's bath, and proceeded to drown it as well as slice its ears off. This caused Pepper to be committed into Briarcliff Asylum.