Wiki Targeted (Entertainment)
Play Sound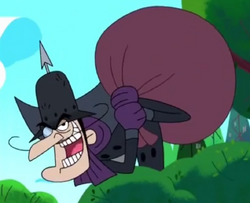 The Robber Barron is a one-time villain from the 2016 reiteration of the Cartoon Network original series The Powerpuff Girls, only appearing in the episode "Splitsville".
He was voiced by Rodger Bumpass.
Biography
Bubbles split up from the other two Powerpuff Girls and went to solve a problem on her own. She helped an old man get some stuff from one side of the river to the other side of the river. The three things he needed to ship across the river were a bag of seeds, a goose, and a fox. Bubbles wound up in a Fox, Goose, and Beans puzzle, where if she left one thing alone with the other thing, something bad would come of it. The problem seemed simple enough to solve at first, before new elements of the situation were added in, only making the problem more complicated. One of these things was The Robber Baron, who sat in the bush behind, the whole situation, laughing mischievously, holding a comically oversized bag of presumably stolen objects.
When The Robber Baron was added into the mix, a curve ball was thrown into the equation. A group of tourists could not be left alone with The Robber Baron, or else he would steal all of their belongings, such as their wallets, full of gift shop money. However, The Robber Baron could not be left alone with the starting lineup of the Townsville girls basketball team, or else they would beat him up.
Bubbles finally realized how to solve the problem the way Blossom would and think out a logical conclusion as to what to do. She shipped everyone and everything from one side of the river to the other side of the river, without harming anyone or anything. The last thing she put in the boat was The Robber Baron, but she did not put him on the other side of the river. Rather, she tied him up in ropes and left him in the boat, forcing him to get caught up in the river flow and later fall over the nearby waterfall, to his well-deserved defeat.
Trivia