Wiki Targeted (Entertainment)
Play Sound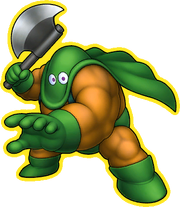 | | | |
| --- | --- | --- |
| " | I'll turn me life around! I'll go straight, I promise! Just let me go, pleeease? | " |
| | ~ Robbin' Hood after being defeated and being denied forgiveness. He repeats this quote until the player picks "yes". | |
Robbin' Hood (previously known as Kandar) AKA Robbin' 'Ood is a minor villain in Dragon Quest III, a hooded thief who stole the golden crown from the King of Romaria. Overall, he's a coward who tends to avoid fighting unless he has to; he's more specialized in escaping and setting up traps. He fights with an axe alongside his henchmen, known a the Robbin' Huddle or the Merry Men.
After the Hero and party defeats him, he begs for forgiveness and literally doesn't accept "no" for an answer, asking the question again and again until the player picks "yes".
When the party reaches Baharata, they find out that Gopal Gupta has set out to rescue his fiancée but was also kidnapped. Turns that the kidnapper is Robbin' Hood who hasn't abandoned his low-life ways, so the Hero/Heroine has to fight him again, as well as some of his henchmen, to rescue the couple. Like last time, the head-covered coward won't let go until "yes" is picked.
The player can find him one last time at the prison of Tantegel, implying that he did not mend his ways but was finally captured by the castle guards. This time he just greets the Hero/Heroine and for a change, he actually helps him/her by giving a clue on where the Sunstone is hidden. This is the last time he appears in this game.
Trivia
The Wii version of Fortune Street has a board called Robbin' Hood Ruins, which is named after him, making an appearance in Young Yangus' Mystery Dungeon.
Croco from Super Mario RPG is also encountered several times in a similar fashion to this character; with the first two having to fight him and the last one being more of an aid than a hazard.
Gallery