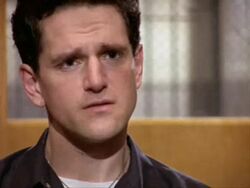 Robert Sippel
was a fictional pedophile who appeared in the HBO drama
Oz
. He was a priest convicted of molestation of a 14-year-old boy and was reviled (somewhat unsurprisingly) by many of the characters due to his actions.
After 10 years at Unit B, Robert Sippel is deemed eligible for parole. Governor James Devlin accepts a law that says that sex offenders Mmust report to the police before moving into a house. Father Ray Mukada says he's disgusted by Sippel. He is released, but has nowhere to go and comes back to talk to Sister Peter Marie, asking if he can sleep in his old cell. Mukada regrets being rude with Sippel, and hires him as his assistant.
While Sippel is in his cell, Vernon Schillinger says he is disgusted by what Sippel did. The two start a fight. After meeting with his victim, now an adult, Sippel is taken to the gym by Officer Karl Metzger, where Schillinger and the Aryans are waiting. They leave Sippel crucified across the floor. Sippel is moved to a hospital and is never seen again. It is assumed that he never implicates Schillinger or the Aryans.
Community content is available under
CC-BY-SA
unless otherwise noted.