Cobra Kai Season 4 - The Loop
Play Sound
Roidmude 034 is a Low Class Cobra-Type Roidmude modified to be a member of Reaper Legion and an antagonist in Kamen Rider Drive.
History
Global Freeze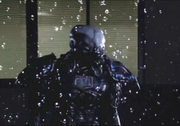 During the Global Freeze, 034 was seen among Roidmudes taking part in the uprising against humanity. During the Freeze 034 and two other Roidmudes had their bodies destroyed Protodrive, though their Cores survived due to the Rider being unable to destroy them.
As a Reaper
Some time after the Global Freeze, Roidmude 034 was modified to be a member of the Reaper Legion created to replace Mashin Chaser as the "Reaper" of the Roidmudes.
Roidmude 034 was later dispatched by Medic Roidmude alongside Roidmude 054, and Roidmude 104 to cover Chase's escape from the Special Investigation Team. When 104 was destroyed by Kamen Rider Mach's Signal Kaksarn-powered Beat Macher, Medic and the Reapers abandoned him. As Medic picked up Chase the remaining two Reaper Legionnaires were sent by Medic to fight Kamen Rider Mach. Both were destroyed by Deadheat Mach with a Heat Kick Macher.