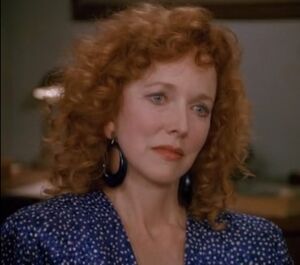 Rosemary Taylor is the main villainess from "Shear Madness," episode 6.20 of Murder, She Wrote.
She was played by Barbara Babcock, who later appeared in Home Alone 4 as the evil Molly Merchants.
Rosemary Taylor's backstory reveals that she engaged in a sexual relationship with Bill Spenser 30 years prior to the episode's events. It was after Bill left that Rosemary found out that she was pregnant with her daughter, Meg, and following this, Rosemary met Jody Taylor and tricked him into marriage by telling him that he was Meg's biological father.
In the episode, Rosemary is the lead reporter for a newspaper in Fairville, Texas, where Jessica Fletcher visited to attend her cousin Ann Owens' wedding to Bill. Rosemary had hoped that Bill would still show some interest in her, but when they last talked, Bill referred to their tryst as a "regrettable mistake." Rosemary became enraged shortly afterwards, and later one night, she lured Bill to the cellar of the Owens home. Shortly after Bill arrived, Rosemary turned heel and killed Bill with a set of gardening clippers, and planted the weapon into George Owens' room, attempting to frame George due to the fact that he killed Ann's previous husband 15 years prior (it was later revealed as self-defense.
Rosemary's reveal came when Jessica confronted her with the accusation that Meg committed the murder and planted the shears, knowing full well that the killer was Rosemary, who confessed. Rosemary was given away as the murderess when she mentioned the previous murder, bringing up a fridge being in the cellar, only for Jessica to point out that the fridge wasn't placed in the cellar until last month. After her reveal, the evil Rosemary unleashed her bitterness towards Bill, and was later arrested (off-screen).
Gallery