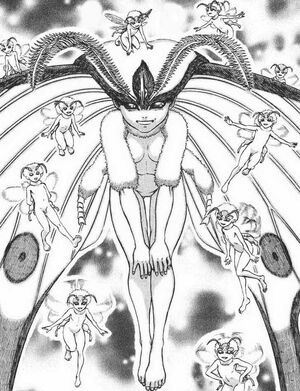 Rosine (in Japanese: ロシーヌ Roshīnu) was a young female apostle who sacrificed her parents to obtain the form of a female elf with the wings and antennae of a luna moth, as well as a small pair of moth-like limbs near her hips and a 'helmet' similar to the head of a luna moth. Her motivation for doing so was the legend of a child named Peekaf who believed himself an Elf and in doing so lost his human parents. She referred to herself as the Queen of the Elves and her true form is a monstrous female Luna Moth. Rosine is first seen by Rickert, who spots her hovering over the middle of a lake before the camp is attacked by other apostles, and she is seen standing apart from the horde as they devour the wounded Hawks and beckoning at her fellows to attack Rickert.
Dwelling in the Misty Valley, Rosine terrorized a nearby village, sending an army of insect demons disguised as elves to eat the town's livestock and people, as well as capturing children that she would transform into more insect demons via cocoons. Guts, Puck, and Rosine's former friend Jill travelled to the Misty Valley to confront Rosine, who offered to make Jill an elf apostle. Jill was tempted by the promise of flight, but was uneasy with the warlike ways of the elf demons who would kill each other for fun. Guts found and destroyed the elf demon cocoons, and an enraged Rosine battled Guts until she was so badly injured that she could no longer fight. As Guts was about to deliver a killing blow, Jill shielded Rosine with her body. It did nothing to stop Guts, but
before he could act, Jill's father arrived and shot him with an arrow. Guts was then attacked by the Holy Iron Chain Knights, led by Farnese. Mortally wounded, Rosine finally understood the moral of Peekaf's fable and in her delirium attempted to return home to her parents but ultimately succumbed to her injuries and fell from the sky to her death.
Trivia
In some translations, she is referred to as Roshinu.
Rosine is one of the few sympathetic villains in Berserk.
Community content is available under
CC-BY-SA
unless otherwise noted.