Rumble is a minor antagonist in the Tranformers franchise, especially Generation One. One of the Decepticon cassettes, Rumble is a punk who revels in the violence of Decepticon operations.
Generation One cartoon
Rumble is part of the original Decepticon line-up in the cartoon, often serving as a henchman to Megatron, Soundwave or Starscream. He is depicted as being small in stature for a Transformer, barely taller than a human. Despite this, the fact that he is equipped with pile-drivers that can cause miniature earthquakes means he is a dangerous opponent for even much larger Autobots. In the pilot story, he nearly kills Hound by leaving him trapped under boulders underwater.
He survives the events of
The Transformers: The Movie
and is among the Decepticons that go into exile on Chaar.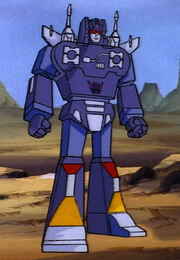 He was voiced by Frank Welker, who also voiced Megatron and Soundwave among others.
Marvel Comics
Similarly, in the comic continuity Rumble is depicted as part of Megatron's original crew, forming part of the nucleus of the Earth Decepticons led first by Megatron and then by Shockwave. Rumble did not seem particularly competent, allowing Buster Witwicky to get past him into the Ark where most of the Autobots lay deactivated and being overpowered by the captured Blackrock Aerospace engineers. Along with most of the other original Decepticons, he was killed during a battle with Omega Supreme. He was placed in a stasis pod by the Autobots and, although it was recovered by the Decepticons some years later, he was never reassembled.
In Marvel UK's Earthforce storyline, he was part of the Decepticon faction led by Shockwave.
Trivia
The G1 cartoon famously coloured Rumble in blue, with the red and black colour scheme from the toy instead being used to depict Frenzy.
Generation One Villains

Seekers
Mini-Casettes
Insecticons
Predacons
Terrorcons
Headmasters
Targetmasters
Seacons
Pretenders
Hive
Others
Community content is available under
CC-BY-SA
unless otherwise noted.