Rushu 
is the king of the demons and the Fab'hugruta realm. He is the main villain until the middle of season 2 from Fench series Wakfu (for which
Qilby
takes the role of main antagonist completely). Has always aspired to enter the pantheon of gods. He accuses Sacrier of having taken his place. It was he who pushed the arrival of Djaul as protector of Desiember, and the creation of this month.
Personality
As Rushu is more often mentioned in relation to his servants than shown in the media, his personality isn't entirely defined. His thirst for power and destruction is unquestionable, and his natural propensity for evil in general is no surprise. His involvement in season 2 of the animated series does not depict him as being particularly clever, although he is constantly plotting to take over the World of Twelve.
Appearance
Seemed to be like a colossal demon with brown skin, orange eyes, eyebrows and a long red beard, he has 2 gigantic horns and pools of lava go through them, as for his physical, is quite corpulent, highlighting a muscular amount in his arms, behind their shoulders near the back, they detail some rocky and dark points. Wearing a toga to get dressed, fastened to a skull-shaped belt.
During his second invasion, Rushu will have to face Goultard. This adversary being particularly tough, he is obliged to deploy all his power by resuming his normal appearance. Revealing that its true form is that of a tall being, blue with tentacles and a yellow eye.
History
Past Story
Is the oldest of the demons. He began his career with a demonic coup: He decides to kill all his brothers and sisters! Since then he was master and lord of the Fab'hugruta, the demonic plan, that reigns with an iron hand (red) wrapped in a steel glove (with spikes). All who have horns have bad breath and bad faith. But being the king of the Fab'huritus is not enough: He wants to conquer the universe, and to become bigger than the gods!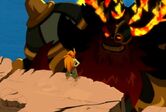 Present Days
But Rushu has signed a non-aggression pact, in which he agrees not to leave his home. Even so, his goal is clear: He will not know descending until he invades the World of Twelve. His right arm, Djaul, courageously tries to help with the process. But the first attempt fails in the year 24, mainly due to Gultar.
In 505, the pact is broken once again, this time by the demon Esra'Ruoy'Dnim. Like others before him, he aims to find Dofus to bring back to his master, and his method of choice is to enslave the Amaknian populace and force them to search for the Dragon eggs, while he indulges in a life of laziness and constant feasts. That will ultimately be his downfall, as Allister's Ruse relies specifically on his boundless appetite. Once again, Rushu is left without a Dofus, and Esra'Ruoy'Dnim is kept in a prison and bound by the Heads for no Tails, unable to serve his plans.
Meeting and Deal
| | | |
| --- | --- | --- |
| " | So many things to destroy w'ere gonna have a lot of fun¡ | " |
| | ~ Rushu speak with Qilby. | |
So when Qilby offers him help to return to the world of Twelve, Rushu does not hesitate a second! When he reaches the Purple Claw archipelago, his dream is finally fulfilled. Once again leading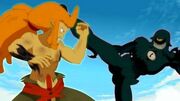 his army through a portal, the lord of the Shustuft Crust finds himself confronted by Goultard for the second time. This time, the son of Iop is in full control of himself, but even more unexpected is the fact that he has taken over the role of Iop god.
Despite his considerable power, Rushu is no match for the god of war and calls all of his Shushus to him, absorbing them to increase his own power and even the odds. While the outcome of their fight is uncertain, Goultard manages to send Rushu back through the portal right before it shuts, thereby repelling the entire invasion as practically all Shushus were inside the demon lord's body.
In the final credits for season 2, the new Iop and Rushu are shown fighting for what is assumed to be a fairly long time.  
Other Appearances
Dofus Game
| | | |
| --- | --- | --- |
| " | Rushu is a Demon Lord who dreams to equal the gods. He managed to impose Djaul, his henchman, as the protector of Descendre. He's jealous of the goddess Sacrier and accuses her of stealing his well-deserved place among the gods. | " |
| | ~ Description | |
Is seen as one of the main enemies, appearing only in photographs because despite not having had a physical appearance, his role and history are very important in the game, so that his servants will be present in his reign.
Dofus Comics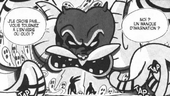 In volume 8 one discovers that Rushu had the opportunity to invade the World of the Twelve thanks to two humans who managed to open a dimensional portal. The twins Karibd and Silar saw their parents killed unjustly by the royal family, and then humiliated and beaten up by their villagers. They hoped that by opening this portal to the world of shushs, the latter would invade and kill all those who had abused them. Unfortunately, on arriving in front of Rushu, they are very disappointed because the only thing Rushu wants to do is kill them by crunching them, they find it too fast, not cruel enough and without any refinement.
Rushu is ultimately far below his reputation. The two brothers realize that they have spent their life building a diabolical project and that everything falls into the water because Rushu is not worth much as a demon. Now they want only one thing: to finish quickly with life.
Wakfu OVA'S
Once the portal was closed, Goultard stayed to face Rushu. Their struggle lasted several years, but in the end, in episode 2 of the 2014 FVO series, we see that Rushu finished in carpet under Goultard's feet. With this visual alone, it is difficult to know if he is KO or if he is dead. Even though he was not dead because of Goultard, it is likely that the Dragon Mount that crashed on his palace will have completed it.
Gallery
Images
Trivia
Rushu has have some similarities to The King Mighty One-Eye.

Both are monarch demons who run their own world and army of infernal creatures.
Both took great part of antagonistic paper in the fantasy histories, until the end and these they survived the last battle being defeated, whereas the true main villains die or end up in worse conditions ,as it is in the case of Zigzag and Qilby.
Both demons make a deal with the main villains who have knowledge about magic and science ,Reaching the point of making deals to govern or conquer realms.
Community content is available under
CC-BY-SA
unless otherwise noted.