Doctor Strange in The Multiverse o Madness - The Loop
Play Sound
Ruth Cavanagh is the wife of Joseph Cavanagh and mother of Charlotte Cavanaugh in the CW Television series Smallville.
She appeared as a minor antagonist in the episode "Harvest" of Season 10.
She was portrayed by Merrilyn Gann, who also played Madame de Bossé from Barbie and The Three Musketeers and Madge in A Very Supernatural Christmas.
Biography
Early life
Ruth lived in the town of Meeker Springs with her husband and daughters. Tragically, her oldest daughter Esther was killed during the first meteor shower that struck the town in 1989.
The aftermath left blue kryptonite scattered all over the town that contaminated the water supply providing the residents with increased health.
Under the effect of the kryptonite, Joseph believed Esther's death was a sign from God for their good fortune and convinced Ruth and the town. Every year, they would sacrifice a young woman in return. Esther eventually gave birth to her youngest daughter Charlotte.
Harvest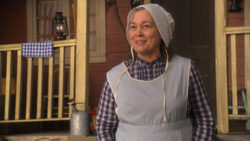 After their car broke down, Clark Kent went to the mechanic while Lois Lane was brought to Meeker Springs by Ruth's daughter Charlotte. When Charlotte brought Lois to their home, Ruth happily greeted them and insisted that Lois stay for dinner, promising that her husband will take her to the train station after supper.
She was secretly part of the cult to offer Lois as a sacrifice for their bountiful harvest. Ruth made a bountiful meal of ham, potatoes and carrots for supper and shared with Lois who found them to be awkward as they remained silent during dinner.
After Joseph and his wife went off to put their dishes in the kitchen, Lois attempts to leave. Ruth and Charlotte dressed Lois in a white old-fashioned lace dress with a bonnet on her head.
Clark Kent had been captured and brought to the Cavanagh house where Lois explained how the local villagers were conducting a bizarre annual tradition they've had for their harvest every year, involving a human sacrifice.
Lois and Clark managed to sneak out of the Cavanagh house and attempt to blend in with the crowd dressed in farmer clothing and a cloak. However a female cultist saw Lois' pink nail polish, Lois punches her out as she and Clark attempt to run to the gate entrance, but they are immediately intercepted by the villagers, who have donned scarecrow masks.
Ruth stood with the congregation as they prepared to sacrifice Lois. Lois is tied to the altar and she attempts to speak reason to the villagers, stating that killing her will not make God happy, and what they are doing is wrong.
Joseph said she knew nothing of faith but Lois reiterates that killing is wrong. Ruth stood in bewilderment when a resurrected Clark came back and rescued Lois from the blue kryptonite fire.
After he heals, the villagers believe that Clark is a messenger sent by God, which Lois plays up as she sees his back is healing as the villagers move a great distance away from Clark. Ruth watches as the townspeople lose faith in her husband's message. Clark then grabbed Lois and both super speed away leaving Ruth, her husband and Meeker Spring citizens in shock and awe.

Villains
Protagonists