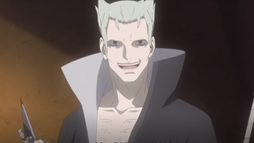 Ryūki
is the main antagonist of 
Konoha Shinden: Steam Ninja Scrolls
and its anime adaptation in the 
Boruto: Naruto Next Generations
anime series. He is a worshiper of Jashin who plots to lure women to his hot springs with the false promise of being able to let them see their deceased loved ones again so he can sacrifice them to make himself immortal.
Biography
Ryūki is first seen welcoming the girls to his hot spring where he promises to grant their wish of letting them see their deceased loved ones again. However when Mirai asked how he's going to do it, he responds by claiming he is going to use a Reanimation Jutsu that does not require a living sacrifice. He then proceeds to ask for their names and who they wish to see where he then dresses them in white robes and has them walk into the steam.
With the girls all gathered together, he then gives them a liquid to drink claiming it to be "holy water". However Mirai manages to see through his lies and stop the other girls from drinking it but he then quickly takes Tatsumi hostage and places a puppet curse on her where he forces her to fight Mirai. Thankfully though Kakashi and Guy arrive and break the curse on Tatsumi. An angered Ryūki throws his bottle of "holy water" at Mirai only for her to slash it where it emmmits a steam allowing Ryūki to take off. However Kakashi alerts Mirai of where he is going where she then chases him to his Sacred Ritual Room where he then tries to shoot sharp poles at Mirai so that he can sacrifice her with his puppet curse as he talks about how he hates the era of peace and wishes to bring back the ways of Jashin. However when it first appears as though he succeed, it is revealed to be a genjutsu created by Mirai. Despite this Ryūki is still convinced he is immortal and then launches a whole bunch of poles at Mirai while also trying to attack her himself. Luckily Mirai manages to stop all of it with her whirlwind fist attack. Ryūki is then immediately arrested.
Community content is available under
CC-BY-SA
unless otherwise noted.