Wiki Targeted (Entertainment)
Play Sound
This article's content is marked as Mature
The page Mature contains mature content that may include coarse language, sexual references, and/or graphic violent images which may be disturbing to some. Mature pages are recommended for those who are 18 years of age and older.


If you are 18 years or older or are comfortable with graphic material, you are free to view this page. Otherwise, you should close this page and view another page.
"
From the Thing's hands poured brownish liquid. Putrid, viscous, crawling; that such a thing could ever exist was proof of Existence's endless capacity of malevolence. The substance twitched and writhed as the Thing played it like a child might play dough into some twisted fractal.
Just before the Thing thrust the Malevolence onto Veronica's face in an unholy baptism, Veronica looked upon its face.
The thing had the face of a pale, bearded man in his middle years, eyes completely dead.
"
~ Veronica Fitzroy's nightmare about SCP-2852 in the tale "Baptism of the Wandering Jew by Johnny the Son".
SCP-2852 is a Keter class SCP currently being hunted by the SCP Foundation, having managed to escape from containment. It is a mysterious, apparently non-sapient, being that visits christenings, weddings and funerals under the guise of a non-existent family member named "Cousin Johnny" which will be remembered by all present despite not existing and causes anomalous events and acts of violence and cannibalism to occur, ultimately leading to all those attending either dying, becoming sterile or becoming a violent killer soon after. Any attempt to prevent this by barring it from entering will fail, as SCP-2852 will simply teleport into the church.
Behavior
Blue level events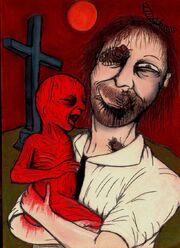 During a Blue level event, SCP-2852 will appear as a congregant during a christening and act as the child's third godparent. Other than the presence of a third godparent, the ceremony will proceed as normal until the infant is lowered into the font, at which point the infant's top layer of skin will peel off and be eaten by the godparents, although the infant will be unharmed. The ceremony will then end, and SCP-2852 will depart.
After the event, the infant will mostly likely die within the next six months, and if it survives, will develop multiple personality disorders and engage in destructive behavior such as abusing animals. The godparents and biological parents will become sterile and commit suicide within five years. Any other couples present will either have stillbirths or murder their children just after they are born. Any children present who live past adolescence and are exposed to the song of cicadas will have a violent outburst, often leading to them to kill random bystanders. All of these are due to the influence of SCP-2852.
White level events
During a white level event, SCP-2852 will appear during a wedding as a groomsman. The ceremony will proceed as normal until the vows are exchanged, at which point SCP-2852 will give the bride and groom implements that they will use to pull out their own teeth without any sign of pain. They will then be handed the teeth, which they will eat, and the groom will vocalize a cicada song that will deafen the bride and those at the altar.
At the reception, SCP-2852 will become the best man and give a speech in an unknown language, although all congregants will somehow be able to understand and will react with mixed emotions. It will then give the couple a "gift" of 3.5 kg of human hair, thirteen dead cicadas, and twenty-three human teeth.
About two years after the event, the bride and groom will divorce as a result of domestic violence. Any children will be born disfigured, and all married individuals during the event will be rendered sterile. All children involved will avoid romantic relationships, and most will have killed themselves at the age of eighteen. This is a result of interaction with SCP-2852.
Black level events
SCP-2852 will manifest as the eulogizer during a funeral. During the incomprehensible speech, the person closest to the coffin will produce a knife and drain themselves of blood, which all other participants except SCP-2852 will then take turns to do. SCP-2852 and all other participants will then produce a cicada song, and SCP-2852 will vomit a mixture of blood, wool and dead cicadas into the coffin. The ceremony will then proceed as normal.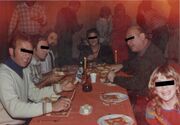 At the wake, SCP-2852 will vomit another mixture of blood, wool and cicadas, which all present will eat. SCP-2582 will promptly strip naked and lie down on a table before being cannibalized by the attendants (although it will be able to re-manifest itself in order to cause another incident).
Due to SCP-2852's influence, all participants in a black-level event will be rendered sterile, and most will either get divorced, move away from their families, or kill themselves. Cannibalism is also common in black level event participants, and six out of every ten children who attend will attempt to murder their parents.
Gallery
Trivia
It is speculated that SCP-2852 is a creation serving

SCP-3004-1

, the cicada god.