Wiki Targeted (Entertainment)
Play Sound
This article's content is marked as Mature
The page Mature contains mature content that may include coarse language, sexual references, and/or graphic violent images which may be disturbing to some. Mature pages are recommended for those who are 18 years of age and older.


If you are 18 years or older or are comfortable with graphic material, you are free to view this page. Otherwise, you should close this page and view another page.
| | | |
| --- | --- | --- |
| " | Five hundred years ago, I saw a two-legged species with limitless potential, and I made it mine. | " |
| | ~ SCP-3003-2 speaking through a humanoid host. | |
SCP-3003-2, is a self-aware virus that takes place on a Keter-class SCP planet that is documented by the SCP Foundation known as SCP-3003. Though the planet by itself is classified as Keter, the virus in itself is not given a classification, though it's very likely it shares the Keter class as well, as it cannot be fully contained.
SCP-3003-2 is a highly contagious virus that takes the form of a eukaryotic single-celled organism. It spreads to SCP-3003-1, which are beetles that reside on the planet SCP-3003. The beetles are referred to as "Marce". The Marce will then spread the virus to SCP-3003-3, which are human-like beings on SCP-3003.
Biography
Exactly where SCP-3003-2 came from or how it was formed on SCP-3003 is unknown, but research shows some evidence of how it evolved. However, a single instance told a Foundation doctor that SCP-3003-2's history of taking humanoid hosts started five-hundred years ago. As mentioned before, SCP-3003-2 is a eukaryotic single-celled organism originating from the planet SCP-3003.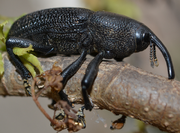 SCP-3003-2 will do anything it can to spread itself, and it does this mainly through SCP-3003-1, exoskeletal beetles known as "Marce", that are genetically similar to beetles found on Earth. Once SCP-3003-2 has infected an instance of SCP-3003-1, the beetle's behavior will change greatly, as it grow a new stinger, and will become focused on spreading SCP-3003-2 to others, namely to SCP-3003-3 instances, which are human-like beings on the planet, that are nearly visually indistinguishable from humans on Earth.
Marce beetles, once infected by SCP-3003-2, will wait until nightfall, and will inject a muscle weakening compound into the host, as well as SCP-3003-2 itself. In SCP-3003-3, -2 will colonize itself within the tissue of the brain and form neuron-like cells.
Behavior
One of the most notable features of SCP-3003-2 infection is its ability to change the behavior and thought-patterns of the host, being both the Marce beetles and the humanoids of SCP-3003. When either instance is infected, they will develop an obsession for prolonging the lives of the Marce (which, by extension, prolongs the lives of SCP-3003-2 as well), and will not be concerned with self-preservation unless that in itself plays a role in assisting the Marce.
Any line of thought against helping SCP-3003-1 are avoided. Emotions are also suppressed, and if emotions are displayed, they are exaggerated.
Once SCP-3003-2 are set up inside an instance of SCP-3003-3, they cannot reproduce. This means that further injections of SCP-3003-2 must be made for the virus' behavior to stay active in a humanoid host. Once all SCP-3003-2 cells die in a humanoid host, the host will recover in roughly two years after this.
Personality
Being a collection of microscopic organisms, they aren't able to communicate directly. They can, however, speak through a humanoid host that SCP-3003-2 has taken over. It is unclear what the true intentions of SCP-3003-2 are, whether it's to keep itself going by instinct or selfishness, or if it makes itself part of hosts because it thinks its helping them is unknown.
The technology on SCP-3003 is very advanced compared to ours, and the acquiring of such technology may very well be made possible due to the existence of SCP-3003-2.
Trivia
In SCP-001 (Ihp/Locke Proposal), SCP-3003 was cross-tested with SCP-1233. This resulted in SCP-1233 using his powers to destroy instances of SCP-3003-1 and SCP-3003-2, liberating several SCP-3003-3 instances. He, alongside the liberated instances of SCP-3003-3 formed a rebellion against 3003-2, which is excepted to cause the total eradication of the bacteria sometime in 2029.
External Links
SCP-3003 on the official SCP Wiki