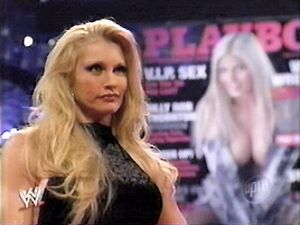 Sable
is a former WWE Diva and a former WWE Women's Champion who is best known for her tenure as an on-screen villainess, despite being a babyface for most of her career.
Sable had been a babyface for the first 2 1/2 years of her career, but after winning the Women's Championship and getting the nod to pose for Playboy, she transformed herself into an egotistical villainess. Sable's heel turn came weeks before WrestleMania XV, when she berated her obsessed fan, Tori, and attacked both her and Luna Vachon. Sable went on to defeat Tori at WM15 with help from her new bodyguard, Nicole Bass. She would lose the Women's Championship months later to Debra, and that would be her last appearance in the then-named World Wrestling Federation.
Sable returned to the renamed World Wrestling Entertainment in early 2003 and continued her role as a villainess by seducing Torrie Wilson on several occasions. She also portrayed the mistress of Vince McMahon and engaged in a feud with his daughter, Stephanie McMahon, which led to a match at Vengeance that Sable won.
Sable would actually turn face and team with former rival Torrie at WrestleMania XX in a victorious effort against Stacy Keibler and Jackie Gayda. Months later, Sable regained her heel persona and briefly feuded with Torrie, due to Sable's jealousy of Torrie being featured on the cover of SmackDown Magazine. At The Great American Bash, the villainous Sable defeated Torrie in a grudge match, but she would lose the rematch on SmackDown. Sable left WWE just a few months later.
In her first role as a villainess, Sable was mainly portrayed as an egomaniac. When she returned to WWE, Sable acted mostly as an evil seductress.
Community content is available under
CC-BY-SA
unless otherwise noted.