Cobra Kai Season 4 - The Loop
Play Sound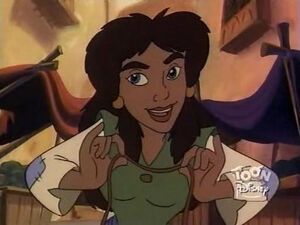 Sadira is an antagonist in Disney's television series Aladdin. However, she later becomes friends with Aladdin and the others.
Sadira developed an obsession with Aladdin after he saved her from Razoul. 
Her second attempt featured Sadira using an unidentified 'memory sand' that caused the entire city's memories to be rearranged into thinking she was the princess and Jasmine was the street rat. However Sadira later discovered the memories of the animals were only ones unaffected, leaving it up to Abu, Iago, and Rajah to find Jasmine and get her and Aladdin to kiss to break the spell.
Sadira attempted to stop Jasmine and Aladdin meeting by having Jasmine imprisoned as a witch, and having the wedding moved to that very night, but the animals and Jasmine managed to interrupt the wedding before Sadira and Aladdin could kiss. Realizing that he felt more attracted to Jasmine than he ever had with Sadira, even though he could not remember her, Aladdin kissed Jasmine, resulting in history returning to normal with only Iago, Abu, Rajah and Sadira retaining any memory of the experience.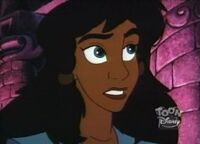 In Sadira's 3rd attempt, she cast a spell to transform Aladdin into a heroic dragon-slaying prince and Abu into a horse, simultaneously opening a portal to the land of her fantasies, where she and Aladdin could live without any interference from Jasmine.
Although the subsequent mixture of Genie's magic with Sadira's spells meant that Aladdin still believed himself to be the prince despite the lack of any armor or even a dragon to slay, as well as Abu becoming a mule, forcing them to recreate Sadira's fantasy in order to break the spell. In the process.
Jasmine is the only member of the group who believes Sadira was innocent. Having framed Sadira for releasing a sand viper on the city, the Sand Witches attempt to win her over to their side and thus raise the ancient City of Sand to destroy Agrabah, but in the end, Sadira chooses her new friendship with the group and helps them to defeat the Witches.
Sadira is seen for the last time in a cameo appearance among many other friends and allies encountered during the series at Aladdin and Jasmine's wedding in Aladdin and the King of Thieves.