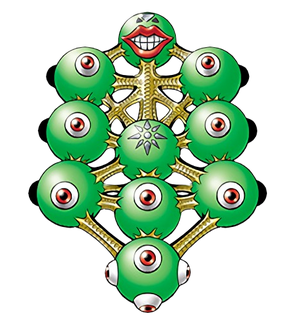 Sakkakumon is a minor antagonist in Digimon Fusion (season 3).
Appearance
Sakkakumon is a Beast Hybrid Level Digimon that resembles the Hebrew depiction of God, whose spheres are substituted with multiple eyeballs. Sakkakumon is capable of rearranging his orbs to suit various purposes, such as his attack mode where the orbs group together into a single cluster; while having to move on ground, the orbs rearrange themselves in a string sequence to form a serpent-like beast. The top Sphere is his head which sports the same red lips found on his human spirit and two beady black eyes. The dark sphere in the center is where all of his recorded information is stored and also happens to be his weak spot.
Biography
Digimon Frontier
Initially, Mercurymon uses Sakkakumon to entrap the DigiDestined within him to engage in psychological warfare. When the DigiDestined escape, he reveals that he used the opportunity to analyze the other Warriors' fighting abilities, and Sakkakumon is now able to use their attacks. At first, he overpowers them, but they soon find his weaknesses are his inability to defend against combined attacks and that his central Tiferet sphere cannot attack. Exploiting them allows the DigiDestined to win and purify Sakkakumon.
Digimon Fusion
Sakkakumon was one of the Digimon that emerged from the DigiQuartz. He took the form of a carnival. It was revealed that Sakkakumon did this to kidnap the children inside him forever. With the help of Bakomon, Arresterdramon was able to defeat Sakkakumon (and his minon Jokermon) and release the children. When Sakakkumon was defeated Tagiru was able to capture him along with his minion Jokermon.
Digimon Adventure: (2020)
Sakkakumon appears, sent by Milleniummon to capture the Digidestined and their Digimon partners. He sucked Tai, Matt, Izzy, and T.K. along with their Digimon partners into a strange dimension. He created copies of the previous evil Digimon the Digidestined's Digimon partners defeated from the past to attack the Digidestined, including Devimon. Angemon Digivolves to MagnaAngemon for the first time and collapses the dimension, freeing the other Digidestined and their partners, but the main head of Sakakkumon manages to recapture the data and send it to Millenniummon.
Digimon Xros Wars (manga version)
An army of Sakkakumon are members of the Twilight Army. They serve as minion towards Lilithmon.
Abilities
Sakkakumon can copy his opponent's attacks and use them to attack his enemies. In Digimon Adventure (2020), he can copy the data of previously defeated evil Digimon.
Attacks
Known copied attacks
Thunder Fist
Hurricane Wave
Blizzard Blaster
Thunder Fist Reflection
Hurricane Wave Reflection
Atomic Inferno
Avalanche Axes
Pyro Tornado
Bolo Thunder
Spin Caliper
Hard Rock Damashī
Mantis Dance
Digimon inside Sakkakumon
Gallery
Trivia
Sakkakumon and his Human Spirit form, Mercurymon, are both voiced by Daran Norris. Thus, it can be inferred that the former was a separate being that was dormant for most of its mini-saga, and only gained sentience after the former merged with it following his defeat.
Community content is available under
CC-BY-SA
unless otherwise noted.