Jurassic World: Dominion Dominates Fandom Wikis - The Loop
Play Sound
"
Tommy: Australia? And then they're just gonna turn around and come right back again.
Sal: It won't be so bad.
Tommy: Yeah, why not?
Sal: We're canceling their return trip.
"
~ Salvatore Maggio explaining his plan to have Charlie and Louis killed
Salvatore "Sal" Maggio is the main antagonist of the 2003 buddy comedy film Kangaroo Jack. He is Charlie Carbone's stepfather, Frankie Lombardo's boss and Mr. Smith's employer.
He was portrayed by Christopher Walken, who also played Max Zorin in A View to a Kill, Bradford Whitewood Sr. in At Close Range, Frank White in King of New York, Max Shreck in Batman Returns, Vincenzo Coccotti in True Romance, Gabriel in The Prophecy series, Mr. Smith in Nick of Time, Colonel Cutter in Antz, the Headless Horseman in Sleepy Hollow, Reed Thimple in The Country Bears, Cornelius Hatcher in The Rundown and King Louie in the 2016 The Jungle Book live-action remake.
Biography
Early life
In 1982, on a beach in Brooklyn, Sal first meets the mother of his future stepson, Charlie Carbone, whose father passed away. He also recruits Frankie Lombardo, who was "fresh out of juvenile hall," to work for him. When Frankie had Charlie go long, Charlie got caught in the current and was saved by Louis. Sal was part of the crowd that witnessed with.
Kangaroo Jack
Twenty years later, he buys Charlie a beauty salon to work at (for his new wife), but has his goons take 80% of the profits every week (for himself).
One day, he summons Charlie and Louis to his office and scolds them for the incident that resulted in the police raiding one of his warehouses and got some of his minions arrested. Sal scolded Louis for his mess up and stated to Charlie that the beauty salon was an alternative as he didn't want to take up the family name. Through Frankie, Sal instructs them to deliver an envelope to Mr. Smith down in Australia. Once they leave his office, he reveals to his capo Tommy he is "cancelling their return trip".
Later on after getting a call from Mr. Smith, he sends Frankie to Australia to track down Charlie and Louis.
After Frankie and his minions and Mr. Smith and his minions are arrested by the authorities, it was mentioned by Charlie in his narration that Sal tried to use his high-level connections to avoid arrest. The newspaper that Charlie reads states that Sal Maggio is on trial.
Kangaroo Jack: G'Day U.S.A.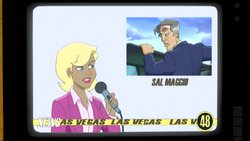 Sal Maggio was seen on the news when a female newscaster mentions that Charlie is Sal's stepson.
Trivia
Even though Frankie was the main antagonist, Sal was the Bigger Bad because he was still Frankie's boss and the mastermind behind the plot to kill Charlie and Louis.
Gallery
Villains