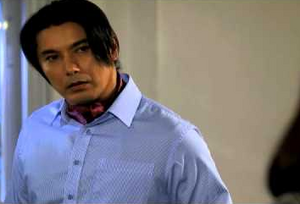 Samuel Alejandro
,the
Haring Aswang
(lit King of the Aswangs)  is one of the main antagonist of the 2013 Philippine TV Series,
Juan Dela Cruz
. His is currently married to 
Laura
.
Goals
He is the leader of a vampire-like creature race called the Aswangs. As the leader of his race, his responsibility is to ensure his race's survival inside the human society. Alejandro led his race's infiltration into human society and now the aswang now lives among humans without being noticed. Alejandro is a very rich and influential businessman and controls many different establishment including hospitals and funeral centers, a source of food for the aswang.
He plays an important part of a prophecy, that the Anak ng Dilim (lit. Son of Darkness) will lead the aswang into victory with their fight against the Tagabantay and the Kapatiran and make the aswang the dominant race over the humans. The Anak ng Dilim is the eldest child of the Haring Aswang, who is widely known to be Kael by his fellow aswangs. In fact the real Anak ng Dilim is Juan Dela Cruz, who is also the Tagabantay. His goals is to convince Juan to join his side while avoiding his fellow aswangs to know the truth and dealing with his wife and other son's persistance to kill Juan. He has revealed himself to Juan as his father but Juan is still unaware of his identity as an aswang. He longs to fulfill the prophecy but he holds genuine father-son feelings to son.