Wiki Targeted (Entertainment)
Play Sound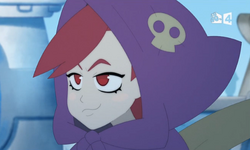 Sanatas is the one-shot main villainess in the French animated TV series Dofus: Kerub's Baazar. She is known to be a very tricky and machiavellian runner, sabotaging the other rivals to win.
Story
By all means wanted to get the first place in the race, and unlike other competitors, she managed to put traps that delay or end up in the middle of the road, but all their plans were played against, being hurt.
The first dirty move, was to drive with a rocket and cross the tunnel that led to a canyon, colliding with the rocks of the road.
The second was to blow up the stone bridge with bombs, but they exploded them by placing them in the direction, where it was supposed to happen.
The third thing is that he put a trap for bears, which some unsuspecting pisaria, but nue was like that, because a Tofu lay there and Sanatas accidentally touched. Finally, she wanted to throw a cannonball from a cliff into the front runners.
Once again, his plan did not work and he ended up crushed by the rocks that fell from above, including the cannoball, which exploded.
Gallery

Villains
Main Villains

Shushus:
Fab'hugruta Army (Rushu | Djaul | Mongrelamus | Shadowfang | Anathar | Rubilax |Rubilaxia | Grufon) | Hour Demons | Uk'Not'Allag' | Bourlof the Butcher
Eliatrope Planet:
Qilby | Mechasms (Orgonax | Odo | Lu-Fu) | N
The Clocktower:
Nox | Igole | Grambos | Noxines | Marama, Frisco & Tartufo | Deserboss | XII Raze-time
The Siblings:
Oropo | Lady Echo | Count Harebourg | Toxine | Dark Vlad | Sipho | Ush Galesh | Adamai | Poo | Coqueline | Black Bump | Arpagone | Arpagone's Dhreller | Dathura | Kali
Frigost:
Jiva | Sylargh | Nileza | Mizz Frizz | Amakna (Klim | Tenebre | Bolgrot | Leaf | Flames | Cloud | Drop)
Brakmar:
Julith (Julith's Army) | Prince of Brakmar | Marilyn the Meuporg | Judge Rouflaquette | Brak'N'Blacks | Fiscal of Brakmar | Jury of Brakmar
Inglorium:
Osamodas | Ecaflip | Sram
Guardians:
Mount Zinit (Ogrest | Aerafal | Ignemikhal | Dardondakal | Terrakourial | Aguabrial | Grougalorasar) | Chanta Klaus | Domen | Melted Horns | Cave Golems | Dragonpig | Dragon Pig's Robot
Rogues:
Smisse Family (Ewesson Smisse | Vil Smisse | Remington Smisse | Grany) | Smis Mond | Mond's Pirates
Others
Katar | Kanigrula | Celui-dont-on-tait-le-nom | Bash Squale | Yech'ti | Moskitoes | Luis | Sanatas | Pirate Shushus | Miss Kity | Poulpard | Minotoror | General Glumosor | D-Rex | Lord Crow | Sponge Mob | Vortex | Criture | Mister Vargasse | Obsidemon | Queen of Thieves | Gourlo the Terrible | Gullivette | Jellies | Hydra | Grozilla | Grasmera | Dantinea | Fraktal | Drhossil | Vampyro | Ghouls | Saule | Gonard | Dark Crow | Mandhal | Mandhal Childrens | Sybannak | Riglesse | Magik Riktus | The Soiffards | Cassis | Voice Thief | Bellaphones | Bellaphone's Apes | Miss Ugly Princesses | Chouquette | Wabbit King | Damned Font | Poison Flowers | Mr. Fabulous | Sword Boy | Laughing Buffon | Mirkool | Trool Brothers | Maskemane | Monster Gerbille | Felinor | Felinor's Henchmen | King Jellix | Polters