Wiki Targeted (Entertainment)
Play Sound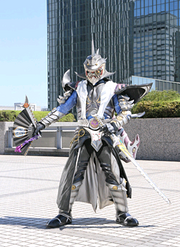 Sandaaru Jr. is the son of Seventh Spear, Sandaaru.
He was voiced by Shūichi Ikeda.
Biography
He alongside with his comrade, Satarakura Jr., was sent to Earth by Warz Gill with scheme to turn humans into chestnuts to power their missile.
He later arrive saving his comrades from Captain Marvelous, Joe Gibken and Luka Millfy. Both of them battled the three Gokaigers who using the powers of Livemen and the Abarangers, but the ninja duo able to defeat them. As the rest of Gokaiger crew arrive, the ninjas take their leaves.
But later, they was tracked by Gokai Silver who uses the Bouken Silver Ranger Keys. The Gokaigers get the jump on the space ninja duo and save the chestnuts.
Like his father technique, he is able to perform many of Space Ninpou along with his own abilities as Rope Skull and the Enlargement Jutsu. He is destroyed by Goujyujin with some help from Fuuraimaru.