She-Hulk Trailer Dropped - The Loop
Play Sound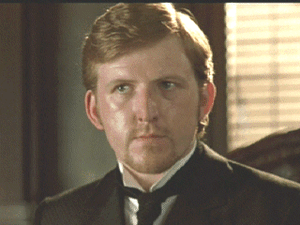 Sanderson Reed is a supporting antagonist of the 2003 film The League of Extraordinary Gentlemen. He was seemingly a liaison for the British Empire, who recruited Allan Quatermain to join The League of Extraordinary Gentlemen, when in reality, he was working for the infamous Fantom.
He was portrayed by Tom Goodman-Hill.
Role
In 1899, Sanderson Reed ventured to Kenya on behalf of James Moriarty, who was at the time posing as M, the head of the British Secret Service. Reed's task was to find and recruit legendary British adventurer Allan Quatermain to join The League of Extraordinary Gentlemen. A group of assassins then turned up to try and kill Quatermain, but this was a ruse by Moriarty to convince Quatermain to join the League. Quatermain reluctantly returned to England with Reed and was introduced to the other League members.
During Moriarty's confession recording to the League, he revealed that Reed had been in on the entire scheme.
When the League attacked Moriarty's Mongolian fortress, Reed took some of Hawley Griffin's invisibility formula, itself synthesized from the blood of Rodney Skinner, and turned himself invisible. He took Tom Sawyer hostage and brought him to the room where Quatermain was confronting Moriarty. Moriarty pointed out to Quatermain that Sawyer had been captured. Quatermain quickly spun around and shot Reed in the head, but the temporary distraction allowed Moriarty to fatally stab Quatermain in the back.
Trivia
For the most part, Sanderson Reed fills the role of Campion Bond, a character from the comics who was not included in the final draft of the film.
Villains