| | | |
| --- | --- | --- |
| " | Life is a wheel. No matter how much it turns and turns, and you keep thinking you're making some kind of headway... sooner or later, it comes right around again. In my case, it always brings me back around to him... to Spider-Man. That miserable wall-crawler. Spending his life hiding behind a mask. I may be a crook, but at least I'm an honest crook. Sure, sure, I've had different names... William Baker, Flint Marko, others... But, bottom line, my face is out there. When guys are throwing down with me, they know who they're dealing with... The Sandman. | " |
| | ~ Sandman | |
William Baker, better known as Flint Marko and his supervillain alias the Sandman, is a character and antagonist in Marvel Comics, typically serving as an enemy of Spider-Man. He is a supervillain who can control and manipulate sand.
Sandman was created by the late Stan Lee and the late Steve Ditko.
Biography
In a freak radioactive explosion, Flint Marko's DNA was transformed to match the the chemical composition of small rocks and minerals. He can control every particle of his body, and can form his limbs into weapons, pick locks with his finger, shape-shift into different beings, or even gather more sand onto himself to become a giant. He is nearly indestructible, making him a formidable opponent who cannot be beaten by sheer strength. Sandman joined the group of supervillains known as the Sinister Six to attack Spider-Man.
Later in his career, Sandman reformed and gave up his criminal activities, even joining the Avengers hero group. He continued to go back and forth between supervillain and superhero, making him a very interesting and untrustworthy character.
Sandman appeared in Spider-Man 3 as well as The Spectacular Spider-Man TV series, and Ultimate Spider-Man TV series.
Spider-Man 2: Enter Electro
Sandman served as one of the secondary antagonists of Enter Electro. William Baker worked for Electro and his allies.
Spider-Man 3
Main Article: Sandman (Spider-Man 3)
Spider-Man: Far From Home
Sandman is possible appear in Spider-Man: Far From Home.
Video Game Appearance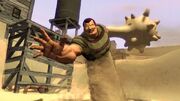 Sandman makes an appears in the Regular Universe in Spider-Man Shattered Dimensions. He is one of the villains that acquired a shard of the Tablet of Order and Chaos.
Gallery
Trivia
Sandman did not appear in the 1994 animated TV series, Although he did appear in the toy line and was possible originally going to appear in the 6th season of series, but the 6th season was cancelled and never released.

However, The reason why Sandman didn't appear in the series because Sandman along with Electro were originally plan for the production of a Spider-Man movie created by James Cameron therefore the writters were not allow to use Sandman or Electro in the TV series so Sandman had to be replace with Hydro-Man whose powers are similar, but related to water. However, after the production of the movie was cancelled, The writters now had the rights to use Electro in the latest seasons of the 1994 TV series. But after the series was cancelled before be renewed for a sixth season, Sandman didn't make it into the show and therefore remains the only major villain to not be included in the 1994 animated series.

In three adaptations, Flint Marko is his real name rather than his alias.
In the "Spiderman Friend or Foe" video game he is voiced by Fred Tatasciore, Tatasciore is also known for voicing the Incredible Hulk and has also voice doubled for Thomas Haden Church on occasion.