| | | |
| --- | --- | --- |
| " | Life is a wheel. No matter how much it turns and turns, and you keep thinking you're making some kind of headway... sooner or later, it comes right around again. In my case, it always brings me back around to him... to Spider-Man. That miserable wall-crawler. Spending his life hiding behind a mask. I may be a crook, but at least I'm an honest crook. Sure, sure, I've had different names... William Baker, Flint Marko, others... But, bottom line, my face is out there. When guys are throwing down with me, they know who they're dealing with... The Sandman. | " |
| | ~ Sandman | |
| | | |
| --- | --- | --- |
| " | When I saw those bad guys gone good on TV, part of me thought they were crazy. But I gotta admit, doing the right thing like this... it feels pretty damn good. | " |
| | ~ Sandman | |
William Baker, better known as Flint Marko and his supervillain alias the Sandman, is a character and antagonist in Marvel Comics, typically serving as an enemy of Spider-Man. He is a supervillain who can control and manipulate sand.
Sandman was created by the late Stan Lee and the late Steve Ditko.
BiographyEdit
In a freak radioactive explosion, Flint Marko's DNA was transformed to match the the chemical composition of small rocks and minerals. He can control every particle of his body, and can form his limbs into weapons, pick locks with his finger, shape-shift into different beings, or even gather more sand onto himself to become a giant. He is nearly indestructible, making him a formidable opponent who cannot be beaten by sheer strength. Sandman joined the group of supervillains known as the Sinister Six to attack Spider-Man.
Later in his career, Sandman reformed and gave up his criminal activities, even joining the Avengers hero group. He continued to go back and forth between supervillain and superhero, making him a very interesting and untrustworthy character.
Powers & AbilitiesEdit
Sandman has the ability to transform his body. He can will his body hardened, compacted, dispersed or shaped, or a combination of those qualities, an Earth manipulation of sand and rock particles. More often than not in combat, this ability enables him to absorb most blows with little to no ill effect other than reforming himself, a relatively fast action. His striped shirt and cargo pants are colored sand to make him appear as if he wears clothes. Even when soaked, he was able to stretch his sand molecules, growing to double his size.
Sandman can mold his arms and hands into shapes such as a mace or a sledgehammer to battle Spider-Man and his other enemies. His mass, strength and shape shifting ability correspond to the number of sand and rock particles that comprise him. The more he incorporates (nearby) sand grains and rock granules into his body, the more those qualities are enhanced. Even though he controls every particle in his body, his mind exists in the astral plane. He can turn himself into a sandstorm, which enables him to fly great distances and to suffocate his enemies.
His body takes on sand's chemical qualities, impervious to many, but not all, elements. Once, cement's ingredients were mixed into Sandman. That mixture turned him into cement that dried, rendering him immobile. Despite this frailty he remained alive, but in a comalike state for a while before he returned to normal. In addition to his superb endurance, the Sandman possesses superhuman strength several times more than Spider-Man's and on par with the Thing's.
In a story with the Wizard, the Wizard fashioned Sandman a green suit with a belt that contained three buttons that allowed various chemicals to mix into the Sandman's body to enable him to change himself into consistencies related to sand. The suit, like Sandman's usual "clothes", changed into sand with him. Eventually, with the disbanding of the original Frightful Four, Sandman stopped using the suit.
Temperature does alter the Sandman. At 3,400 degrees Fahrenheit his body turns into glass, also a form he can control. Unlike Sandman's fast transformation from sand to glass, his transformation from glass to sand takes time.
Although he is invulnerable to most physical attacks, even projectiles because they pass through him, water is a different story. There are some exceptions, for example while fighting Venom, the villain's powerful mouth ripped cleanly and swiftly into Sandman. The amount of sand removed abruptly, and perhaps because of Venom's poisons, left the mass of Sandman in contortion, crippled beyond immediate repair. Sandman began to disintegrate, then flowed down a drain, and then washed up onto and into a beach.
LimitationsEdit
Even though Sandman displays unique and powerful set of powers and abilities, there also follows limitations. First is the fact that Sandman's body retains the same reactions that material-like sand has with other elements, such as water and fire. Much like bodies of sand itself, Sandman could easily absorb water into his body causing him to lose control of his physique at a certain amount. Sandman's body also reacts towards fire at the degrees of 3,400 Fahrenheit; this would cause Sandman's entire body into glass, which immobilizes him until he's restored to normal. Even though he's still capable of retaining his conscious if shattered into glass pieces, Sandman is still trapped within his own body.
Possibly the most weirdest and awkward weakness Sandman has is with the villain known as Hydro Man, who also views Sandman the same way. Both men whose bodies each consist of a different elemental controlled by their conscious were to accidentally bond by fighting would most likely form into a single monstrous like being consisted of mud. With both men sharing no conscious or control, the after effects of being separated would cause both Sandman and Hydro Man a lengthy and traumatizing reaction.
Possibly kept secret and rarely seen is that Sandman does retain human form and does retain full functions and weaknesses. During his career as the Sandman, he has successfully contracted physiology sicknesses and even cancer. Even though he's capable of reverting his body into sand at will, Sandman still carries any type of contracted sickness, cancer, or obtained diseases.
The greatest flaw in Sandman's powers is the amount of mental stress his powers can cause. It's a fact that Sandman can easily survive if his head is separated from his from his body and that he would still retain full conscious, but it also reacts towards his mental state. Over the years of mastering his abilities, the amount of creativity, and time he's spent as a being made of entirely sand has taken a great amount stress on his mental health. Even though Sandman was an honored member of the Avengers and lived a career as a respectful hero, his mind was kept at a balanced state to where it was easy for the Wizard to change back to it's original criminal mindset. After managing to separate himself into multiple beings, Sandman wouldn't realize that he also separated parts of his conscious that each being developed on their own. This caused Sandman to perform actions without his full knowledge and capable of causing a conflict with himself in a mental confrontation.
In other mediaEdit
TelevisionEdit
Sandman appeared in The Spectacular Spider-Man TV series
Sandman also appeared in the Ultimate Spider-Man TV series.
Main article: Sandman (Spider-Man Films)
Main article: Sandman (Marvel Cinematic Universe)
According to Jon Watts, the Earth Elemental that appears in the film, Spider-Man: Far From Home, is based on Sandman. He is one of the four Elementals, alongside Hydro-Man, Molten Man, and Whirlwind.
Video Game AppearancesEdit
Sandman served as one of the secondary antagonists of Enter Electro. William Baker worked for Electro and his allies.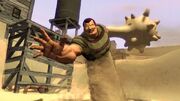 Sandman makes an appears in the Amazing Universe in Spider-Man Shattered Dimensions. He is one of the villains that acquired a shard of the Tablet of Order and Chaos.
Spider-Man: Shattered DimensionsEdit
Main article: Sandman (Spider-Man: Shattered Dimensions)
Sandman did not appear in the 1994 animated TV series, Although he did appear in the toy line and was possible originally going to appear in the 6th season of series, but the 6th season was cancelled and never released.

However, The reason why Sandman didn't appear in the series because Sandman along with Electro were originally plan for the production of a Spider-Man movie created by James Cameron therefore the writers were not allow to use Sandman or Electro in the TV series so Sandman had to be replace with Hydro-Man whose powers are similar, but related to water. However, after the production of the movie was cancelled, The writers now had the rights to use Electro in the latest seasons of the 1994 TV series. But after the series was cancelled before be renewed for a sixth season, Sandman didn't make it into the show and therefore remains the only major villain to not be included in the 1994 animated series.

In three adaptations, Flint Marko is his real name rather than his alias.
In the "Spider-Man: Friend or Foe" video game he is voiced by Fred Tatasciore, Tatasciore is also known for voicing the Incredible Hulk and has also voice doubled for Thomas Haden Church on occasion.

Villains
Comics
Absorbing Man | Agony | A.I.M. | Alistair Smythe | Annihilus | Answer | Arcade | Awesome Android | Basilisk | Beetle | Beyonder | Black Cat | Blackie Drago | Blastaar | Blob | Bombshell | Boomerang | Brothers Grimm | Burglar | Bullseye | Bushwacker | Calypso | Carlton Drake | Carnage | Carrion | Chameleon | Chance | Constrictor | Crime Master | Crossbones | Daemos | Dark Avengers | Deadpool | Demogoblin | Diablo | Doctor Doom | Doctor Faustus | Doctor Octopus | Doppelganger | Dormammu | Eddie Brock | Electro | Enforcers | Equinox | Firelord | Frightful Four | Ghost | Gog | Goliath | Grant Ward | Graviton | Green Goblin (Norman Osborn) | Green Goblin II | Green Goblin III | Grey Goblin | Grizzly | Hammerhead | Hand | Hazmat | High Evolutionary | Hitman | Hobgoblin | Human Fly | HYDRA | Hydro-Man | Inheritors | Jackal | Jack O' Lantern | Jigsaw | J. Jonah Jameson | Johnny Ohm | Jonas Harrow | Juggernaut | Justin Hammer | Kaine | Karn | Killer Shrike | Kingpin | Knull | Kraven the Hunter | Lady Deathstrike | Lightmaster | Living Brain | Lizard | Loki Laufeyson | Madame Viper | Magneto | Mandarin | Man-Spider | Man-Wolf | Menace | Mephisto | Mesmero | Mister Fear | Mister Hyde | Mister Negative | Mojo | Molten Man | Morbius | Morlun | Moses Magnum | Mysterio | Nekra | Nightmare | Niles Van Roekel | Nitro | Norman Osborn | Onslaught | Overdrive | Owl | Phil Urich | The Prowler | Psycho-Man | Puma | Punisher | Ramrod | Red Ghost | Red Skull | Rhino | Rhino II | Richard Fisk | Ringer | Riot | The Rose | Roxxon | Sabretooth | Sandman | Sauron | Scarecrow | Scorcher | Scorpion | Scream | Sebastian Shaw | Secret Empire | Sentinels | Seth Youngblood | Shocker | Shriek | Silver Sable | Sinister Six | Skip | Skrulls | Solus | Peter Benjamin Parker | Patton Parnel | Peter Parker | Spider-Man | Spider-Man Revenge Squad | Spider-Slayers | Spot | Street | Super-Apes | Swarm | Symbiotes | Tarantula | Taskmaster | Terminus | Thunderball | Thunderbolts | Tinkerer | Titania | Titanium Man | Tombstone | Trapster | Tyrannus | Venom | Vermin | Vulture | Walrus | White Rabbit | Will-O'-The-Wisp | Wizard | Worthy | Zodiac
Movies
Spider-Man: Green Goblin | Dennis Carradine | Bank Robbers | J. Jonah Jameson
Spider-Man 2: Doctor Octopus | Harry Goblin | J. Jonah Jameson
Spider-Man 3: Venom | Sandman | New Goblin | J. Jonah Jameson
The Amazing Spider-Man: Lizard | Gustav Fiers | Cash Register Thief | Norman Osborn
The Amazing Spider-Man 2: Electro | Green Goblin | Donald Menken | Rhino | Alistair Smythe | Ashley Kafka | Felica Hardy | Gustav Fiers | Norman Osborn
Spider-Man: Homecoming: Bestman Salvage (Vulture, Tinkerer, Shocker #1, Shocker #2 & Randy Vale) | Mac Gargan | Aaron Davis
Venom: Eddie Brock/Venom | Carlton Drake/Riot | Roland Treece | Cletus Kasady
Spider-Man: Into the Spider-Verse: Kingpin | Prowler | Doctor Octopus | Green Goblin | Tombstone | Scorpion | Vanessa Fisk | Richard Fisk
Spider-Man: Far From Home: Mysterio | William Ginter Riva | Victoria Snow | Gutes Guterman | Janice Lincoln | Doug | Elementals (Molten Man, Hydro-Man, Sandman, Cyclone & Elemental Fusion) | Skrulls (Talos) | Obadiah Stane | J. Jonah Jameson
Television
Spider-Man: The Animated Series
Kingpin | Green Goblin | Doctor Octopus | Hobgoblin | Venom | Vanessa Fisk | Richard Fisk | Insidious Six (Scorpion, Rhino, Mysterio, Chameleon, Shocker & Vulture) | Black Cat | Lizard | Morbius | Spider-Carnage | Spider-Slayers (Alistair Smythe) | Carnage | Baron Mordo | Dormammu | Silver Sable | Hydro-Man | Prowler | Doctor Doom | Red Skull | Electro | Hammerhead | Tombstone | Kraven the Hunter | Calypso | Herbert Landon | Jackal | Spot | J. Jonah Jameson
The Spectacular Spider-Man
Green Goblin | Tombstone | Doctor Octopus | Hammerhead | Venom | Sinister Six (Rhino, Vulture, Electro, Sandman, Mysterio & Kraven the Hunter) | Chameleon | Tinkerer | Enforcers (Shocker, Richochet & Ox) | Silver Sable | Molten Man | Lizard | J. Jonah Jameson | Black Cat | Miles Warren | Frederick Foswell | Calypso | Roderick Kingsley | Morris Bench | Cletus Kasady
Ultimate Spider-Man
Doctor Octopus | Green Goblin | Taskmaster | HYDRA (Arnim Zola, Crossbones, Morbius & Baron Mordo) | Sinister Six (Kraven the Hunter, Rhino, Electro, Scorpion, Vulture & Hydro-Man) | Batroc the Leaper | Beetle | Lizard | Frightful Four (Wizard, Trapster & Klaw) | Juggernaut | Sandman | Venom | Loki Laufeyson | The Collector | Grandmaster | Carnage | Wolf Spider | Shocker | Shriek | Swarm | Dracula | Spider-Slayers (Kaine) | Absorbing Man | Abomination | Annihilus | Arcade | Attuma | Awesome Android | Blastaar | Blizzard | Boomerang | Chitauri | Deadpool | Destroyer | Doctor Doom | Dormammu | Skurge | Enforcers (Montana, Fancy Dan, Ox) | Frost Giants | Grizzly | Hammerhead | Jack O'Lantern | Korvac | The Leader | Living Laser | Man-Wolf | Maximus | Melter | Mesmero | M.O.D.O.K. | Molten Man | Mister Negative | Mysterio | Nightmare | Phalanx | Sabretooth | Toad | Ulik | Wendigo | Whirlwind | Wrecker | Piledriver | Thunderball | Ymir | Zodiac | Scorpio | Zzzax | J. Jonah Jameson
Spider-Man (2017)
Hobgoblin | Doctor Octopus | Norman Osborn | Vulture/Goblin King | Venom | Alistair Smythe | Rhino | Jackal | Hammerhead | Electro | A.I.M. (M.O.D.O.K.) | Spider-Slayers | Scorpion | Tinkerer | Sinister Six | Kraven the Hunter | Man-Wolf | Silver Sable | Beetle | Spot | Prowler | Molten Man | Mister Negative | HYDRA (Crossbones & Arnim Zola) | Ghost | Blizzard | Absorbing Man | Crimson Dynamo | Lizard | Overdrive | Mysterio | Jack O'Lantern | Chameleon | Paladin | Puma | Shocker | Living Brain | Sandman
Video Games
Spider-Man: Shattered Dimensions: Mysterio | Kraven the Hunter | Hammerhead | Hobgoblin | Electro | Sandman | Vulture | Scorpion | Deadpool | Juggernaut | Silver Sable | Goblin | Serena Patel | Carnage
Marvel's Spider-Man: Sinister Six (Doctor Octopus, Electro, Mister Negative, Rhino, Scorpion & Vulture) | Inner Demons | Norman Osborn | Silver Sable | Hammerhead | Black Cat | Kingpin | Screwball | Shocker | Taskmaster | Tombstone | Walter Hardy | Yuriko Watanabe

vengers Villains
Comics
Abomination | Abominatrix | Absorbing Man | Adolf Hitler | Agony | A.I.M. | Air-Walker | Alkhema | Aleksander Lukin | Alistair Smythe | Amatsu-Mikaboshi | Amora | Annihilus | Ani-Men | Answer | Apocalypse | Arcade | Ares | Arkon | Arnim Zola | Atlas | Attuma | Avalanche | Awesome Android | Badoon | Barracuda | Baron Blood | Baron Mordo | Baron Wolfgang von Strucker | Baron Zemo | Baron Zemo II | Basilisk | Batroc | Beetle | Beyonder | Black Knight | Blackout | Black Order | Black Cat | Black Talon | Black Widow | Blackie Drago | Blastaar | Blitzkrieg | Blizzard | Blob | Blood Brothers | Bombshell | Boomerang | Brothers Grimm | Brotherhood of Evil Mutants | Bullseye | Burglar | Bushmaster | Bushwacker | Cache | Carnage | Carrion | Calypso | Celestials | Centurion | Chameleon | Chance | Chemistro | Chester Goudal | Chitauri | Collector | Colonel Ross Whittaker | Commander Kraken | Constrictor | Corruptor | Count Nefaria | Cowled Commander | Crime-Master | Crimson Dynamo | Cristu Bulat | Crossbones | Crossfire | Daken | Damage | Daniel Whitehall | Dark Avengers | Dark Elves | Deadpool | Deathbird | Deathurge | Death Adder | Deke Wainscroft | Demogoblin | Diablo | Doctor Doom | Doctor Faustus | Doctor Octopus | Doctor Spectrum | Dormammu | Dracula | Dreadknight | Eddie Brock | Eel | Egghead | Ego the Living Planet | Electro | Elementals | Elements of Doom | Enclave | Enforcers | Equinox | Exodus | Ezekiel Stane | Fabian Cortez | Famine | Fin Fang Foom | Finn Cooley | Firelord | Fixer | Fold | Frost | Frost Giants | Frightful Four | Galactus | Gargantus | Garthan Saal | Ghost | Goliath | Gladiator | Godzilla | Grand Director | Grandmaster | Grant Ward | Graviton | Green Goblin | Harry Osborn | Grey Goblin | Griffin | Grim Reaper | Grizzly | Growing Man | Grotesk | Hammerhead | Hand | Hazmat | Hela | Hera | Herr Kleiser | Heinz Kruger | High Evolutionary | Hitman | Hive | Horsemen of Apocalypse | Hobgoblin | Hydro-Man | HYDRA | Immortus | Ironclad | Jackal | Jack O' Lantern | Jester | Jigsaw | Johnny Ohm | Jonas Hambleton | Juggernaut | Justin Hammer | Kaine | Kang the Conqueror | Killer Shrike | King Cobra | Kingpin | Klaw | Knull | Korvac | Kraven the Hunter | Kree | Lady Deathstrike | Leader | Lightmaster | Living Brain | Living Laser | Living Monolith | Lizard | Loki Laufeyson | Lucia Von Bardas | Ma Gnucci | Machinesmith | Mad Pharaoh | Madame Masque | Madame Viper | Madcap | Madelyne Pryor | Maelstrom | Maginty | Magneto | Magus | Malekith the Accursed | Man-Ape | Mandarin | Mandrill | Man-Spider | Man-Wolf | Master Man | Master Pandemonium | Masters of Evil | Masked Marauder | Maximus the Mad | Melter | Menace | Mentallo | Mercurio the 4-D Man | Mesmero | Mephisto | Mister Fear | Mister Hyde | Mister Negative | Mister Payback | Mister Sinister | M.O.D.A.M. | M.O.D.O.K. | Mojo | Molecule Man | Mole Man | Molten Man | Moonstone | Morbius the Living Vampire | Morgan le Fay | Moses Magnum | Mystique | Mysterio | Namor | Nebula | Nekra | Nicky Cavella | Nightmare | Nightshade | Niles Van Roekel | Nicky Cavella | Norman Osborn | Obadiah Stane | Omega Red | Onslaught | Overdrive | Owl | Paladin | Phalanx | Phil Urich | Piledriver | Pluto | Presence | Princess Python | Proctor | Psycho-Man | Puppet Master | Puma | Purple Man | Quasimodo | Quicksand | Radioactive Man | Ragnarok | Ramrod | Reavers | Red Ghost | Red Skull | Reverend Samuel Smith | Rhino | Rhino II | The Rose | Ringer | Ringmaster | Riot | Ronan the Accuser | Roxxon | Sabretooth | Sandman | Säurespritze | Sauron | Savage Land Mutates | Scarecrow | Scarlet Witch | Scorcher | Scorpion | Screaming Mimi | Sebastian Shaw | Secret Empire | Selene Gallio | Sentinels | Sentry 459 | Serpent Society | Shriek | Shocker | Shockwave | Sidewinder | Silver Sable | Sin | Sinister Six | Skaar | Skeleton Crew | Skrulls | Slug | Space Phantom | Spider-Man Revenge Squad | Spider-Slayers | Spot | Squadron Sinister | Stranger | Street | Superia | Super-Adaptoid | Super-Apes | Super Patriot | Super-Skrull | Supreme Intelligence | Superia | Surtur | Swarm | Swordsman | Symbiotes | Tarantula | Taskmaster | Technovore | Temugin | Ten Rings | Terminus | Thanos | Thunderball | Thunderbolts | Thunderbolt Ross | Thundersword | Tiger Shark | Tinkerer | Titania | Titanium Man | Toad | Tombstone | Trapster | Trick Shot | Terrax the Tamer | Typhoid Mary | Tyrannus | U-Foes | Ulik | Ultimus | Ultron | Unicorn | Universal Church of Truth | Vapor | Vector | Venom | Vermin | Vulture | Walrus | Warlord Krang | Whiplash | Whirlwind | White Rabbit | Will-O'-The-Wisp | Winter Soldier | Wizard | Wonder Man | Wrecker | Worthy | X-Ray | Yellow Claw | Ymir | Yon-Rogg | Zahnmörder | Zodiac | Zzzax
Television
The Avengers: United They Stand: Ultron | Kang the Conqueror | Swordsman | Ringmaster | Masters of Evil (Baron Zemo & Whirlwind) | Attuma | Zodiac (Taurus & Scorpio) | Egghead | Scarlet Witch | Grim Reaper
The Super Hero Squad Show: Doctor Doom | Mole Man | Fin Fang Foom | Abomination | Wrecker | Thunderball | Piledriver | M.O.D.O.K. | Klaw | Toad | Melter | Dormammu | Sabretooth | Juggernaut | Pyro | Whirlwind | Zzzax | Enchantress | Baron Mordo | Punisher | Egghead | Ringmaster | Skrulls (Super-Skrull) | Trapster | Mystique | Impossible Man | The Leader | Mad Thinker | Skurge | Crimson Dynamo | Batroc the Leaper | Loki Laufeyson | Magneto | Quicksilver | Scarlet Witch | HYDRA (Red Skull , Arnim Zola & Baron Wolfgang von Strucker) | Galactus | Terrax the Tamer | Firelord | Stardust | Thanos | Kree | Ego the Living Planet | Grandmaster | Annihilus | Nebula | Ronan the Accuser | Nightmare | Ultron | Dark Surfer | Sentinels | Dracula | High Evolutionary
Avengers: Earth's Mightiest Heroes: HYDRA (Red Skull, Baron Von Strucker, Grim Reaper, Arnim Zola, Doughboy & Madame Viper) | Masters of Evil (Baron Zemo, Enchantress, Skurge, Chemistro, Abomination, Crimson Dynamo & Grey Gargoyle) | A.I.M. (M.O.D.O.K.) | Kree Empire (Supreme Intelligence, Colonel Yon-Rogg & Ronan the Accuser) | Absorbing Man | Klaw | Ultron | Wrecker | Thunderball | Piledriver | Red Hulk | Frost Giants (Loki Laufeyson & Ymir) | Technovore | Bi-Beast | The Leader | Whirlwind | Kang the Conqueror | Man-Ape | Malice | Mad Thinker | Mandrill | Graviton | Fenris Wolf | Lucia Von Bardas | Zzzax | Blizzard | Constrictor | Griffin | Living Laser | Whiplash | King Cobra | Magneto | Wendigo | Skrulls (Super-Skrull) | Malekith the Accursed | Hela | Doctor Doom | Surtur | Glenn Talbot | Winter Soldier | J. Jonah Jameson | Destroyer | Annihilus | Yellowjacket | Purple Man | Galactus | Firelord | Stardust | Terrax the Tamer
Avengers Assemble: HYDRA/A.I.M. (Red Skull, M.O.D.O.K., Blood Brothers, Grim Reaper, Crossbones & Baron Wolfgang von Strucker) | Doctor Doom | Ulik | Dracula | Hyperion | Wrecker | Thunderball | Piledriver | Destroyer | Loki Laufeyson | Chitauri | Justin Hammer | Mojo | Galactus | Ringmaster | Black Order (Thanos) | Hela | Winter Soldier | Nighthawk | Dormammu | Ultron | Roxxon Energy Corporation | Absorbing Man | Titania | Whirlwind | Fin Fang Foom | Masters of Evil (Baron Zemo, Beetle & Goliath) | Klaw | Ghost | A.I.M. (Kang the Conqueror, Whiplash & Spymaster) | Abomination | Kree Empire | Egghead | The Leader | Crimson Widow | Typhoid Mary | Ares | Taskmaster | Doughboy | Ulik | Symbiotes | Morgan le Fey | Tiger Shark | Erik Killmonger | Man-Ape | Madame Masque | Kraven the Hunter | Vulture
Movies
Ultimate Avengers 1 & 2: Herr Kleiser | Chitauri
Next Avengers: Heroes of Tomorrow: Ultron
The Avengers: Loki Laufeyson | Chitauri (The Other & Leviathans) | HYDRA (Gideon Malick & Jasper Sitwell) | Georgi Luchkov | Thanos
Avengers: Age of Ultron: Ultron | Ultron Sentinels | HYDRA (Wolfgang von Strucker, List, Scarlet Witch & Quicksilver) | Ulysses Klaue | Madame B | Chitauri (Leviathans) | Thanos
Avengers: Infinity War: Black Order (Thanos, Ebony Maw, Proxima Midnight, Corvus Glaive, Cull Obsidian, Nebula, Outriders, Chitauri & Leviathans) | Red Skull | The Collector | Loki Laufeyson | Winter Soldier | M'Baku | Scarlet Witch | Thunderbolt Ross
Avengers: Endgame: Black Order (Thanos, Ebony Maw, Proxima Midnight, Corvus Glaive, Cull Obsidian, Nebula, Outriders, Sakaaran Mercenaries, Chitauri, Leviathans & Chitauri Gorillas) | HYDRA/STRIKE (Red Skull, Alexander Pierce, Crossbones, Jasper Sitwell & Jack Rollins) | Loki Laufeyson | Winter Soldier | M'Baku | Scarlet Witch | Kraglin Obfonteri | Dark Elves | Thunderbolt Ross | Akihiko