We're Getting Mutants in the MCU - The Loop
Play Sound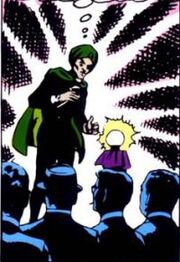 Sandu was an unremarkable fortune teller working at a traveling carnival. He used his abilities to steal from the audience, but his powers were limited. Loki the trickster god was watching the show and sensed the evil inside him. He decided to use him in his plans against his step-brother Thor. Loki used his Asgardian magic to increase Sandu's mental powers a thousand times over. He now had the power to gain as much wealth as he wanted.
Sandu went on a crime spree: robbing banks, race tracks, trains, and museums. He teleported a palace and claimed it as his own. He then lifted the United Nations building, demanding the representatives declare him ruler or be hurled into space.
Thor battled him early in his career. To help, Odin sent Megingjord the belt of strength via the Valkyries.
Sandu transported himself and Mjolnir away. His attempts to lift the hammer caused a mental short circuit and lost his enhanced powers. He was then defeated and taken into custody.
Villains
Comics
Abomination | Absorbing Man | Air-Walker | Alioth | All-Black | Amatsu-Mikaboshi | Angela | Annihilus | Apocalypse | Arcade | Ares | Arnim Zola | Asteroth | Baron Mordo | Beyonder | Bi-Beast | Blackheart | Blackout | Black Winter | Blastaar | Blockbuster | Bolivar Trask | Bor Burison | Bulldozer | Celestials | Collector | Crimson Dynamo | Crusader | Dark Avengers | Dark Gods | Darkoth | Desak | Destroyer | Diablo | Dormammu | Dr. Doom | Dracula | Dweller-In-Darkness | Ego the Living Planet | Enchanters Three | Enchantress | Executioner | Fafnir | Fenris Wolf | Fin Fang Foom | Frost Giants | Galactus | Godzilla | Goliath | Gorr the God Butcher | Grandmaster | Graviton | Grey Gargoyle | Gog | Grog | Growing Man | Hela | Hera | High Evolutionary | Hawkeye | Impossible Man | Immortus | Jormungandr | Juggernaut | Justin Hammer | Kang | Karnilla | King Cobra | Kingpin | Knorda | Knull | Korath | Korvac | Kurse | Laufey | Leader | Living Monolith | Loki Laufeyson | Lorelei | Maestro | Magneto | Mangog | Malekith the Accursed | Man-Beast | Masters of Evil | Megatak | Mephisto | Mercurio the 4-D Man | Mister Hyde | M.O.D.O.K. | Mongoose | Moonstone | Morgan le Fay | Moses Magnum | Namor | Nebula | Norman Osborn | Onslaught | Perrikus | Piledriver | Pluto | Punisher | Punisher (Earth-95126) | Purple Man | Quicksand | Quicksilver | Radioactive Man | Ragnarok | Rhino | Ringmaster | Rock Trolls | Roxxon | Sandu | Scarlet Witch | Set | Seth | Skaar | Skrulls | Space Phantom | Spider-Man | Stranger | Super-Adaptoid | Super-Skrull | Surtur | Terminus | Terrax | Thanos | Thunderball | Thunderbolt Ross | Thunderbolts | Titania | Titanium Man | Valkyrie | Venom | Worthy | Wrecker | Ulik | Ultimus | Ultron | Umar | Ymir | Zarrko
Movies
Hulk Vs. Thor: Loki Laufeyson | Hela | Enchantress | Skurge | Surtur | Malekith the Accursed | Valkyrie
Thor: Tales of Asgard: Algrim | Frost Giants | Loki Laufeyson | Fenris Wolf | Amora the Enchantress | Surtur
Thor: Loki Laufeyson | Frost Giants (Laufey, Grundroth, Hailstrum, Raze & Jotunheim Beast) | The Destroyer | Jasper Sitwell
Thor: The Dark World: Dark Elves (Malekith the Accursed & Kurse the Strong) | Loki Laufeyson | Marauders (Duhg & Kronan Marauder) | Jotunheim Beast | The Collector
Thor: Ragnarok: Berserker Army (Hela Odinsdottir, Skurge & Fenris Wolf) | Sakaaran Guards (The Grandmaster & Topaz) | Loki Laufeyson | Fire Demons (Surtur & Fire Dragon) | Thanos
Thor: Love and Thunder: Gorr the God Butcher | Zeus | Black Berserkers | Rapu | Habooska the Horrible | Hercules
TV Series
The Mighty Thor: Loki | Amora the Enchantress | Skurge the Executioner | Absorbing Man | Grey Gargoyle | Thunderbolt Ross | Zarrko | Pluto | Sandu | Surtur | Mr. Hyde
Loki: Loki Laufeyson's Variants (Loki Laufeyson (Variant L1130), Sylvie Laufeydottir, Boastful Loki & President Loki) | Time Variance Authority (He Who Remains, Miss Minutes, Ravonna Renslayer, Hunter D-90) | Alioth | Kang the Conqueror
What If: Infinity Ultron | Yellowjacket | Loki Laufeyson | The Destroyer | Brock Rumlow | Jack Rollins | Thunderbolt Ross | Skrulls | Nebula | Grandmaster | Skurge | Yondu Udonta | Ego | Arim Zola | Prince Killmonger | Strange Supreme | Surtur | Frost Giants

Video Games
Thor: God of Thunder: Loki Laufeyson | Frost Giants (Ymir) | Rock Trolls (Ulik) | Fire Demons (Surtur) | Hela
Thor: The Dark World: Loki Laufeyson | Dark Elves (Malekith the Accursed, Kurse the Strong) | Ymir | Mangog | Marauders | Frost Giants

See Also
Avengers Villains | Hercules (Marvel) Villains | Hulk Villains