Jurassic World: Dominion Dominates Fandom Wikis - The Loop
Play Sound
This article's content is marked as Mature
The page Mature contains mature content that may include coarse language, sexual references, and/or graphic violent images which may be disturbing to some. Mature pages are recommended for those who are 18 years of age and older.


If you are 18 years or older or are comfortable with graphic material, you are free to view this page. Otherwise, you should close this page and view another page.
| | | |
| --- | --- | --- |
| " | Kill the others, but you... You'll spend all eternity within a box, sealed away with no company save for your screams! | " |
| | ~ Santiago to Louis. | |
Santiago is the secondary antagonist of Anne Rice's novel Interview With The Vampire the first installment of the Vampire Chronicles series.
He is a member of the Theatre of Vampires a vampire group in Paris led by Armand and is unique among many other vampires due to his peculiar abilities of defying gravity and mild telekinesis. Although a fairly enigmatic figure he ends up becoming the archenemy to the story's protagonist Louis de Point de Lac after their poor first encounter with one another.
He was portrayed by Stephen Rea in the 1994 film adaptation who also played Eric Finch in V for Vendetta, Cardinal Richelieu in The Musketeer, The Groom in The Company of Wolves and Jacob Lane in Underworld Awakening.
Biography
Not much is known in regards to Santiago's early life however at some point after becoming a vampire he found himself in Paris, France where he became a member of the Vampire Theatre and lived there for a long time, ultimately becoming one of the most powerful and persuasive members of the troupe arguably only second to Armand himself. He encountered Louis de Point de Lac not long after the latter had found himself in Paris and introduced himself in a bizarre fashion by mimicking all of his movements before showing off his gravity defying abilities then slapping him in the face, prompting an enraged Louie to grab him by the collar before Santiago himself was called off by Armand.
He next appears during The Vampire Theatre's performance which Louie and Claudia watch, much to Louie's disgust the performance involves the vampires (disguised as humans playing vampires on stage) use their shows to lure in victims and torment and humiliate them before killing them, something Santiago shows an insanely sadistic amount of pleasure in. Afterwards he was present when Armand was introducing the two vampires to the troupe but disbanded with the others so the two could talk to Armand privately. Santiago returned when Louis and Claudia were leaving and Santiago read Louis thoughts where he found out that Louis was conflicted over a vampire he had previously wronged. Santiago asked him who it was he wronged before while Louis remained cryptic and secretive in regards to the situation, leaving Santiago to warn him that one of the few punishments their people have is for those who kill other vampires, although fazed Louis brushes him off and leaves and Santiago remained suspicious of him.
Santiago spoke to Armand of his suspicions, telling him that he thinks Louis and Claudia killed their creator and although not acting initially Armand spoke to Louis about the situation, knowing now that his maker was Lestat and what he had done thanks to Lestat himself explaining it and reassured him he wouldn't let anyone harm him since he "knew Lestat enough not to mourn him", Louis believed him, unfortunately however this was merely justification Armand now had to allow Santiago and the troupe to go after Louis and Claudia. Santiago declared that Louis would be locked away forever in a metal coffin and sealed in a stone room while Claudia and her new companion Madeleine would be sentenced to death, ignoring Louis pleas for Armand's help. Santiago succeeded in executing Claudia and Madeleine and although Armand freed Louis, Santiago didn't mind and smirked at his grief and mourning over Claudia after finding her remains.
In a fit of blind fury Louis burned the entire theatre and killed all of the troupe only to be confronted by Santiago who was now more unhinged than ever and ran towards him laughing manically. He tried to attack Louis from behind however Louis predicted the move and Santiago was almost instantly sliced in half by his own scythe killing him for good.
Personality
Not a great deal is known about Santiago however from what we do see of him he appears to be something of a playful sadist who happens to also be incredibly petty, given how he and Louis animosity with one another came from Louis being understandably irritated at Santiago's unpleasant behaviour towards him. He is also very smug, invasive, cold and cruel to a much higher and more obvious extent than any of the other vampires in the theatre.
Appearance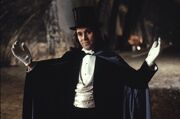 Santiago had the appearance of a normal European human male however he had several features typical to that of vampires in the universe i.e pale skin with prominent veins in harsh lighting, fangs, cat-like eyes, etc. He also had black shoulder length curly hair and had an elegant and theatrical fashion sense, wearing a black frockcoat, silver & black waistcoat and black shoes. In his introductory moments he is also seen wearing a black cape with a silver interior and a top hat and during his performances he wore a dark silver cape.
Trivia
Stephen Rea studied classical French comedy actors in preparation for playing Santiago in order to effectively portray his theatrical nature as realistically as possible.
Villains