Jurassic World: Dominion Dominates Fandom Wikis - The Loop
Play Sound

✓
This villain was proposed but was rejected by the community for not being heinous enough or lacks what is necessary to be a Pure Evil villain. Therefore, this villain shall be added to our "Never Again List", where proposed villains rejected by the community shall be placed to prevent future proposals of the same evil-doer. They can be proposed again (with the permission of an administrator) if new elements appear in their series that can change their status as non-PE villains.
Any act of adding this villain to the Pure Evil category without a proposal or creating a proposal for this villain without the permission of an administrator will result in a ban.
Additional Notice: This template is meant for admin maintenance only. Users who misuse the template will be blocked for a week minimum.
| | | |
| --- | --- | --- |
| " | Thou hast freed me, so now I can punish the world for my long imprisonment! | " |
| | ~ Sarah Ravencroft | |
Sarah Ravencroft is the overarching antagonist of the 1999 animated film Scooby Doo and the Witch's Ghost.
She is the vengeful ghost of an evil witch who had been imprisoned inside a spellbook centuries ago. She is also the evil ancestor of Ben Ravencroft, who frees her from her imprisonment.
She was voiced by Tress MacNeille, who also voices Millionara Vanderbucks in Ducktales, The Trina Twins in Mighty Ducks, Hydia in My Little Pony, Valkyran Guard in Buzz Lightyear of Star Command, Agnes Skinner, Dolph Starbeam, Lindsey Naegle, Dame Judith Underdunk, Francesca Terwilliger, Spud, & Adil Hoxha in The Simpsons, Dil in The Land Before Time IV: Journey Through The Mists, Carol Miller & Ndnd in Futurama, Si and Am in Lady and the Tramp II: Scamp's Adventure, Gilda & Dr. Steinheimer in Recess: School's Out!, Anastasia Tremaine in Cindirela III: A Twist in Time, & Gretel in Disenchantment.
Biography
Past
Born in Oakhaven, Massachusetts, Sarah Ravencroft was an evil witch who used unholy magic to torture and/or kill people. She pretended to be a Wiccan (people who worked in tune with the forces of nature for healing and other benevolent purposes) in order to cover up her misdeeds. Even after she was executed in the year of 1657, she still retained her powers and continued to perform dark magic as a ghost. It was only after actual Wiccans imprisoned Sarah's spirit in her own spellbook and buried it that her carnage finally ended.
The Wiccans then buried the book next to the tree where she posed as a Wiccan. However, even after her defeat, tales of her evil power passed from generation to generation of her family, until her descendant named Ben Ravencroft was interested enough to attempt to find her book and continue her vile legacy, under the pretext that he wanted to clear her name.
Present
Many years after Sarah's defeat, her descendant Ben Ravencroft sought to find the missing spellbook and awaken her so that they could rule the world together. After many failed attempts to find the book, Ben decided to recruit Mystery, Inc. in hopes that they would help him, claiming that Sarah was nothing more than a good-hearted Wiccan. When they finally tracked down the spellbook, Ben told everyone the truth about Sarah and read a spell that allowed her to escape.
However, Sarah Ravencroft did not wish to rule the world; she actually wanted to destroy it as revenge for her imprisonment, and even threatened to destroy Ben if he tried to stop her. Ben furiously tried to return Sarah back into the book using her appropriate spell, but she simply laughed in his face and revealed that only a true Wiccan can cast the spell to make it happen. She then proceeded to trap Ben in a magical sphere of cosmic energy.
After some struggling, Velma eventually got hold of the book and gave it to Thorn (the lead singer of the Hex Girls), telling her that she could do the job as she had Wiccan blood in her veins. Sarah laughed at this and tried to kill the two girls herself, but Thorn quickly read the spell and it started taking effect. It destroyed Sarah's magic and started pulling back into the book. Sarah dragged Ben into the spellbook with her, declaring that she would not go back alone. Shortly afterwards, a burning branch fell on the book and destroyed the Ravencrofts for all eternity.
Personality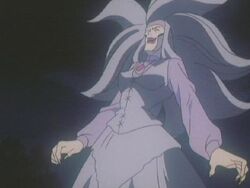 Ben gave the false impression that Sarah was a kindhearted woman who helped many sick people who could not afford medical treatment, even though she was accused of being an evil witch.
It soon turns out that these rumors are true: she soon turns out to be was an evil, sadistic and destructive witch with an utter lack of compassion or humane feelings. She is shown to be condescending and egotistical towards others, even towards her own descendant (although she at first seems quite grateful that he freed her).
Powers and Abilities
Sarah Ravencroft was arguably the most powerful, dangerous, and terrifying witch the world had ever produced; all the more so since her supernatural powers were both real and potent. Her witchcraft enabled her to perform numerous, yet terrible, and nonetheless spectacular feats:
Animating objects in any way she pleased and placing them under her control.
Projecting blasts of fire.
Encasing a victim in an unbreakable green force-field of mystic energy.
Enlarging any animal's size.
Projecting a green fog-like darkness that devoured any physical matter at all.
Quotes
| | | |
| --- | --- | --- |
| " | Thank thee. Thou canst not imagine what my bondage hath been like. Who art thou? | " |
| | ~ Sarah to Ben after he frees her. | |
| | | |
| --- | --- | --- |
| " | I care not for thy whims. Cross my path and I shall destroy thee along with thy world! | " |
| | ~ Sarah Ravencroft threatening Ben Ravencroft. | |
| | | |
| --- | --- | --- |
| " | Thinkest thou art a Wiccan? Only a virtuous soul can imprison me. | " |
| | ~ Sarah to Ben, after he tries to imprison her. | |
| | | |
| --- | --- | --- |
| " | Thine mockery shalt be thy last! | " |
| | ~ Sarah, after Shaggy and Scooby mock her. | |
| | | |
| --- | --- | --- |
| " | I believe thou hath something that is mine. | " |
| | ~ Sarah, trying to reclaim her Spell-book. | |
| | | |
| --- | --- | --- |
| " | What. Was. That? | " |
| | ~ Sarah, after Shaggy throws a bucket of water on her. | |
| | | |
| --- | --- | --- |
| " | Nay, I'll stop thee myself! | " |
| | ~ Sarah, after her spells failed to reach Thorn and Velma. | |
| | | |
| --- | --- | --- |
| " | I WON'T GO BACK, ALONE!! | " |
| | ~ Sarah's last words as she drags Ben into the Spell-Book with her. | |
Gallery
Trivia
In the film, Wicca is used as a synonym for "Good Witchcraft". In reality, Wicca is a neo-pagan religion created by a man called Gerald Gardner in the 1950s. Unlike in the film, they do not believe in the concept of black and white magic and reject the stereotypes associated with witches (e.g. riding broomsticks).
Given that her descendant Ben Ravencroft shares her last name, it is presumed that Sarah mothered a child before her death, most likely a son, because in that way, he would have kept the family surname.
In the original script of the film, Sarah's ghost did not exist. Instead, the film ended with the revelation of the fake Witch's Ghost of Mr. McKnight. However, Glenn Leopold added Sarah's ghost to the plot to fit the theme of real monsters unlike disguised people after Scooby-Doo on Zombie Island proved to be a success.