Wiki Targeted (Entertainment)
Play Sound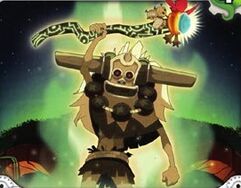 Saule is minor antagonist in Wakfu cartoon series, he appeared in episode 14 from season 1 and explains to the Kannibouls that their chief Botan Ficus is still alive and that Saule has tried to kill him. Seeing that Moon is on Amalia's shoulder, the Kannibouls take her word for it. While the situation seems to be settling, Saule takes advantage of the confusion to seize the magic hammer of Moon.
History
Amalia attempts a final attack using his sadida powers that allow him to attack him by creating roots, Botan Ficus intervenes and reinforces the magic of the roots with his own magic and that of the other villagers. This renewed power allows them to reach Saule and immobilize it.
Yugo then projects Moon into a dimensional portal and makes it appear right next to the Willow hand blocked by the roots. The little monkey manages to snatch the hammer and neutralize it. To punish him for his acts, he places Saule on top of an immense totem that he grows up to the stratosphere. Willow is blocked up there as it is virtually impossible to get off. Botan Ficus can find his place as a leader and, as Ruel has completed the repairs, Yugo and his friends can leave for Oma Island.

Villains
Main Villains

Shushus:
Fab'hugruta Army (Rushu | Djaul | Mongrelamus | Shadowfang | Anathar | Rubilax |Rubilaxia | Grufon) | Hour Demons | Uk'Not'Allag' | Bourlof the Butcher
Eliatrope Planet:
Qilby | Mechasms (Orgonax | Odo | Lu-Fu) | N
The Clocktower:
Nox | Igole | Grambos | Noxines | Marama, Frisco & Tartufo | Deserboss | XII Raze-time
The Siblings:
Oropo | Lady Echo | Count Harebourg | Toxine | Dark Vlad | Sipho | Ush Galesh | Adamai | Poo | Coqueline | Black Bump | Arpagone | Arpagone's Dhreller | Dathura | Kali
Frigost:
Jiva | Sylargh | Nileza | Mizz Frizz | Amakna (Klim | Tenebre | Bolgrot | Leaf | Flames | Cloud | Drop)
Brakmar:
Julith (Julith's Army) | Prince of Brakmar | Marilyn the Meuporg | Judge Rouflaquette | Brak'N'Blacks | Fiscal of Brakmar | Jury of Brakmar
Inglorium:
Osamodas | Ecaflip | Sram
Guardians:
Mount Zinit (Ogrest | Aerafal | Ignemikhal | Dardondakal | Terrakourial | Aguabrial | Grougalorasar) | Chanta Klaus | Domen | Melted Horns | Cave Golems | Dragonpig | Dragon Pig's Robot
Rogues:
Smisse Family (Ewesson Smisse | Vil Smisse | Remington Smisse | Grany) | Smis Mond | Mond's Pirates
Others
Katar | Kanigrula | Celui-dont-on-tait-le-nom | Bash Squale | Yech'ti | Moskitoes | Luis | Sanatas | Pirate Shushus | Miss Kity | Poulpard | Minotoror | General Glumosor | D-Rex | Lord Crow | Sponge Mob | Vortex | Criture | Mister Vargasse | Obsidemon | Queen of Thieves | Gourlo the Terrible | Gullivette | Jellies | Hydra | Grozilla | Grasmera | Dantinea | Fraktal | Drhossil | Vampyro | Ghouls | Saule | Gonard | Dark Crow | Mandhal | Mandhal Childrens | Sybannak | Riglesse | Magik Riktus | The Soiffards | Cassis | Voice Thief | Bellaphones | Bellaphone's Apes | Miss Ugly Princesses | Chouquette | Wabbit King | Damned Font | Poison Flowers | Mr. Fabulous | Sword Boy | Laughing Buffon | Mirkool | Trool Brothers | Maskemane | Monster Gerbille | Felinor | Felinor's Henchmen | King Jellix | Polters