Doctor Strange in The Multiverse o Madness - The Loop
Play Sound
This article's content is marked as Mature
The page Mature contains mature content that may include coarse language, sexual references, and/or graphic violent images which may be disturbing to some. Mature pages are recommended for those who are 18 years of age and older.


If you are 18 years or older or are comfortable with graphic material, you are free to view this page. Otherwise, you should close this page and view another page.
| | | |
| --- | --- | --- |
| " | THEY CALL Y'ALL BANDITS BUT YOU'RE F-CKING RAPIST MONSTERS- | " |
| | ~ Jolene about the bandits. | |
The Save-Lots Bandits are a group of barbaric people serving as the secondary antagonists of "Starved For Help" and the main antagonists of "Long Road Ahead" episodes, in Telltale's The Walking Dead.
Biography
Background
The Save-Lots Bandits are a group of people who used to work at the Save-Lots in Macon, Georgia. After the zombie outbreak they formed a huge group and hid in the forest. It is revealed that they raided Ben Paul's camp and killed some of his friends. In a deleted scene it is said that they did even sicker things to them, such as raping girls and forcing the men to watch them. After his whole camp disbanded and he was the last he joined the main group. After that they drew their attention to the St. John Dairy. They made a deal with them in which they would stop killing members in exchange for some food. However, they broke this deal.
Starved For Help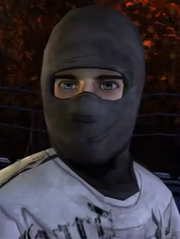 When they see Mark and Lee exit the dairy they think that they are from there and attack them they don't kill anyone but they did shoot Mark. Lee tries to go after them later on but he wasn't able to find them. Also at one point Lee and the others watch Jake and an other bandit fight. One didn't give food to the other one so they had a fight which ended in Jake shooting the other one dead. 
Long Road Ahead
They secretly make a deal with Ben. He would give them medicine so they wouldn't attack their camp. They also mentioned that they had his friend. When Lee took his latest load the bandits came to their camp and hold everyone except Lee and Lilly hostage. Lee tries to talk to them however Lilly starts to shoot at them and frees the others. Lee and Carley or Doug (it depends on a choice made by the players earlier) then join in on the gunfight too. They hold them at bay however one of them calls for reinforcements. Then out of the forest come dozens of bandits and they start shooting at the group. Lee, Lilly, and Carley/Doug fight try to fight them back and are able to save the others. During the fighting however Walkers begin to enter from behind. One bandit is bitten by a walker and dies and more bandits get killed. The group manages to escape the all out war by driving away in and R.V.
It's unknown what happened to the bandits, it was likely they take over the motel as a base or been overwhelmed by walkers during the raid.
In Episode 4 "Around Every Corner", They were mentioned by Ben when he confess to Kenny that he's the responsible for made a deal with Bandits which lead to the death of Katjaa and Duck after he accidently grab the hatchet from the front door which lead the walkers in.
In Episode 5 "No Time Left", the Stranger said to Lee that he not "Some killer in the Woods" referring to the Save-Lots Bandits.
Relationship
Members
Allies
Enemies
Jolene
Lee Everett - Attempted Victim.
Clementine - Attempted Victim.
Katjaa - Victim; she got killed herself and her son almost getting bitten by the walker and Ben Paul killed her with the Bandits.
Kenny - Attempted Victim.
Duck - Victim; getting bitten by the walker in his torso by Ben Paul.
Ben Paul - Attempted Victim.
Mark - Victim; Shot with an arrow.
Carley (determinant) - Victim; Killed by Ben Paul to get shot by Lilly.
Doug (determinant) - Victim; Killed by Ben Paul to get shot by Lilly.

Villains
Video Games
Toy Mafia (Hugh Bliss) | Brady Culture | Soda Poppers | Jurgen | Strong Bad | The King of Town | Sultry Buttons | Uzi Bazooka | Craig | Trogdor | Queen Bee | Bumblebees | Pudgie-Woo and Tinkie-Wee | Monty Muzzle | The Narrator | General Skun-ka'pe | Anton Papierwaite | Sammun-Mak | "Junior" Max | Charlie Ho-Tep | Billy Yoder | Dr. Laura Sorkin | Miles Chadwick | Walkers | Stranger | Save-Lots Bandits | St. John Family (Andrew, Dan & Brenda) | Jake | Linda | Jolene | Vernon | Crawford Oberson | Logan | Larry | Lilly | Kenny | Marcus Crabtree | Nate | Russell | Roman | Bigby Wolf | Crooked Man | Bloody Mary | Jersey Devil | Georgie Porgie | Vivian | Bluebeard | Ichabod Crane | Grendel | Jack Horner | Woodsman | The Tweedles | Geppetto | Carver's Group (William Carver, Troy & Johnny) | Arvo | Buricko | Vitali | Natasha | Winston | Victor | Ralph | Michelle | Kenny | Jane | Mike | Rhys | Fiona | Handsome Jack AI | August | Hugo P. Vasquez | Vallory | Bossanova | Rudiger | Asher Forrester | Andros | Britt Warrick | Damien | Dezhor zo Raza | Gared Tuttle | Gryff Whitehill | Harys | Ludd Whitehill | Rickard Morgryn | Tazal | Hostile Mobs (Wither Storm) | The Ocelots | Ivor | Soren the Architect | Aiden | Maya | Gill | White Pumpkin | PAMA | Hadrian | Mevia | Em | Norma | Randall | Monroe Colonists (Gabby & Jonas) | Children of Arkham (Vicki Vale, Oswald Cobblepot & Blockbuster) | Catwoman | Harvey Dent | Falcone Crime Family | Joe Chill | Victor Zsasz | Mr. & Mrs. Vale | Gotham Criminal Triumvirate (Carmine Falcone, Thomas Wayne & Hamilton Hill) | The New Frontier (Joan, Badger & Max) | Scavenger | Romeo | Stella | Prismarine Foes | Warden | The Pact (Riddler, Harley Quinn, Bane, Mr. Freeze, John Doe & Eli Knable) | The Agency (Amanda Waller & Roger Harrison) | Rumi Mori | Willy Deever | S.A.N.C.T.U.S. | The Delta (Lilly, Minerva, Abel, Dorian, Sullene, Gad, Michael, Gina & Armando) | Marlon | Violet
See Also
Game of Thrones Villains | Homestar Runner Villains | Jurassic Park Villains | Minecraft Villains | Telltale Batman Villains | Telltale's The Walking Dead Villains | Wallace and Gromit Villains