Doctor Strange in The Multiverse o Madness - The Loop
Play Sound

✓
This Villain was proposed and approved by Villains Wiki's Pure Evil Proposals Thread. Any act of removing this villain from the category without a Removal Proposal shall be considered vandalism (or a futile "heroic" attempt of redemption) and the user will have high chances of being terminated blocked. You cannot make said Removal Proposal without permission from an admin first.
Additional Notice: This template is meant for admin maintenance only. Users who misuse the template will be blocked for a week minimum.

| | | |
| --- | --- | --- |
| " | There is nothing to fear... but fear itself! | " |
| | ~ Scarecrow's catchphrase | |
| | | |
| --- | --- | --- |
| " | Boo! Aw, having trouble? Take a seat. Have a drink. You look like a man who takes himself too seriously. Do you want my opinion? You need to lighten up. | " |
| | ~ Scarecrow to Batman after exposing him to the fear toxin. | |
Dr. Jonathan Crane, also better known as Scarecrow, is a major antagonist in Christopher Nolan's The Dark Knight Trilogy, serving as the secondary antagonist of Batman Begins and a minor antagonist in both The Dark Knight and The Dark Knight Rises. He is also one of the main antagonists of the anthology animated film Batman: Gotham Knight, in the short titled "In Darkness Dwells".
He is the corrupt, sadistic chief administrator at Arkham Asylum, who is secretly working with League of Shadows leader Ra's al Ghul and mob boss Carmine Falcone, who bring shipments of drugs in for Crane to use to create his Fear Toxin, which he later sells as a drug to criminals like The Chechen. He works with the League of Shadows again years later when Bane and Talia al Ghul take over Gotham City, serving as a judge in a kangaroo court for Gotham's wealthy citizens, forcing them to choose between death, exile, or "death by exile".
In the live-action films, he was portrayed by Cillian Murphy, who also played Jackson Rippner in Red Eye, Timekeeper Raymond Leon in In Time, and Thomas Shelby in Peaky Blinders. In the animated film Batman: Gotham Knight, he was voiced by Corey Burton, who also voiced Count Dooku and Cad Bane in Star Wars: The Clone Wars, Judge Claude Frollo in Kingdom Hearts, and Brainiac in the DC Animated Universe.
Biography
Early Life
| | | |
| --- | --- | --- |
| " | Would you like to see my mask? | " |
| | ~ Crane, revealing his true identity to Carmine Falcone. | |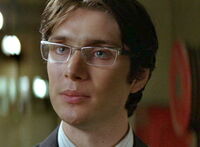 Dr. Jonathan Crane started off as a Gotham University professor in psychology, specializing in fear and phobias. He took advantage of his position by testing his "Fear Gas" on his students, subjecting them to terrifying hallucinations that literally frightened them out of their minds. During his "experiments", he would wear a gruesome scarecrow mask that also functioned as a gas mask.
He was finally exposed after one of his students jumped through a window to assault a Santa Clause mannequin. Wanting to protect the institution's reputation, the university fired him quietly. It was then that Crane started working at Arkham Asylum, where he subjected the patients to the same treatments.
Crane eventually went into business with crime boss Carmine Falcone, having Falcone's thugs, including Victor Zsasz, declared legally insane and moved into Arkham Asylum in lieu of prison time. In return, Falcone pays him generously and supplies him with a fear-inducing toxin supplied by Ra's al Ghul to use in his experiments.
Batman Begins
When Batman appears in Gotham City and begins interfering with Falcone's criminal empire, Crane, as Scarecrow, doses him with Fear Toxin and sets him on fire. Fortunately, Batman is able to recover with help from scientist Lucius Fox, who creates an antidote.
Later in the film, after Falcone is captured by Batman and imprisoned in the Blackgate Penitentiary, he slits his wrists in order to get an insanity plea. When Crane is summoned to evaluate him, Falcone attempts to blackmail him into letting him in on his and Ra's al Ghul's plan to destroy Gotham City. Instead, Crane puts on his Scarecrow mask and gasses Falcone with his Fear Toxin, leaving him in a permanent state of psychosis.
When Assistant District Attorney Rachel Dawes hears about Falcone being moved to Arkham, she personally goes to Arkham to meet with Crane, believing him to be the one responsible for Falcone's condition. Rachel informs Crane that she has arranged for a doctor from County General to have their own evaluation of Falcone that same night, to be on the Judge's desk by the next day. Crane takes Rachel down to the basement level and shows her where his Fear Toxin is created. Frightened, Rachel attempts to escape, but Crane, now wearing his Scarecrow mask, catches up with her and gasses her with a concentrated dose of the toxin.
However, before he can continue experimenting on her, Batman arrives, battles Scarecrow, and gasses him with his own Fear Toxin. Terrified by visions of a monstrous bat, crane tells Batman he is working for Ra's al Ghul. Crane is then put in a straitjacket and institutionalized in Arkham.
Near the end of the film, when the League of Shadows releases Arkham's inmates, Scarecrow is freed as well. When Ra's releases the toxin into Gotham's atmosphere, Scarecrow takes part in the ensuing chaos by killing a mounted police officer and riding his horse through the terrified crowd, who hallucinate that he is a demonic, red-eyed figure riding a monstrous, fire-breathing beast. He attacks Rachel as she protects a small child, but she shoots him with a taser before he can harm them. Scarecrow screams in pain and falls out of the saddle, flailing as his horse rides off wildly into the crowd.
At the end of the film, Batman's ally Lieutenant James Gordon tells the Caped Crusader that Scarecrow is still at large, along with half of Arkham's escaped inmates.
Batman: Gotham Knight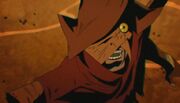 In the animated film Batman: Gotham Knight, which takes place between the first two films. Scarecrow appears in the fourth animated short titled "In Darkness Dwells". In the short, Scarecrow leads a cult of mentally ill homeless people, who worship him as the "God of Fear". To further strike fear into Gotham's citizens, he doses Killer Croc with Fear Toxin and lets him loose in Gotham's sewers, where the mutant criminal kills dozens of people. Scarecrow later invaders a church and tries to kill its cardinal, but Batman, who has defeated Killer Croc, arrives in time to stop him. Batman helps the police apprehend Scarecrow's minions, but Scarecrow himself escapes.
The Dark Knight
| | | |
| --- | --- | --- |
| " | Buyer beware. I said my compound would take you places. I never said they would be places you wanted to go. | " |
| | ~ Scarecrow in The Dark Knight. | |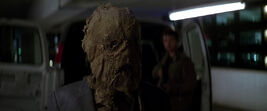 Scarecrow briefly appears at the beginning of The Dark Knight, still at large a year after the events of the first movie. He sells his Fear Toxin to Gotham's drug dealers to sell to their unsuspecting clients, who suffer psychotic breakdowns as a result. He goes into business with crime lord The Chechen, who becomes disenchanted with him after too many of his customers suffer from side effects. He meets with Scarecrow intent on killing him, but they are interrupted by a group of gun-toting Batman impersonators. The real Batman eventually shows up, and Scarecrow attempts to escape in a van. However, Batman catches up to him and apprehends him, leaving him, the Batman impostors, and The Chechen's men tied up for the police.
The Dark Knight Rises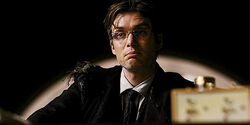 | | | |
| --- | --- | --- |
| " | Death or exile? | " |
| | ~ Scarecrow | |
| | | |
| --- | --- | --- |
| " | Very well! Death... by exile. | " |
| | ~ Scarecrow | |
In The Dark Knight Rises, set eight years after the previous movie, Crane once again appears as a minor antagonist, following Bane's takeover of Gotham City. (Crane is also allied through Bane with Ra's al Ghul's daughter Talia, but it is not revealed whether he knows this.) After being set free from Blackgate Penitentiary, Crane serves as a judge for mock trials against Gotham's rich and powerful citizens. He offers them the choice between death and exile, with the latter choice leading to the prisoner's death anyway when they fall through the thin ice surrounding Gotham into the freezing waters below. He makes one such ruling for Philip Stryver, a wealthy banker and Bane's former minion, who falls through the ice to his death.
He holds one such trial for his old nemesis Gordon, now Gotham's police commissioner, who defiantly chooses death. Crane replies, "Very well - death by exile!", and sends Gordon out to walk the thin ice. Fortunately, Batman and Detective John Blake are able to save him.
After Bane and Talia al Ghul are defeated and democracy and order are restored in Gotham, Crane is presumably put back in Blackgate.
Gallery
Images
Videos
Trivia
Jeff Goldblum, Ewan McGregor, Marilyn Manson, Nicolas Cage, Jeremy Davies and Christopher Eccleston were all considered for the role of Scarecrow before Murphy was cast.
In the novelization of Batman Begins by Dennis O'Neal, Scarecrow is even more evil than his movie counterpart as he's well aware of the League of Shadows' plan to drive Gotham into wiping itself out in fear-induced insanity, and looks forward to using the millions of civilians as a "test" for his gas-unlike in the film where he thinks they're just going to blackmail the city for ransom.

The book's sequel novelization of The Dark Knight also includes an additional scene where he tests his Fear Toxin on a junkie, and murders him before deciding to sell the compound as a hallucinogen.

The video game adaption of Batman Begins, like the novelization, also expands on Crane's heinousness. It is revealed that he drove many of his patients mad with his toxin to the point where they became homicidal. He keeps them chained up and uses them as "attack dogs". Once Batman tracks him down to his lair, which is up in flames, Crane tries to leave his patients to burn to death, but releases two of them to attack Batman. He also threatens to kill the brother of one of his henchmen if he fails him in his plans. Once The League of Shadows infects the Gotham river with the fear toxin, Crane plans to lower the bridge into the river to infect innocent civilians.

His fate is also changed in addition to some of his crimes, seeing as to how he falls into the Gotham river upon fighting Batman in his plans to lower the bridge. Though Batman claims he most likely survived.

It was because of this incarnation of the Scarecrow that the Scarecrow wasn't allowed to appear in the Cartoon Network television show The Batman, as the Bat-embargo didn't wish to confuse the viewers even though the design was going to not look similar at all with this Scarecrow.
Scarecrow was one of two main villains in The Dark Knight Trilogy who didn't die, the other being the Joker.
Scarecrow was the only villain that appeared in all three of Christopher Nolan's The Dark Knight Trilogy. Some viewers believe that maybe he was featured in the three films as one of the trilogy's core themes is fear.
He appears also in one of the short films in the short film collection Batman: Gotham Knight, which is supposed to be canon with Christopher Nolan's films. However, given the many tonal and content-based inconsistencies with Nolan's films that are in Gotham Knight, just how canon or compatible with Nolan's films Gotham Knight is remained ambiguous.
Cillian Murphy auditioned to play Batman but Christopher Nolan instead gave him the role of Scarecrow.
Although the Scarecrow's fate was left ambiguous at the end of The Dark Knight Rises, Cillian Murphy believes that Scarecrow survived the film's events and is still out there. However, as The Dark Knight Trilogy ended with that film and is disconnected from the recent Batman films, it's highly unlikely that we will see the Nolanverse's Scarecrow ever again.
External Links
Villains

Villains
Animated Features
Stan Beals | Wasps
Live-Action Films
Ra's al Ghul | League of Shadows (Ra's Decoy) | Scarecrow | Carmine Falcone | Victor Zsasz | Arnold Flass | Joe Chill | Lex Luthor | Scrunt | German Drinking Team | Cherry | Xerxes | Theron | Ephialtes | The Immortals | Joker | Joker's Thugs (Thomas Schiff, Chuckles, Kilson, Happy, Dopey, Grumpy & Bus Driver) | Two-Face | Sal Maroni | The Chechen | Gambol | Lau | Bank Manager | Michael Wuertz | Burmese Bandit | Rorschach | Ozymandias | The Comedian | Doctor Manhattan | Moloch | The Flasher | Leslie Chow | Officer Franklin and Officer Garden | Melissa | Sam | Steven Wilkins | Mr. Kreeg | Laurie | Macy | Lord Ozunu | Takeshi | Hades | Acrisius | Medusa | Charon | Prokopion | Dioskilos | Kraken | Quentin Turnbull | Burke | Mal Cobb | Blue Jones | Kingsley | Russian mobsters | Kronos | Ares | Cyclopes | Makhai | Minotaur | Bane | Talia al Ghul | Barsad | Catwoman | John Daggett | General Fallon | The Giants | Lord Roderick | Wickie | Marshall | Black Doug | Precursors | Kaiju (Trespasser, Knifehead, Mutavore, Otachi, Leatherback, Raiju, Scunner & Slattern) | Artemisia | Artaphernes | M.U.T.O. | Satan | Mehmed II | Master Vampire | Dr. Mann | Mother Malkin | Mutsushiro Watanabe | Elias Kassar | General Lyons | Indominus rex | Vic Hoskins | Henry Wu | Lady Lucille Sharpe | Krampus | Krampus' Elves | Krampus' Toys | Krampus' Gingerbread Men | Gul'dan | The Horde (Blackhand the Destroyer & Orgrim Doomhammer) | Dean Redding | Tao Tei (Tao Tei Queen) | Skullcrawlers (Skull Devil) | Preston Packard | Eli Mills | Ken Wheatley | Gunnar Eversol | Kores Botha | Xia | Ku Klux Klan (David Duke, Felix Kendrickson, Walter Breachway, Ivanhoe & Nelson Walker) | Andy Landers | Connie Kendrickson | Kennebrew Beauregard | Howard Clifford | Ditto | Sebastian | Ann Laurent | King Ghidorah | Alan Jonah | Rodan | Asher Jonah | Emma Russell | Mechagodzilla | Apex Cybernetics (Walter Simmons, Ren Serizawa & Maia Simmons) | Baron Vladimir Harkonnen | Count Glossu Rabban | John Hartley | Nolan Booth | Sarah Black | Sotto Voce | Leatherface
See Also
Amblin Entertainment Villains | Batman Villains | Blumhouse Productions Villains | Christopher Nolan Villains | DC Extended Universe Villains | Dead Rising Villains | Dracula Villains | Dune Villains | Godzilla Villains | Jurassic Park Villains | King Kong Villains | MonsterVerse Villains | Netflix Villains | New Line Cinema Villains | Paramount Villains | Pokémon Villains | Superman Villains | Texas Chainsaw Massacre Villains | The Hangover Villains | The Toxic Avengers Villains | Universal Studios Villains | Warcraft Villains | Warner Bros. Villains | Watchmen Villains
Villains
Comics
Abraham Langstrom | Alfred Protocol | Alfred Stryker | Alice | Amanda Waller | Amygdala | Anarky | An Innocent Guy | Ares | Arkham Knight | Arnold John Flass | Azrael | Baby Doll | Bane | Barbatos | Bat-Mite | The Batman Who Laughs | Black Glove | Black Mask | Blockbuster I | Blockbuster II | Brain | Broker | Brother EYE | Calculator | Calendar Man | Castle Bat | Captain Fear | Captain Boomerang | Carmine Falcone | Catman | Catwoman | Cheetah | Cheshire | Circus of Strange | Clayface | Clayface (Matt Hagen) | Claything | Clock King | Clownface | Club of Villains | Cluemaster | Composite Superman | Condiment King | Copperhead | Cornelius Stirk | Court of Owls | Crazy Quilt | Crime Doctor | Curtis Base | Dark Archer | David Cain | David Li | Dark Knights | Deacon Blackfire | Deadshot | Dealer | Deathstroke | Dick Grayson (Frank Miller) | The Dawnbreaker | The Devastator | Dr. Crane | Doctor Death | Doctor Double X | Doctor Phosphorus | Doctor Randolph Porter | Donna Troy | Dr. Silversmith | The Drowned | Electrocutioner | Emperor Penguin | Enigma | Ernie Chubb | Faceless | Falcone Crime Family | Film Freak | Firebug | Firefly | Flamingo | Floronic Man | Gearhead | General Ulysses Armstrong | Gilda Dent | Gorilla Boss | Gotham City Police Department | Gillian B. Loeb | Great White Shark | The Grim Knight | Harley Quinn | Holiday | Holly Robinson | Humpty Dumpty | Hugo Strange | Hush | Instigator | Jack the Ripper | James Gordon, Jr. | Jason Todd | Jeremiah Arkham | Joe Chill | Joker | Judge of Owls | Joker's Daughter | Key | KGBeast | King of Cats | King Snake | King Tut | Killer Croc | Killer Moth | Kite Man | Lady Shiva | League of Assassins | Leviathan | Lex Luthor | Lock-Up | Lord Death Man | Mad Hatter | Mad Monk | Magpie | Malochia | Man-Bat | Mary Keeny | Maxie Zeus | Maxwell Lord | The Merciless | Merrymaker | Micheal Atkins | Monk | Mr. Bloom | Mr. Freeze | Mrs. Freeze | Mayor Oswald Cobblepot | Mr. Toad | Mr. Whisper | Mutants | Neo Joker | Neron | Nightslayer | Nocturna | Omega | Onomatopoeia | Orca | Outsider | Owlman | Phantasm | Penguin | Penny Plunderer | Phosphorus Rex | Planet Master | Poison Ivy | Polka Dot Man | Professor Arnold Hugo | Professor Pyg | Prometheus | Punchline | Ra's al Ghul | Ragdoll | Ratcatcher | Reaper | Red Death | Reverse-Flash | Riddler | Robin King | Roland Daggett | Roxy Rocket | Royal Flush Gang | Rupert Thorne | Saint Batman | Sal Maroni | Scarecrow | Sensei | Sewer King | Signalman | Simon Hurt | Sinestro | Snowman | Solomon Grundy | Spellbinder | Squid | Steeljacket | Suicide Squad | Talia al Ghul | Talon | Tally Man | Ten Eyed Man | Terrible Trio | Thomas Wayne | Tiger Shark | Timecode | Tony Zucco | Tweedledum and Tweedledee | Two-Face | Ubu | Vandal Savage | Ventriloquist | Ventriloquist II | Ventriloquist III | Vertigo | Victor Zsasz | Whisper A'Daire | White Rabbit | Wrath | The Wonderland Gang | Zebra-Man
Theatrical Movies
Batman (1966): Joker | Catwoman | Penguin | Riddler
Batman (1989): Joker | Joker Goons (Bob Hawkins) | Alicia Hunt | Carl Grissom | Max Eckhardt | Vinnie Ricorso | Joe Chill
Batman Returns: Penguin | Red Triangle Circus Gang (Organ Grinder, Poodle Lady, Tattooed Strongman, Stungun Clown, Thin Clown, Fat Clown, Sword Swallower, Knifethrower Dame & Fire Breather) | Max Shreck | Catwoman
Batman: Mask of the Phantasm: Phantasm | Joker | Salvatore Valestra | Arthur Reeves | Chuckie Sol | Buzz Bronski
Batman Forever: Riddler | Two-Face | Sugar | Spice | NygmaTech (Frogmen) | Neon Gang (Neon Gang Leader) | Salvatore Maroni
Batman & Robin: Poison Ivy | Mr. Freeze | Bane | Snowy Cones Thugs | Golums | Jason Woodrue
Batman Begins: Ra's al Ghul | League of Shadows (Ra's Decoy) | Scarecrow | Falcone Crime Family (Carmine Falcone, Victor Zsasz, & Arnold Flass) | Joe Chill
The Dark Knight: Joker | Joker's Thugs (Thomas Schiff, Chuckles, Kilson, Happy, Dopey, Grumpy & Bus Driver) | Two-Face | Sal Maroni | The Chechen | Gambol | Lau | Bank Manager | Michael Wuertz | Burmese Bandit
The Dark Knight Rises: League of Shadows (Bane, Talia al Ghul & Barsad) | Catwoman | John Daggett | Ra's al Ghul | Scarecrow
Batman v Superman: Dawn of Justice: Lex Luthor | Doomsday | Anatoli Knyazev | Mercy Graves | Cesar Santos | Amajagh | Joe Chill | Zod | Joker | Steppenwolf
Suicide Squad: Eyes of the Adversary (Enchantress & Incubus) | Suicide Squad (Deadshot, Harley Quinn, Captain Boomerang, El Diablo, Killer Croc, Slipknot & Amanda Waller) | Joker's Gang (Joker, Jonny Frost, Panda Man & Monster T) | Griggs
The Lego Batman Movie: Joker | Harley Quinn | Phantom Zone Criminals (Zod, Sauron, Kraken, Lord Voldemort, Agent Smith, Jaws, Gremlins, Medusa, Lord Vampyre, Wicked Witch of the West, & Daleks) | Catwoman | Poison Ivy | Two-Face | Bane | Riddler
Joker: Clowns (Joker, Clown & Ambulance Clown) | Penny Fleck | Wall Street Three | Penny Fleck's Boyfriend
The Batman (2022): Riddler | Falcone Crime Syndicate (Carmine Falcone, Penguin, William Kenzie, Vinnie, & The Twins) | Catwoman | Salvatore Maroni | Riddler's Cult (Bitter Nobody) | Pete Savage | Gil Colson | Don Mitchell Jr. | Train Gang | Joker
Direct-to-video Movies
Batman & Mr. Freeze: SubZero: Mr. Freeze | Dr. Gregory Belson
Batman Beyond: Return of the Joker: Joker | The Jokerz (Chucko, Dee-Dee, Ghoul, Bonk, & Woof) | Harley Quinn
Batman: Mystery of the Batwoman: Penguin | Bane | Rupert Thorne | Carlton Duquesne
The Batman vs. Dracula: Dracula | Penguin | Joker
Superman/Batman: Public Enemies: Lex Luthor | Major Force | Metallo | Amanda Waller | Toyman | Solomon Grundy | Gorilla Grodd | Killer Frost | Lady Shiva | Giganta | Mongul | Captain Cold
Batman: Under the Red Hood: Jason Todd | Joker | Black Mask | Ra's al Ghul | Riddler | Ms. Li
Superman/Batman: Apocalypse: Darkseid | Female Furies (Granny Goodness, Gilotina, Mad Harriet, Lashina & Stompa) | Doomsday
Batman: Year One: Batman | Gotham City Police Department (Commissioner Loeb, Arnold John Flass, & Howard Branden) | Falcone Crime Family (Carmine Falcone & Johnny Viti) | Catwoman | Joker
Batman: The Dark Knight Returns: Batman | Joker | Mutant Leader | Ellen Yindel | Harvey Dent | Selina Kyle
Son of Batman: Deathstroke | League of Assassins (Ra's al Ghul & Talia al Ghul) | Ubu | Killer Croc | Man-Bats
Batman: Assault on Arkham: Suicide Squad (Amanda Waller, Deadshot, Harley Quinn, Captain Boomerang, Killer Frost, King Shark, Black Spider, KGBeast) | Joker | Riddler | Penguin | Scarecrow | Victor Zsasz | Bane | Two-Face | Poison Ivy
Lego DC Comics: Batman Be-Leaguered: Bat-Mite | Lex Luthor | Joker | Penguin | Man-Bat | Captain Cold | Black Manta
Batman vs. Robin: Court of Owls (Samantha Vanaver, Talon, Owls Lieutenant, & Talon Warriors) | Dollmaker
Batman Unlimited: Animal Instincts: Animalitia (Penguin, Killer Croc, Man-Bat, Cheetah & Silverback)
Batman Unlimited: Monster Mayhem: Joker | Scarecrow | Clayface | Silver Banshee | Solomon Grundy
Batman: Bad Blood: League of Assassins (Talia al Ghul, The Heretic, Onyx, Firefly, Tusk, Mad Hatter, Electrocutioner, Hellhound, Calculator, & Killer Moth) | Black Mask
Batman: The Killing Joke: Joker | Vinnie & Joe | Paris Franz
Batman Unlimited: Mechs vs. Mutants: Penguin | Mr. Freeze | Cheetah | Hush | Mad Hatter | Two-Face | Bane | Chemo | Killer Croc | Clayface | Joker | Dr. Kirk Langstrom
Batman: Return of the Caped Crusaders: Joker | Penguin | Riddler | Catwoman | Archer | Black Widow | Bookworm | Clock King | Egghead | False Face | King Tut | Louie the Lilac | Mad Hatter | Minstrel | Mr. Freeze | Sandman | Shame | Siren
Batman and Harley Quinn: Harley Quinn | Poison Ivy | Floronic Man
Batman vs. Two-Face: Two-Face | Hugo Strange | Catwoman | King Tut | Bookworm | Joker | Penguin | Riddler | Clock King | Egghead | Mr. Freeze | Shame | Harley Quinn
Scooby-Doo! & Batman: The Brave and the Bold: Riddler | Clayface | Joker | Mr. Freeze | Catwoman | Penguin | Harley Quinn | Poison Ivy
Batman: Gotham by Gaslight: Jack the Ripper | Barbara-Eileen Gordon | Selina Kyle | Harvey Dent | Hugo Strange
Batman Ninja: Joker | Harley Quinn | Catwoman | Gorilla Grodd | Bane | Penguin | Poison Ivy | Deathstroke | Two-Face
Batman vs. Teenage Mutant Ninja Turtles: Foot Clan (Shredder & Baxter Stockman) | League of Assassins (Ra's al Ghul & Ubu) | Joker | Penguin | Harley Quinn | Mr. Freeze | Scarecrow | Two-Face | Poison Ivy | Bane
Batman: Hush: Riddler/Hush | Catwoman | Poison Ivy | Bane | Joker | Harley Quinn | Clayface | Scarecrow | Lex Luthor | Lady Shiva | Two-Face | Penguin | Mr. Freeze | Thomas Elliot
Batman: Death in the Family: Jason Todd | Joker | Black Mask | Ra's al Ghul | Riddler | Talia al Ghul | Cheetah | Two-Face
Batman: Soul of the Dragon: Nāga | Kobra (Jeffery Burr, Schlangenfaust, Lady Eve, King Snake & Rip Jagger) | Ben Turner | Shiva | Richard Dragon | Jade
Batman: The Long Halloween: Holiday | Falcone Crime Family (Carmine Falcone, Milos Grapa, Alberto Falcone, Johnny Viti, & Sofia Falcone) | Two-Face | Joker | Solomon Grundy | Salvatore Maroni | Poison Ivy | Penguin | Scarecrow | Mad Hatter | San Ho Hui (Mickey Chen) | Calendar Man | Catwoman

Television
Batman 60s show
Joker | Penguin | Catwoman | Riddler | Mr. Freeze | The Archer | Black Widow | Bookworm | Egghead | Clock King | Queenie Goldstein | Sandman | Dr. Cassandra Spellcraft | Cabala | Minstrel | Shame | False Face | The Siren | Undine | Chandell & Harry | King Tut | Louie the Lilac | Mad Hatter | Cornelia | Baby Jane Towser | Lydia Limpet | Zelda the Great | The Puzzler | Olga, Queen of Cossacks | Marsha, Queen of Diamonds | Lord Marmaduke Ffogg | Lady Penelope Peasoup | Ma Parker | Freddy the Fence | Lola Lasagne | Nora Clavicle | Colonel Gumm | Minerva | Killer Moth | Calamity Jan
1970s Filmation series
Joker | Catwoman | Penguin | Riddler | Clayface | Mr Freese | Sweet Tooth
Batman: The Animated Series
Joker | Two-Face | Harley Quinn | Penguin | Catwoman | Rupert Thorne | Riddler | Poison Ivy | Scarecrow | Mad Hatter | Killer Croc | Clayface | Ra's al Ghul | Mr. Freeze | Man-Bat | Ventriloquist and Scarface | Roland Daggett | Clock King | Bane | Hugo Strange | Lloyd Ventrix | Kyodai Ken | Baby Doll | Emile Dorian | Red Claw | Boss Biggis | Sewer King | Talia al Ghul | Maxie Zeus | Lock-Up | Professor Milo | Count Vertigo | Daniel Mockridge | Grant Walker | Gil Mason | Arkady Duvall | Ferris Boyle | Arnold Stromwell | Tony Zucco | H.A.R.D.A.C. | Randa Duane | Batman Clone | Calendar Girl
The Batman (2004)
Joker | Penguin | Bane | Catwoman | Mr. Freeze | Ethan Bennett | Killer Croc | Man-Bat | Firefly | Riddler | Punch & Judy | Kabuki Twins | Hugo Strange | Cluemaster | Ragdoll | Temblor | Poison Ivy | Tony Zucco | Count Vertigo | Harley Quinn | Maxie Zeus | Clayface | Gearhead | Francis Grey | Killer Moth | D.A.V.E. | Dracula | Rumor | Toyman | Mirror Master | Lex Luthor | Black Mask | Sinestro | Joker 2.0 | Prank | Killgore Steed | Team Penguin | Julie | Spellbinder | Blaze | The Joining | Cosmo Krank | Marty Slacker | Scorn | Wrath | Metallo | Shadow-Thief
Batman: The Brave and The Bold
Joker | Music Meister | Catwoman | Penguin | Mr. Freeze | Clayface | Riddler | Poison Ivy | Lex Luthor | Flower Children | Harley Quinn | Morgaine Le Fey | Sweet Tooth | Queenie Goldstein | Bane | Kite Man | Black Manta | Gentleman Ghost | Major Force | Mirror Master | Metallo | Brainiac | Flamingo | Mxyzptlk | Toyman | Thinker | Doctor Sivana | Mister Mind | Black Adam
Beware the Batman
Anarky | Ra's al Ghul | Deathstroke | Harvey Dent | Killer Croc | Simon Stagg | Professor Pyg and Mr. Toad | Man-Bat | Cypher | Magpie | Lady Shiva | Tobias Whale | Phosphorus Rex | Lunkhead | Humpty Dumpty | Silver Monkey | Key | Bethany Ravencroft | Daedalus Boch | Junkyard Dog | Sapphire Stagg | Matatoa | Anatol Mykros
Harley Quinn
Harley Quinn | Poison Ivy | Joker | Scarecrow | Queen of Fables | Darkseid | Parademons | Penguin | Mr. Freeze | Bane | Lex Luthor | Killer Croc | Man-Bat | Riddler | Deadshot | Calendar Man | Condiment King | Solomon Grundy | Kite Man | Doctor Psycho | Clayface | King Shark | Nora Fries | Sy Borgman | Doctor Trap | Frank the Plant | Felix Faust | Toyman | Metallo | Livewire | Parasite | Black Adam | Captain Cold | Gorilla Grodd | Black Manta | Cheetah | Giganta | Sinestro | Maxie Zeus | Eris | KGBeast | Two-Face | Catwoman | Nick Quinzel | Sharon Quinzel
Video Games
LEGO Batman
Joker | Penguin | Riddler | Harley Quinn | Catwoman | Two-Face | Bane | Clayface | Killer Croc | Killer Moth | Mad Hatter | Man-Bat | Mr. Freeze | Poison Ivy | Scarecrow | Ra's al Ghul | Hush
Lego Batman 2: DC Super Heroes
Joker | Lex Luthor | Harley Quinn | Riddler | Two-Face | Catwoman | Bane | Penguin | Poison Ivy | Scarecrow | Captain Boomerang | Clayface | Mad Hatter | Ra's al Ghul | Killer Croc | Bane | Killer Moth | Mr. Freeze | Man-Bat | Hush | Zod | Sinestro | Brainiac | Gorilla Grodd | Captain Cold | Black Manta | Black Adam | Bizarro
Lego Batman 3: Beyond Gotham
Brainiac | Joker | Lex Luthor | Cheetah | Solomon Grundy | Firefly | Killer Croc | Sinestro | Atrocitus | Larfleeze | Star Sapphire | Composite Superman | Bane | Arkillo | Condiment King | Music Meister | Captain Cold | Black Adam | Black Manta | Black Hand | Bronze Tiger Cyborg Superman | Deadshot | Deathstroke | Lobo | Dex-Starr | Doomsday | Gorilla Grodd | Harley Quinn | Hush | Kalibak | Killer Moth | Man-Bat | Mad Hatter | Manchester Black | Metallo | Mr. Freeze | Mr. Mxyzptlk | Parasite | Penguin | Poison Ivy | Polka Dot Man | Red Hood | Riddler | Toyman | The Trickster | Ultra-Humanite | Catwoman | Bizarro | Amanda Waller | Captain Boomerang | El Diablo | King Shark | Killer Frost | Plastique | Terra | Zod | Faora | Joker | Two-Face | Ra's al Ghul | Bane | Catwoman | Scarecrow | Blight | Joker | Mr. Freeze | Arrow Deathstroke | Malcolm Merlyn | Darkseid
Injustice
Superman | Wonder Woman | Yellow Lantern | The Flash | Aquaman | Nightwing | Cyborg | Raven | Solomon Grundy | Catwoman | Bane | Black Adam | Deadshot | Poison Ivy | Scarecrow | Joker | Deathstroke
See Also
Arkhamverse Villains | Batgirl Villains | Batman Beyond Villains | Batwoman Villains | Birds of Prey Villains | Catwoman Villains | Gotham Villains | Harley Quinn Villains | Nightwing Villains | Outsiders Villains | Red Hood Villains | Robin Villains | Telltalle Batman Villains