She-Hulk Trailer Dropped - The Loop
Play Sound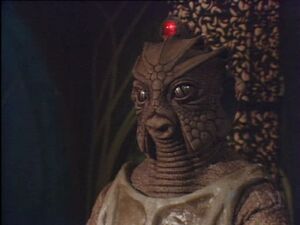 Scibus is one of the three secondary antagonists of the Doctor Who story "Warriors of the Deep", with Tarpok and Sauvix.
He was portrayed by Stuart Blake.
Biography
Scibus was one of the two Silurians who accompanied Icthar in his quest to reclaim Earth from humanity. Together, they located an underground complex full of Sea Devils located near to the humans' Seabase 4. Scibus appeared to be Icthar's technical expert, monitoring the launch of a probe from the seabase.
After the Sea Devils were revived and attacked Seabase 4 under Icthar's orders, the Silurians functioned in a reserve capacity, following in their wake as they cleared the base of humans. Eventually, the Sea Devils had enough control of the base for Scibus and his fellows to occupy the control centre.
Icthar's plan was to launch the base's proton missiles, triggering a mutually assured destruction war where the two human power blocs would annihilate each other. Scibus was the one charged with operating the manipulator that allowed the Silurians to access the base's computer and trigger the launch sequence. Despite the Doctor's attempts to talk them round, Scibus activated the countdown. Soon after, he died as a result of the Doctor arranging for Lieutenant Bulic to flood the base with hexachromite gas, lethal to reptiles.
Trivia
The novel The Scales of Injustice portrays Scibus as a member of the Silurian Triad. This contradicts "Warriors of the Deep", where Icthar is said to be the sole surviving member.